This Is The Most Common Side Hustle Among Millennial Women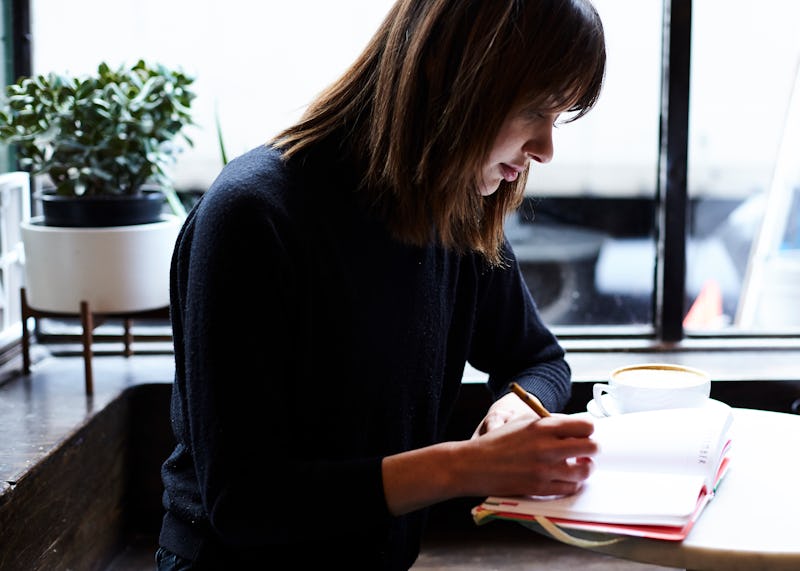 Hannah Burton/Bustle
Money is a feminist issue — and yet, women are still reluctant to talk about it. According to a recent Bustle survey of more than 1,000 Millennial women, more than 50 percent of people said they never discuss personal finances with friends, even though 28 percent reported feeling stressed out about money every single day. Bustle's Get Money series gets real about what Millennial women are doing with their money, and why — because managing your finances should feel empowering, not intimidating.
As you may know, having a side hustle is pretty trendy, not to mention, it helps boost your income. Now, a new survey by Jobvite has found out the most common side hustles among Millennial women, so you can see if you relate. Or, perhaps it will give you some ideas if you're looking for a side hustle. The survey was conducted among approximately 1,500 job seekers. Jobvite found that 25 percent of Millennial women, ages 18-to-35, have a second source of income outside of their regular 9-to-5 job. And 67 percent reported taking the side job because they needed the money. That's a lot of people, right?! Though, in this day and age, it's not too surprising (sadly).
"It's very impressive to me how many women today use side hustles to build up their wealth and keep the money coming in," Rachel Bitte, Chief People Officer at Jobvite, tells Bustle. "These ladies are workhorses! Finding a way to turn a passion or interest into a real, legitimate business takes skill and tenacity." I'll say!
ICYMI, side hustles are often born out of underlying talents or interests you have. That, and a need for your talent/interest in the marketplace, even if you don't even realize it at the time. Jobvite found that 20 percent of Millennial women did side jobs as a passion project. Plus, 20 percent worked on their "side hustle" during their regular jobs.
A Side Hustle Can Soon Grow Into Something Even Bigger
As far as being passionate about something and pursuing it, that's exactly what Cassandra Curtis did. She was a Millennial mom when she co-founded Once Upon a Farm, which is now the leader in cold-pressed baby food, she tells Bustle. With a background in health and wellness, Curtis had noticed the absence of fresh baby food options in stores.
"I founded Once Upon a Farm with the mission of bringing fresh food options to parents who want to provide only the best nourishment for their growing babies," Curtis says. "I launched the brand in 2013 and, at the time, I was a busy working mom of two who was tired of the lack of healthy foods for my little ones on grocery store shelves. Coupled with the fact that it's hard to find the time to shop, chop, and prep at-home meals, I decided to develop the first refrigerated, organic baby pouch on the market. Each of the blends are made with real, farm-fresh fruits and veggies that are cold-pressed to keep all of the important nutrients, colors and flavors intact. We also just launched a national subscription box program that delivers the blends straight to your door, offering the ultimate convenience without compromise for modern moms like myself!" So, side hustle to entrepreneur — this could be you, too!
Speaking of side hustles, here's what Jobvite discovered from their survey, from most to least popular side hustles.