The Most Popular Pinterest Recipe For The Royal Wedding Is Super Classy — And Easy To Make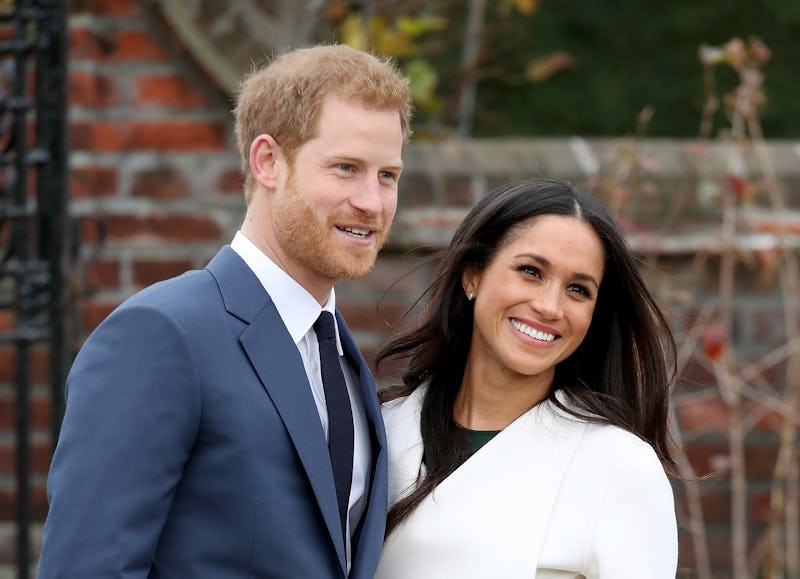 Chris Jackson/Getty Images Entertainment/Getty Images
Foodie Pinterest is perhaps one of my favorite… uh, genres of Pinterest (is that the right word for an area of focus on Pinterest? Genre? Whatever, I'm rolling with it) — and given how active it is, it's unsurprising that Royal Wedding recipes have recently taken it over. Indeed, the most popular Royal Wedding recipe on Pinterest is a quintessential British classic: According to the social media platform, a specific recipe for cucumber sandwiches has been pinned more than 75,000 times in advance of Meghan Markle and Prince Harry's nuptials, reports Food & Wine.
The pin in question comes from the food blog The Kitchen Is My Playground. Run by Tracey Freeman Harrelson, who works out of Lexington, North Carolina, it's full of delicious-looking recipes and equally delicious-looking food photos; you can find everything from quick and easy dinners to elaborate baked goods on it, so there's really something for everyone. (As Tracey puts it on her About page, "My bottom line? If it tastes good, I'm good with it.) Her cucumber sandwich recipe was first published in August of 2015, but with everyone eagerly planning their Royal Wedding viewing party menus in the days leading up to May 19, it's made a huge resurgence — due, it seems, to Pinterest.
The interest is more than understandable, though. The Kitchen Is My Playground's take on the teatime treat actually offers three variations on the theme, along with three different assembly ideas: Will you take your cucumber tea sandwiches with lemony dill spread, chunky cucumber spread, or with vegetable spread? Will you eat them open-faced, closed, or as a triple-decker bite? The variety of options is quite appealing, and the instructions are straightforward and easily pulled off.
They are, however, departures from the traditional cucumber tea sandwich. According to Sarah Rainey writing for the Telegraph in 2012, the traditional British method of making cucumber sandwiches involves "juicy portions of cucumber, gently dried of excess water, sprinkled with salt and a dash of lemon juice, and served between two triangular slices of lightly buttered white bread." Adds Rainey, "Crusts off, of course – and never any mayo, although perhaps a drizzle of olive oil." Tea sandwiches themselves date back to the creation of the actual meal known as afternoon tea, which, Saveur reports, came about in the mid-19th century: "It was in 1840 that Anna Maria Stanhope, seventh Duchess of Bedford, hit upon the idea of afternoon tea, a light repast designed to bridge the lengthy gap between luncheon and dinner, which in fashionable circles wasn't taken until 8 p.m.," Tamasin Day-Lewis writes. "The sandwiches served at teatime are just filling enough to inhibit overindulgence in the scones, cream and jam, and iced cakes that follow." (There's that old fashioned, oppressive, Victorian restraint.)
Will cucumber sandwiches actually be on the menu for Meghan Markle and Prince Harry? That's not yet known, although perhaps we can look to what we know about the various menus served at William and Kate's 2011 wedding for some clues.
The Duke and Duchess of Cambridge had two receptions: A lunchtime affair for the 1,900 guests in attendance hosted by the Queen, and a smaller dinner for 300 of those guests hosted by Prince Charles. According to The Spruce, the lunch reception was made up primarily of finger foods; the Queen chose the menu, although William and Kate did also give some input of their own. The canapés available included goat cheese roulade with caramelized walnuts, miniature watercress and asparagus tarts, and bubble and squeak, along with a selection of truffles and other sweets — but although The Spruce's report does not include cucumber sandwiches (or tea sandwiches more generally), it's also worth noting that the list of foods served may not be complete. Around 10,000 canapés were prepared and served overall, which is… a lot of canapés.
We have a much more complete picture of the dinner menu, largely due to the fact that a menu card for it came up for auction in 2015. (Weirdly, this menu is frequently misreported as the breakfast menu; the auction lot description, however, states very clearly that it was the dinner menu.) The first course consisted of "marinated South Uist salmon, Lyme Bay crab and wild Hebridean langoustines, fresh herb salad"; the main was "saddle of North Highland Mey Select organic lamb, Highgrove spring vegetables, English asparagus, Jersey Royal potatoes, sauce Windsor"; and for dessert, there was "a trio of Berkshire honey ice cream, sherry trifle and chocolate parfait" (as well as, y'know, the actual wedding cake and groom's cake). No cucumber sandwiches in sight here, either.
So, alas, we can't say with any certainty whether or not Meghan and Harry will have cucumber sandwiches on their menu — but regardless as to whether they do, you should still feel free to serve up this classic tea sandwich on your Royal Wedding viewing party menu if that's what you want to do. They're delightful; they're delicious; and Pinterest's favorite version of them look like quite the spread. Happy noshing!