Petra Has New Dirt On Rafael On 'Jane The Virgin'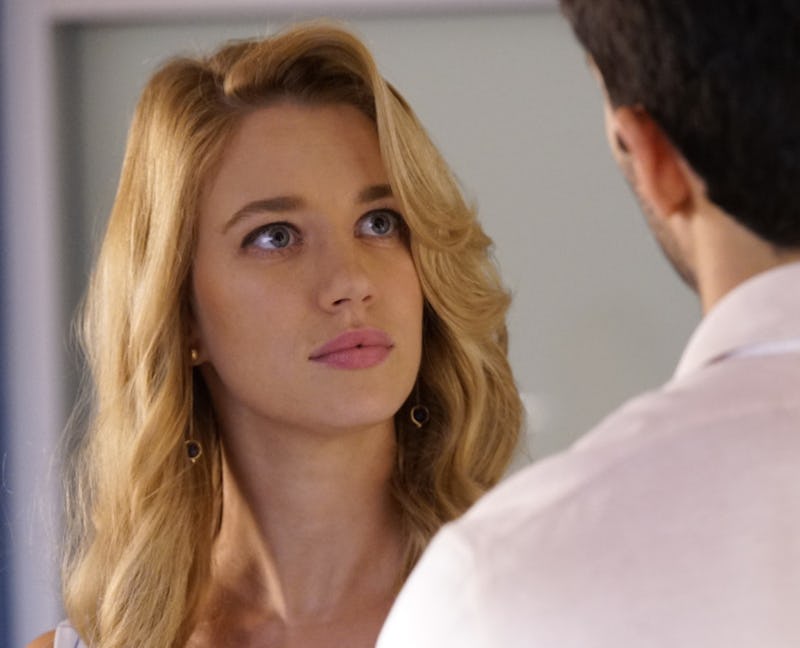 Robert Voets/The CW
As the narrator on Jane the Virgin stated in his opening recap for "Chapter 52," Rafael's life is kind of a bummer. And things are only about to get worse for Rafael on Jane the Virgin now that he has discovered he isn't the biological son of Emilio Solano. In the Jan. 23 episode, Rafael found out that the man he thought was his biological father had written an addendum to his will before he died stating that only his biological children would inherit his wealth. Yet, the real problem is not the will — it is who knows about it. The end of the episode showed that Petra knows about the will and considering Petra truly desires to destroy Rafael, she's inevitably going to use this information against him.
The power dynamic between Rafael and Petra is a constant cause of drama on Jane the Virgin and ever since Petra emerged from her paralysis, she has only been filled with resentment for her ex-husband. While she had every right to be upset with Rafael for not realizing that her twin sister Anezka had been impersonating her, Petra's rage should have been directed toward her sister — not Rafael. However, after "Chapter 52," Petra has a pretty good reason to be furious with her ex.
Earlier in Season 3, Petra had tried to take the majority of ownership of the Marbella away from Rafael, but was thwarted when he struck a secret deal with Anezka's boyfriend Scott. When Petra told Rafael that she was suspicious of him and Scott, he blew her off and told her she was being paranoid. As the narrator admitted, this made it hard not to be a little mad at Rafael. Yes, Petra had been intent on stealing the hotel away from him, but she still suffered a major trauma — you know, her sister keeping her in a paralyzed state for months — and so making her feel like she was crazy because of that was indeed a low blow.
So, when Rafael discovered that he is not entitled to any of the Solano wealth, this was news he wanted to keep secret — especially from Petra. However, since she disguised herself as Anezka to get Scott to admit that he had in fact struck a deal with Rafael, Petra was ready to rumble. She covertly placed cameras inside of Rafael's home and now knows that not only is he not a Solano, but that he should not be an owner of the Marbella.
Luisa fans may be celebrating because she could return to run the hotel since (for all we know) she is a biological Solano, but Rafael fans are most likely upset thinking about Petra's latest scheme. Yet, while Rafael being penniless and out of a home and job would make him quite unhappy, Petra ruining him could lead to a number of fascinating possibilities for his character. He would have to find a place to live outside of the hotel, which makes me think it would be so perfectly inconvenient if he ended up having to crash with Michael, Jane, and Mateo for a bit. He'd also need a new profession and imagining Rafael attempting a job that requires more from him than strutting around a hotel in a suit amuses me to no end.
However, I don't think Rafael is completely out for the count just yet. Right now, he's involved with Catalina still and who knows what Jane's shady cousin has planned. Rafael could also discover who his real biological parents are, which might open up a whole new box of intrigue. And, of course, there's that rarely discussed fact that he has two daughters with Petra. (Where are Anna and Elsa?!) But no matter how this turns out, Petra being intent on destroying Rafael has gotten kind of old at this point on Jane the Virgin, so Petra's newly restored enthusiasm and Rafael's mysterious past should revive this storyline in the best way possible.