The New Royal Baby Photos Are Hiding A Sweet Detail That You Definitely Missed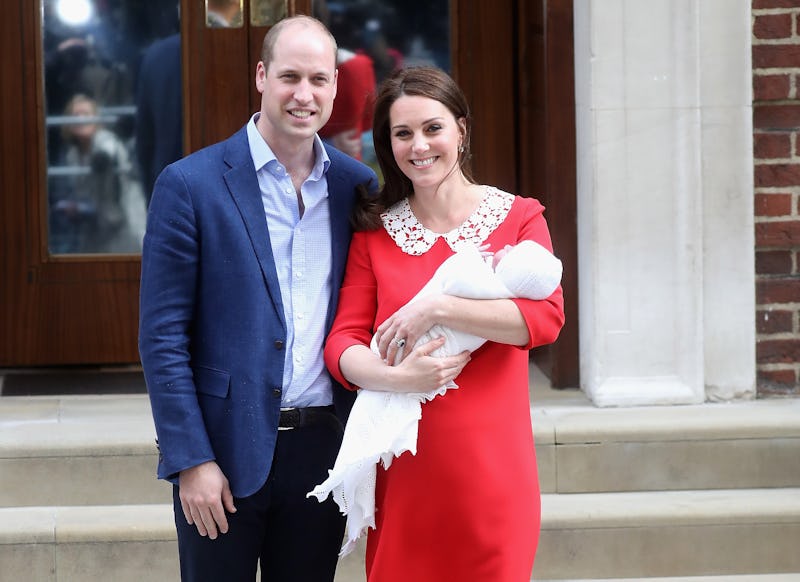 Chris Jackson/Getty Images Entertainment/Getty Images
On May 5, Kensington Palace tweeted out brand-new photos of Princess Charlotte and her younger brother, the newborn Prince Louis. The photos of Princess Charlotte and Prince Louis hide a detail so precious, you'll end up loving the royal family even more than you thought possible. It turns out that even though the two youngsters are literal royalty, you're never too famous to experience the younger sibling rite-of-passage known as hand-me-downs. Yes, both Princess Charlotte and Prince Louis are wearing hand-me-downs in their first official photos together. And it's too precious for words.
While Prince George, the eldest of the Duke and Duchess of Cambridge's three children, wasn't part of the new photos, at least one part of him was. Princess Charlotte is seen wearing a delicate blue cardigan that her brother previously wore in a portrait of Queen Elizabeth II with her youngest grandchildren and five great-grandchildren. Prince Louis is wearing the same white "jumper" that Princess Charlotte wore in her debut portrait in June 2015. Glamour notes that not only is the blue cardigan a hand-me-down — it's also an affordable piece of clothing. It's thought to retail at around $50, and has obviously lasted for several years. The royal family: Sometimes they're just like everyone else.
To introduce the first photo of Prince Louis — taken by his mother, Kate Middleton, no less! — Kensington Royal wrote the following:
This image of Prince Louis was taken by The Duchess of Cambridge at Kensington Palace on 26th April. The Duke and Duchess would like to thank members of the public for their kind messages following the birth of Prince Louis, and for Princess Charlotte's third birthday.
It doesn't get much more adorable than that, people. Especially when you consider the fact that Prince William and Middleton clearly attach just as much sentimental value to certain pieces of their children's clothing as non-royal parents do.
Princess Charlotte received an announcement of her own, though. No risk of "middle child syndrome" for the royal family just yet. Kensington Royal captioned a photo of the princess and her younger brother with:
The Duke and Duchess of Cambridge are very pleased to share two photographs of Princess Charlotte and Prince Louis, taken by The Duchess at Kensington Palace. This image was taken on 2nd May, on Princess Charlotte's third Birthday.
Whether she realizes it or not, Princess Charlotte's birthday is extra special this year. Not only did she turn 3, she also became a big sister — a role she appears to be enjoying in the snugly new photo with Prince Louis.
Can't you just see Middleton, the Duchess of Cambridge, encouraging her children to all look at an iPhone at the same time? Not that they announced what type of phone or camera was used to photograph Prince George's younger siblings, of course. It's just amusing to picture someone who married a Prince at Westminster Abbey in 2011 dealing with the same frustrations as any mom at Sunday brunch.
The Duke and Duchess of Cambridge aren't the only world leaders that encourage their children to re-wear clothing. Michelle Obama famously eschewed high-end designers whenever possible, choosing instead to dress herself (and the First Daughters, when they were young enough) in affordable labels such as J. Crew. Most people can't afford couture designers, and it's safe to assume that families with more than one child have passed on clothing to the younger siblings on occasion. You expect to see that in your own house; you don't expect it from a family that boasts the second and third in line for the throne to the British Monarchy.
The decision to purchase affordable clothing — and have their children wear it more than once in highly public settings — feels like a sign of respect. The royal family know that they're quite literally rich and powerful, and they also seem to know how rare it is to have wealth. Seeing them instill in their children a sense of frugality, as well as sentimentality, says so much about the next generation of royals.