The 'Powerless' Cast Is Full Of Powerful Comedians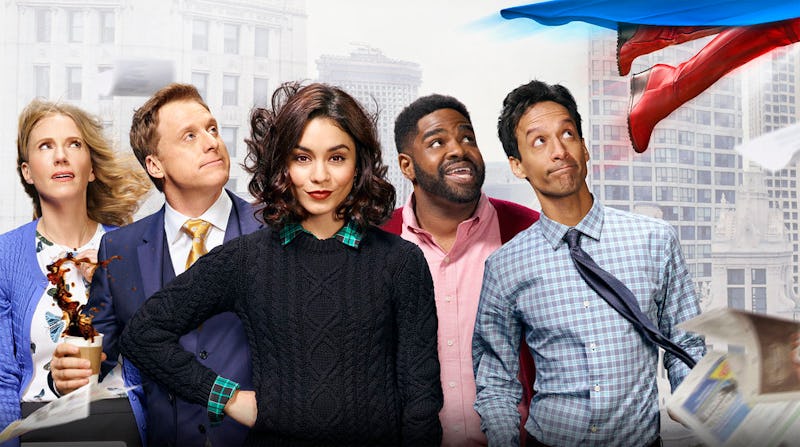 NBCUniversal
Does TV even have room for another superhero show at this point? You bet it does! While ABC has Agents Of S.H.I.E.L.D. and FOX has Gotham and The CW has its expansive Arrowverse, NBC is finally getting in on the comic book game with the new comedy Powerless, whose cast is led by Vanessa Hudgens. But this one's going to be a little different from the rest. The Peacock Network is distinguishing its comic book-inspired fare by focusing not on the spandex-clad heroes themselves… but on the normal, everyday people who have to live and work in those heroes' imposing shadows.
The sitcom takes place at a company that manufactures products designed to make people safer while superpowered beings zip through the air and crash through buildings all around them. That's a tall order for sure, considering the devastation we've seen in movies like Man Of Steel and The Avengers — but if anyone's up to it, it's definitely the cast of Powerless. Stacked with talent and recognizable faces from some of your favorite TV shows and Disney Channel Original Movies, the characters played by these five actors will do their darndest to protect us all from the collateral damage wrought by super-heroic dust-ups.
Vanessa Hudgens as Emily Locke
Although Hudgens is most famous for her role as Gabriella in the Disney Channel's High School Musical, she actually got her start a few years before that smash hit, with a role in the 2003 feature film Thirteen. Since the conclusion of her Musical trilogy, she has appeared in other films like Beastly, Sucker Punch, Spring Breakers, and Machete Kills. She also released a couple of solo albums and even starred on Broadway in the 2015 revival of Gigi. Recently, she returned to her musical television roots to co-star in FOX's production of Grease Live!, which earned her rave reviews for her performance as Rizzo.
Alan Tudyk as Van Wayne
Tudyk won his nerd cred early in his career, co-starring in the short-lived but much-beloved Joss Whedon phenom Firefly, its feature film spinoff Serenity, and Whedon's follow-up series Dollhouse. Following that string of sci-fi cult classics, Tudyk starred in a very different series: the ABC sitcom Suburgatory. Like Hudgens, he has also starred on Broadway (in Spamalot) and in feature films (like Knocked Up, Transformers: Dark Of The Moon, and Trumbo) in between his TV projects.
And even if you don't recognize Tudyk's face, you might recognize his voice; he has had a prolific career voicing animated character in movies like Ice Age, Wreck-It Ralph, Frozen, Big Hero 6, Zootopia, and Moana. He also provided the voice of scene-stealing robot K-2SO in Rogue One.
Danny Pudi as Teddy
Pudi is joining this NBC sitcom only two years after wrapping work on another zany NBC sitcom: Community, on which he played socially awkward student Abed Nadir for six seasons. You may have also seen him in guest roles on some of your other favorite shows, like Gilmore Girls, The West Wing, Cougar Town, and Chuck; or you may have glimpsed him in cameos in such big-budget blockbusters as Captain America: The Winter Soldier and Star Trek Beyond.
Christina Kirk as Jackie
After dropping by popular shows like Law & Order, The Good Wife, The Newsroom, and Girls for one or two episodes, Kirk landed her first series regular role in the NBC sitcom A To Z, which ran for 13 episodes back in the Fall 2014 season. That show didn't stick around long, but hopefully Powerless will fare better. Kirk has also collaborated with such famous filmmakers as Woody Allen (on 2004's Melinda And Melinda) and Ira Sachs (on 2014's Love Is Strange).
Ron Funches as Ron
Like Kirk, Funches is also jumping ship to Powerless from another recent NBC sitcom: Undateable, on which he played Shelly for three seasons. He has also guest starred on the likes of Portlandia, New Girl, Cougar Town, and Transparent. He had a supporting role in the Kevin Hart/Will Ferrell comedy Get Hard, and he voiced a character in last year's animated film Trolls. But Funches isn't just an actor; he's also a stand-up comedian and writer, having penned several episodes of both Comedy Central's Kroll Show and Adult Swim's The Eric Andre Show.
See this talented cast in action when Powerless premieres on NBC this Thursday, Feb. 2, at 8:30 p.m. ET.