We've Got Dialogue From The 'PLL' Finale, Guys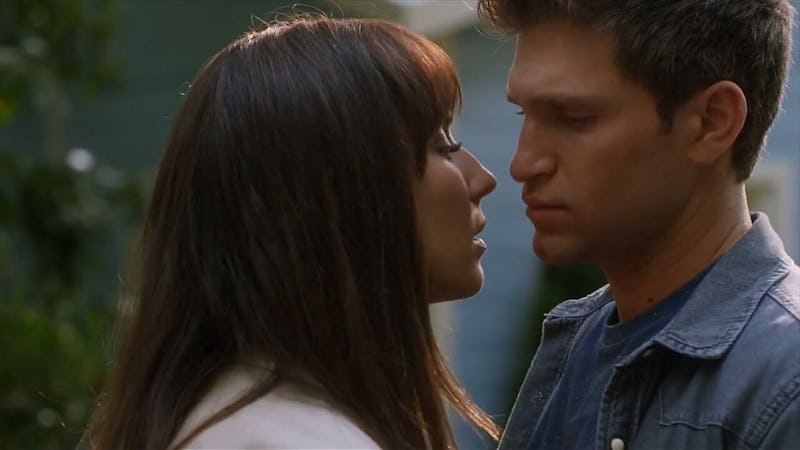 Freeform
Remain calm, Pretty Little Liars fans. Show runner I. Marlene King has teased fans once again, this time by sharing some choice cuts of dialogue from the Pretty Little Liars Season 7 finale. What's so exciting about the dialogue excerpts is that they each refer to one of Rosewood's most beloved couples (except for Ezra and Aria, because they're engaged, and we've seen the Ezria wedding pictures). While fans all have their favorite PLL couple that they desperately hope will end up together when the show wraps for good, the cast and crew have remained as tight-lipped as possible. So which PLL couples are endgame, based on King's newly released dialogue?
Sharing lines from Spoby, Emison, and Haleb, the dialogue hints that not all of the ships are smooth sailing in Season 7B. While fans have interpreted the words in very different ways already, it seems pretty safe to say that Spencer and Toby get back together. And my theory is rock solid, so hear me out.
At the end of Season 7A, Toby tried to leave town with his fiancée Yvonne, but the pair ended up in a car crash. This happened after Spencer and Toby illicitly kissed goodbye, proving that the former couple's love is very much alive. That's why the Spoby dialogue is so suggestive of a reunion.
Wetpaint theorizes that Spencer told Toby that she was in limerence with him, which resulted in the police officer having to look the word up in the dictionary. Unlike true love, limerence is a state of infatuation, which is overpowering, but ultimately fleeting. However, I have an alternate theory as to why Spencer uses this word.
I think that Spencer is talking about her romance with Caleb, which she refers to as "limerence", meaning that it was a brief affair and nothing more. When she says, "I looked up," she's referring to when she realized that she was still in love with Toby. In the midseason finale, Spencer most definitely "looked up", which ended in a major make out session between the old flames.
It would make sense that Spencer had to explain her fling with Caleb to Toby, to make him believe that her love is real. As most fans will attest, Spoby has always been endgame, and Spaleb was a grave error. Obviously.
Haleb's dialogue is a lot more mysterious than Spoby's, and hints that Hanna and Caleb have some issues to iron out in the final episode. Whatever the pair need to talk about, it's probably not too serious, and it seems highly likely that the Pretty Little Liars couple will still end up together. Perhaps Hanna has a pregnancy scare?
Finally, Emison's dialogue suggests that the pair get into a heated discussion in the Season 7B finale. Fans have long hoped for an Emison baby, and, with Alison's pregnancy reveal in Season 7A, it finally looks as though the pair might start a family together. Perhaps this line is Emily trying to come to terms with the fact that A.D. impregnated Alison with Emily's eggs? Anything is possible in Rosewood.
The final 10 episodes of Pretty Little Liars air on Freeform from April 18, 2017.