The 'Room 104' Season 2 Cast Is Filled With Oscar Winners, Drag Stars, & So Much More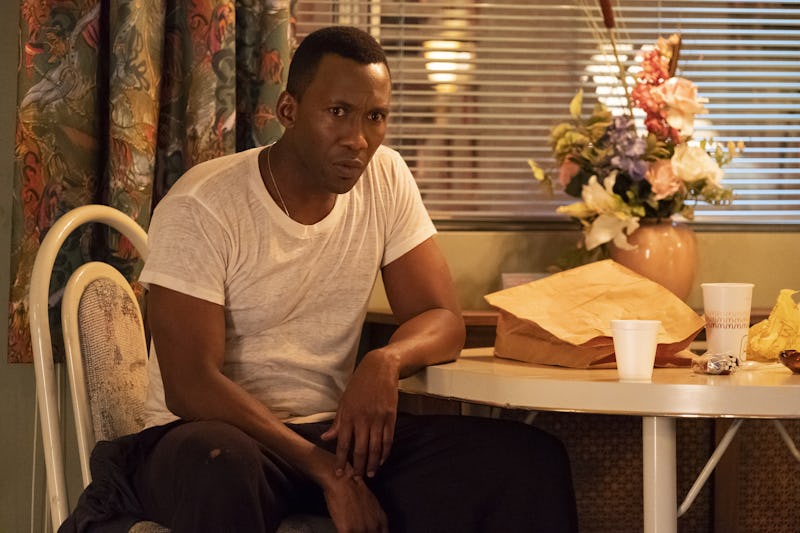 Arguably the best part about anthology shows is the fact that, because actors only have to commit to one episode instead of an entire season, they're often able to bring in some of Hollywood's most sought-after talent. Room 104 is one such series. Season 1 featured the like of James Van der Beek, Melonie Diaz, Keir Gilchrist, and Adam Foster, just to name a few, and when it returns Nov. 9, the cast of Room 104 Season 2 will be even more star-studded than before.
The show's 12-episode second season will kick off with a two-episode premiere event, then continue with back-to-back episodes every week. For those unfamiliar with the project, it's the brainchild of Mark and Jay Duplass, who also created fellow HBO series Animals. Every episode is set in the same room of a motel, each in a different genre, focusing on the stories of the characters passing through. The hotel in Room 104 isn't based on a real hotel, but rather, is supposed to embody the poignant everyday activities that take place in such an impermanent and yet quintessentially American setting. And who better to bring those moments to life than the all-star cast they've rounded up for Season 2?
Mahershala Ali
The most highly acclaimed actor of the bunch, Mahershala Ali is probably best known for his Oscar-winning performance as Juan in Moonlight, which also took home the Academy Award for Best Picture that year. According to the official HBO press release for Room 104, Ali appears alongside James Earl in Episode 11, "Shark." He plays a pool shark who's trying to convince his down-on-his luck cousin (Earl) to stay in the game.
Judy Greer
Judy Greer seemingly always plays either the best friend, like she did in 13 Going On 30, or an oddball supporting character, like she does in Arrested Development. But she takes the starring spot in Season 2's third episode, "Swipe Right," playing a veterinary nurse that meets a Russian political technologist (played by Michael Shannon) via an internet dating app.
Katya Zamolodchikova
RuPaul fans will remember Katya as the Miss Congeniality of Season 7, or as the co-host of WOWPresents' UNHhhh, now in its third season, alongside Trixie Mattel. Now, credited under her legal name, Brian McCook, Katya will also appear in Room 104 Episode 3.
Jennifer Lafleur
One of only two returning actors from Season 1 (the other being Jenny Leonhardt), Jennifer Lafleur appears in Episode 1, "FOMO." Charlyne Yi co-stars as Grace, a woman celebrating her thirtieth birthday when her sister (Lafleur) unexpectedly joins the party.
Brian Tyree Henry
Tony and Emmy nominee Brian Tyree Henry's turn in Room 104 will definitely be one to watch. In Episode 5, "Arnold," the Atlanta actor plays the titular character who wakes up in Room 104 with no knowledge of how he got there — or why he's sopping wet.
Josephine Decker
Decker doesn't just star in Episode 6, "The Man and the Baby and the Man," she also wrote the story, directed the episode, and co-wrote the teleplay with her co-star Onur Tukel. The pair play a married couple who have rented the room to try to conceive a baby, and plan to document the emotional evening.
Rainn Wilson
In Episode 2, "Mr. Mulvahil," The Office alum plays Jim, who confronts his third grade teacher about something that happened between them that changed his life forever.
Natlie Morales
Best known for her work in The Middle Man and White Collar, Morales will play a character in what sounds like it's going to be a horror-leaning episode of the season. Episode 8, "A Nightmare," is about a woman living through interlocked phases of her own nightmare.
Katie Aselton
Aselton (who's married to co-creator Mark Duplass) appears in Episode 10, "Artificial," where she plays a hybrid AI creature, warning one journalist (played by Sheaun McKinney) of the impending revolution.
Mary Wiseman
Star Trek fans will remember Wiseman as Cadet Sylvia Tilly from Star Trek: Discovery, but her episode of Room 104 is less sci-fi, more surrealist. In the season finale, Wiseman plays a character that communicates with a younger version of herself, asking her to reenact an impactful evening from her past.
The other best part about an anthology series like Room 104 is that you don't need to watch the episodes in order. Start with the episode that features your favorite star and then jump around from there. Although, these all sound pretty tough to skip.