Alec Baldwin Returned To 'SNL' To Take On Kanye West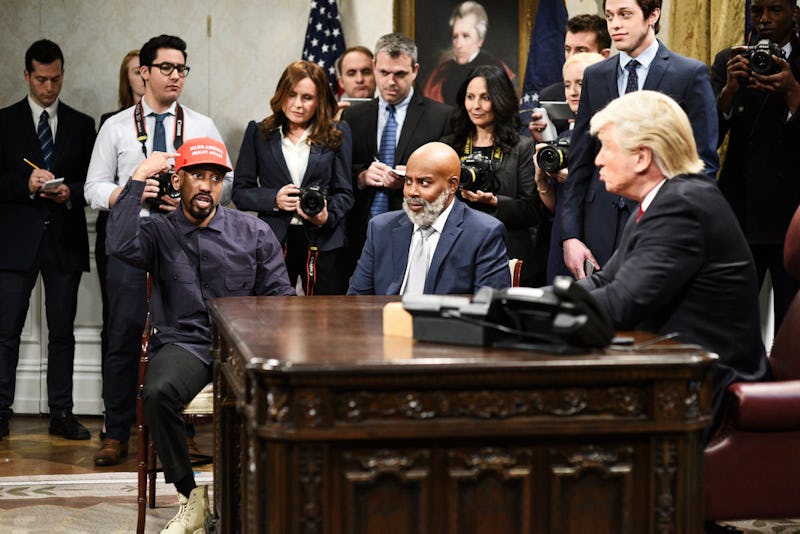 Will Heath/NBC
The first two episodes of Season 44 of SNL opened with extended sketches about the Kavanaugh hearings and his eventual appointment to the Supreme Court, but a familiar face was missing from SNL's political cold opens for those two weeks. In the season's third episode, however, Alec Baldwin returned to bring the meeting of Donald Trump and Kanye West to SNL.
While the episode marked the return of the show's most famous political impression of the past few years, the sketch seemed more interested in poking fun at West, who was the show's musical guest only a few weeks prior. Baldwin's Trump is a role so infamous that he told The Hollywood Reporter that since he started playing the role "black people love me. They love me. Everywhere I go, black people go crazy. I think it's because they're most afraid of Trump." That seemed to be a good starting place for the recreation of the now famous meeting this week.
Chris Redd played Kanye, and the sketch tackled West's criticism of Hillary Clinton's campaign, Kanye's iPhone Passcode, and the rapper's enthusiasm for showing Trump a picture of what he thinks should be the new Air Force One. All things that actually happened, by the way. While the sketch wasn't entirely Trump-centric, it did get a few barbs in, including having Trump tell Kanye "We have a lot more in common than people know. We are both geniuses, we're both married to beautiful women and we've both definitely been recorded saying the 'N-word."
While the specter of Trump hangs over all of the show's political content, every episode of Season 44 of SNL so far has featured at least one segment centered around Kanye West. SNL's "Season of Kanye" began in the show's first episode of the season, where he performed his hit song "I Love It" while wearing a water bottle, then delivered an extended pro-Trump rant after the show went off the air.
The following week, cast member Pete Davidson addressed Kanye West directly in response to West's post-SNL rant. While the Seth Meyers-episode didn't continue the latest SNL-Kanye beef, the show did take three different opportunities to poke fun at West.
After the cold open, host Seth Meyers used his monologue to deliver an anecdote about how he'll never be surprised by West ever again after working on a sketch in which West couldn't stop interrupting awards speeches two years before he infamously interrupted Taylor Swift at the VMA's. Later, during Weekend Update, Meyers joined Colin Jost and Michael Che to reprise his famous "Really?!?" segment to again...discuss the meeting between Donald Trump and Kanye. SNL really can't get enough of the guy, for whatever reason.
While the show's usual mockery of Trump took a backseat during Baldwin's return to take shots at Kanye, Jim Brown, and even Alec Baldwin himself for his remarks to The Hollywood Reporter, it's almost guaranteed that the show will bring back Baldwin as Trump in the near future to mock something Trump that isn't related to Kanye. Hopefully, at least. After three whole weeks of Kanye West front and center on the 30 Rock stage, whether he's actually there or not, it might be a good idea for everyone involved to take a step back and regroup for the next episode airing two weeks, on November 3. Unless Kanye and Trump get together for another publicity stunt before then — which is sadly entirely possible.