The New 'This Is Us' Season 3 Cast Photo Will Give You Major Autumn Vibes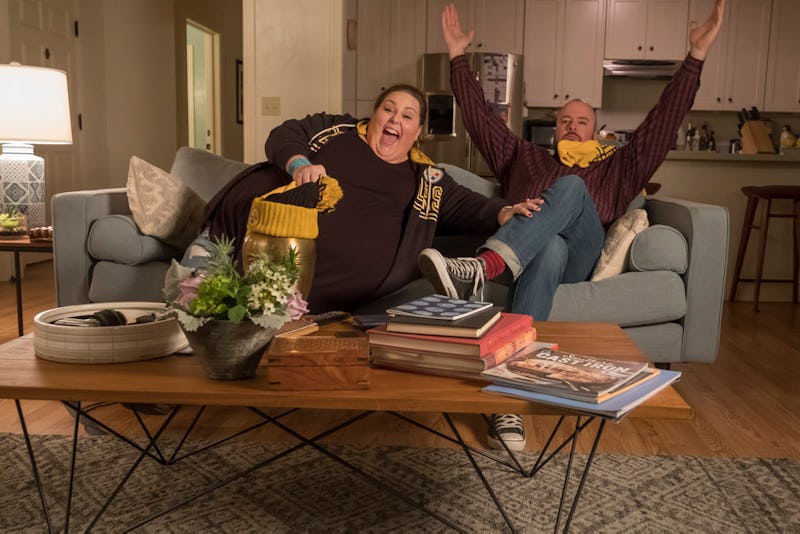 Ron Batzdorff/NBC
Following its heart-wrenching storylines, which left fans in tears for the better parts of both Season 1 and 2, This Is Us is gearing up to make its big return to television later this month. While the show's second season left viewers mourning the death of the family patriarch, Jack Pearson, a new This Is Us cast photo hints at things being much brighter for TV's favorite family when it returns on Sept. 25.
The autumn-themed pic, which E! News revealed was shot by legendary photographer Annie Leibovitz, features the Pearson family huddling together in front of a tree as the sunshine glistens in the distance. The cozy photo offers a radiant glance of the show's main costars; Milo Ventimiglia, Mandy Moore, Sterling K. Brown, Justin Hartley, Chrissy Metz, Susah Kelechi Watson, and Chris Sullivan as they strike a family pose ahead of the upcoming premiere, making the build-up to the season opener that much more exciting.
Brown, who has been twice Emmy-nominated for his role as Randall Pearson on the series, gushed about his TV family's photoshoot with Leibovitz, telling E!, "It's nice to be working with someone who is at the height of their craft and has been so forever."
Moore, who plays the family's matriarch Rebecca Pearson, also shared her feelings about the opportunity of getting to work with Leibovitz, who also happens to be a This is Us fan. Per E!, she explained,
"It was a bucket list thing, for sure. It's pretty humbling to think she's watched every episode of our show."
Back in June of this year, Moore dished on what fans can expect from the Pearson family in Season 3 to TV Guide. While she was careful not to give too much away, she did promise that the upcoming installment was going to be This Is Us' "most ambitious" and "best season yet." The 34-year-old actor teased, "There is going to be some great stuff unfolding in Season 3." And the aura of this latest cast photo released by NBC seems to indicate just that – and so much more.
Although Moore didn't go too deep into details while speaking to TV Guide earlier this summer, she opened up about her enthusiasm for the show's forthcoming narrative and added:
"I am really, really excited for everybody — for Beth, for Toby, like their own stories, learning information about everybody, getting a fuller picture of who Jack and Rebecca were when they first started dating, who Jack was during the Vietnam War."
It certainly hopeful that things are going to go well for the Pearsons in their upcoming installment. At the close of Season 2, fans were left with many questions when the finale fast forwarded into the future and offered a glimpse into one particularly troubling mystery for the tight knit clan.
During last season's final scene, there was an emotional moment shared between Randall and a future version of Tess which seemed to hint at the fate of one of the female characters on the show. The clip, which featured Randall telling his apprehensive adult daughter that it's time "to go see her," left viewers scrambling to make sense of the cryptic conversation. Through a process of elimination, fans of the show began speculating that Beth's well-being may be in jeopardy and that her time on the show could be coming to an end.
However, in an April 208 interview, Watson, who plays Beth on the series, was quick to shoot down chatter about her character's rumored death, telling The LA Times, "I don't think I'm dying. That's a rumor." Giving fans an opportunity to breathe a sigh of relief, she added that Beth would actually be getting more screen time in the show's return.
As fans continue to reel from the death of Jack, this new photo offers a glimmer of hope that things are finally looking up for the Pearson family and their future.