The 'Vanderpump Rules' Cast's Halloween Costumes Include A Classic Meme & Spooky Skeletons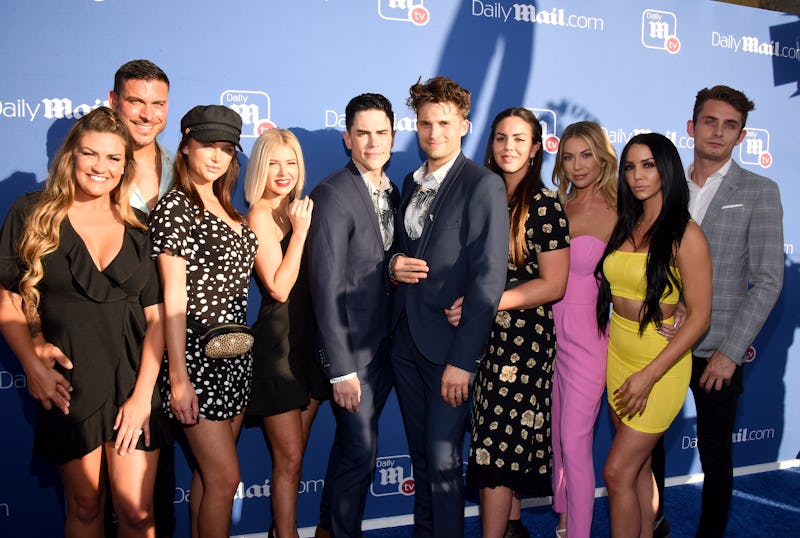 Araya Diaz/Getty Images Entertainment/Getty Images
In honor of the joyous occasion that was Vanderpump Rules Season 7 trailer release day, the show's cast put on some costumes, painted their faces, hit the town, and— Wait, what's that? You say the Vanderpump Rules cast wore costumes for Halloween, not to celebrate the trailer drop? Ah, OK. Duly noted.
If we loyal viewers have learned anything over the last half-dozen years, it is that this particular group of reality stars loves an elaborate costume. For crying out loud, Tom Sandoval even has his very own costume guy who can put together an exquisite Maleficent ensemble with only a few hours' notice. Be it a birthday party, a bachelor/bachelorette weekend, a Pride celebration, or Halloween, the Pump stars are SUR-ious about dressing up, and this Halloween was no exception.
Would you care to see how Sandoval, Ariana Madix, Jax Taylor, Brittany Cartwright, Tom Schwartz, Katie Maloney, Stassi Schroeder, Kristen Doute, Scheana Marie, James Kennedy, Lala Kent, Lisa Vanderpump, and SUR-porting cast members spent Pump Rules Season 7 trailer release day, er, All Hallows' Eve? (Sorry, day-old habits die hard.) Thanks to social media, you can do just that. Without further do, here is the Spooky Unique Roundup.
Here's Brittany As Beetlejuice
Beetlejax, Beetlejax, Beetlejax.
Here Are Katie & Kristen As Skeletons
This season on Vanderpump Ghouls...
Here's Sandoval Getting His Spooky Makeup Done
Sandoval can give flawless model face even after one of his eyes was swallowed by an abyss.
Here Are Kristen & Carter In Their Skeleton Looks
Carter's costume settles the age-old question once and for all: Can skeletons grow facial hair?
Here Are James & Lisa
Don't tell Giggy, but it looks like LVP's a cat person now.
Here's Schwartz As A Meme
Dude really nailed the zombie/turtle fan 'stume.
Here's Scheana As A Lion & Zack As Pharaoh
That lion costume is good as gold.
Here's Jax As A Skeleton & Brittany As Beetlejuice
Brittanyjax, Brittanyjax, Brittanyjax.
Here Are Stassi & Beau
The dog over on the end of the couch who's trying to pretend this clown nightmare isn't happening is a real mood.
Here's Lala As Fantasia Mickey Mouse
Who among us hasn't pulled on one over-the-knee boot only to be like, "You know what, Food Network sounds great right about now"?
And Here's Ariana's Dog With, Um, A Friend... ?
Halloween queen Ariana did not go out this year, but she did share a collage of some of her iconic 'ween looks.
The Pumpers' Halloween adventures will not be on the upcoming season of Pump Rules (filming ended months ago, remember?), so we will not get to see these looks on the show. However, Stassi and Ariana's joint birthday party will almost definitely be on Season 7. Their ice queen-themed joint birthday party where everyone went all out with the costumes. It's as the old saying goes: If you can't get Halloween on your reality show, you can never go wrong with an ice queen-themed costume party.