Luke Cage Is Going Up Against A New & Dangerous Female Villain In Season 2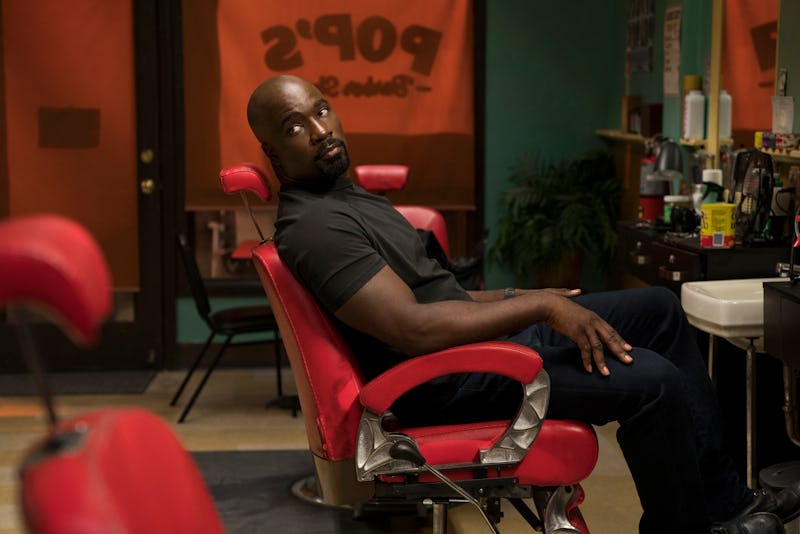 David Lee/Netflix
On the verge of premiering its second season, Marvel's Luke Cage team isn't holding back when it comes to dropping more spoilers. According to Entertainment Weekly, Luke Cage is getting a new villain in Season 2, played by The Sopranos alum Annabella Sciorra, and her character sounds pretty dangerous.
Sciorra will play the role of mafia princess and the Carbone family business heir, Rosalie Carbone. EW described the new character as "a dangerous downtown criminal underworld power player with an eye, and an agenda, toward Harlem." In the comics, Carbone's said agenda is all about seeking revenge on Marvel's The Punisher — aka Frank Castle — who she felt used and betrayed her for his own advances.
Sciorra's new role comes almost 20 years after wrapping her iconic portrayal of Gloria Trillo on HBO's The Sopranos. Trillo played Tony Soprano's girlfriend and mistress, who had more to her underneath the surface than many would have initially imagined. Though pleasant on the exterior, the Mercedes car dealer had quite a dark side, which ultimately resulted in the taking of her own life. Sciorra's portrayal of Trillo was unforgettable to say the least, even earning her an Emmy nomination, and if she plans on bringing any of that raw energy to her newest performance, fans will be in for quite a treat.
With Luke Cage's Season 2 slated to be a little darker than that of its first season, however, Sciorra's Trillo appears to have nothing on that of Rosalie Carbone.
While speaking with EW about being such a fan of Sciorra, Luke Cage showrunner Cheo Hodari Coker also noted that the actor "is no joke as Rosalie Carbone, because, according to Marvel television head Jeph Loeb, the crime boss is so "complex and layered."
Everyone seems pretty stoked to have Sciorra on board, and Coker and Loeb couldn't help but sing of her praises in the EW interview. And fans should totally be excited too, as adding a crime boss like Carbone on the list of Cage's villains hints that the crime and drama will be turned up a notch this upcoming season.
After becoming a local celebrity in the Harlem streets, Cage will certainly have his work cut out for him in Season 2. Announcing the official premiere date of June 22, the Netflix-released teaser trailer doesn't do too much teasing — as it features the show's star talking directly in the camera about his indestructibility.
With B. & Rakim's "I Ain't No Joke" playing in the background, Cage says, "You can't burn me, you can't blast me, and you definitely can't break me," ending with a vicious "You wanna test me? Step up. I'm right here" — both letting anyone enemy threatening the safety of his quaint borough that he means business, and showing fans that the super-strength hero is ready to face whatever obstacle comes his way.
Carbone is pretty much the only villain confirmed to be going head-to-head with the Harlem hero as of now, but there are quite a few suspected to join the evil ranks. Cage's brother and enemy Diamondback from Season 1 is definitely expected to make his presence known next season, and you can bet that Shades and Mariah will be back to their conspiring ways too. Anyone tuning into The Defenders on the streaming platform also knows that the crime-fighting gang will always have a new supernatural villain to take down, and the said villain could totally cross over into Luke Cage's second season.
Go ahead and cancel those first and second day of summer plans, because you'll totally want to be nice and comfortable when Luke Cage Season 2 hits the streaming platform. It already sounds like a don't-miss event.