This 'AHS: Apocalypse' Theory May Reveal Season 8's Big Twist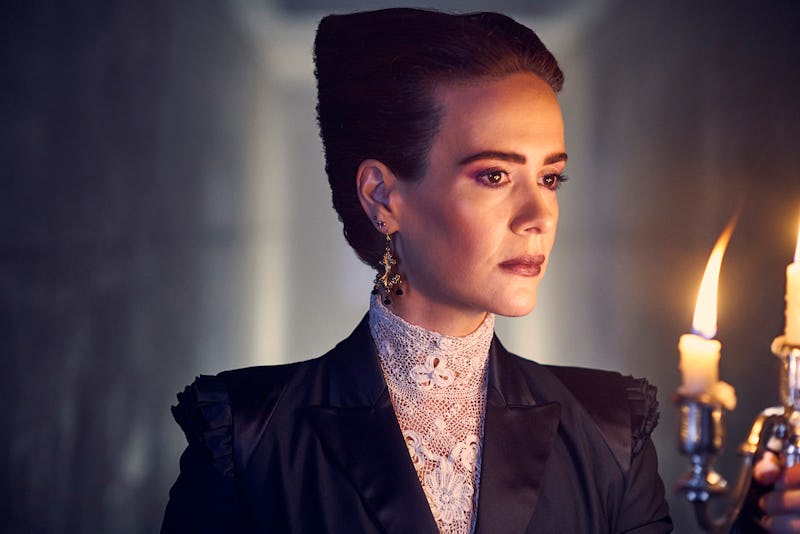 Kurt Iswarienko/FX
Some say the world will end in fire, others say in ice. But perhaps the question we should be asking isn't how the world will end... but when. The exact timing of World War III is a bit fuzzy in Season 8 of American Horror Story, but if the AHS: Apocalypse timeline feels confusing, it may be because it's hiding a major twist — at least, if this new fan theory is to be believed.
While the Season 8 premiere did explain this AHS chapter takes place 18 months after the nuclear apocalypse, that didn't mean much without a starting date to calculate from. However, Episode 2 offered a more concrete time stamp. As pointed out by Popbuzz, Timothy and Emily's snoop through Michael Langdon's emails gave viewers a closer look at his laptop screen, revealing that the date of his most recent correspondence is exactly Oct. 20, 2021.
That's fine on its own, but in context, the date conflicts with another piece of the puzzle of AHS' interconnected mythology. While none of the prior seasons took place in the future, Season 5's Hotel did end with a flash-forward to Billie Dean Howard filming an episode of her TV show at the Hotel Cortez on Devil's Night, a.k.a. Oct. 30, 2022.
So, if the world still exists in the AHS universe in October 2022… then it must also still exist in October 2021, right? Has the apocalypse not actually happened? Is the entire season some sort of sick psychological experiment? None of the characters have a clue what's going on outside the bunker of Outpost 3. Maybe the world is trucking along just fine and Michael Langdon is torturing them for unknown reasons.
After all, Ryan Murphy did tease to Entertainment Weekly that Apocalypse is "a season unlike anything we've done because there's a big hook to it. There's a huge thing that happens in Episode 5." The fifth episode of Season 6 was when Roanoke was flipped on its head; could a similarly major twist be lined up for Season 8 as well?
Or maybe this is simply an oversight. Apocalypse is connected directly to Murder House and Coven, not Hotel — so it's possible that the writers discounted Hotel's timeline when crafting Season 8. (Although Hotel itself is connected directly to Murder House through realtor Marcy and Dr. Charles Montgomery, so by extension, Apocalypse is also connected directly to Hotel through Murder House… This is giving me a headache.)
To make things even more confusing, The Hollywood Reporter reported in April that AHS creator Ryan Murphy said Season 8 would take place "18 months from today" — and he meant that literally, apparently telling the crowd at an FYC panel to go look up what day that would be. (For the record, it's Oct. 6, 2019, the same day on which, in 1961, President Kennedy urged American citizens to build atomic fallout shelters in the event of nuclear war with the Soviet Union, according to Politico.)
But why would Murphy pinpoint that exact date to reporters... and then not have Season 8 take place then, as he suggested? Perhaps he meant the season would start on Oct. 6, 2019, before the 18-month time jump; but then that would still have the main action of the season taking place in April of 2021, not October. And in any event, all of that would be taking place before Hotel's 2022 flash-forward.
To be fair, it can often be quite difficult to keep continuity consistent in a franchise with as many moving parts as American Horror Story. Just look at the Marvel Cinematic Universe: Though usually seamless in its world-building, even that mega-franchise managed to flub its own timeline in 2017's Spider-Man: Homecoming. A title card in the movie indicated that it took place eight years after the events of the first Avengers film. But, according to Polygon, that would have set the film in 2020, three years after Homecoming's own release and, more importantly, two years after the events of Infinity War.
So, is the time stamp on Michael's email a major Easter egg laying the groundwork for the twist to come in Episode 5? Or is simply a goof that means nothing in the larger scheme of the franchise's continuity? Unfortunately, fans will just have to wait and find out for themselves as Apocalypse slowly unveils its mysteries.