An 'ANTM' Contestant Grilled Tyra Banks About 'Life-Size 2' Like The Hero She Is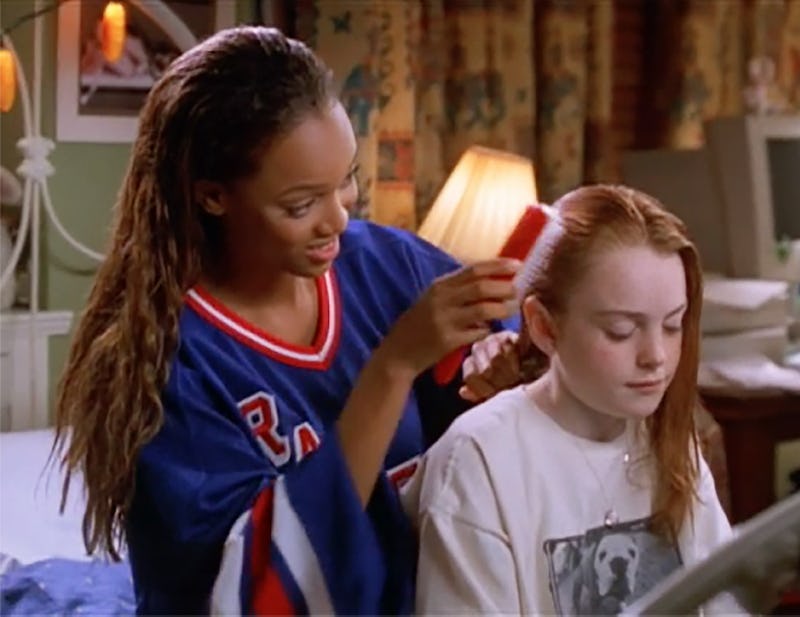 Disney Channel
If you're one of the many who just can't wait for the reboot of your favorite Disney Channel Original Movie, just know that you're not alone. On Tuesday night's episode, an America's Next Top Model contestant asked Tyra Banks about Life-Size 2 — specifically, when Life-Size 2 was coming out. Even though the show's mentor and host wasn't able to provide an answer, isn't it just nice to know that this is being treated as a priority?
On the set of a reality TV modeling competition, contestant Kyla Coleman still has her eyes on the prize. And not the prize of becoming America's next top model, although obviously that's worth working toward as well. No, this prize is not just for the winner, but for all of us — a followup to the 2000 DCOM that featured Lindsay Lohan and a doll coming to life. During the Feb. 27 episode of ANTM, now in its 24th cycle, Teen Vogue reports that Banks was behind the camera and directing the shoot, instructing the gold-splattered Coleman on how to pose.
Looking for a more dynamic image from Coleman and her partner Miles Dausuel, Banks suggested that the young model try yelling. Looking to help them rediscover their "power," Entertainment Weekly reports that Banks announced, "We need to yell! Shall we do movies? We're going to start with Friday [and] Boyz n the Hood." But Coleman was ready to emote in a way that her photographer clearly hadn't prepared for, as she smoothy shouted, "When's Life Size 2 coming out?" right into camera, without ever breaking eye contact. Her hilarious outburst didn't get an answer, but Banks was so amused by the moment that she posted about it online. Which is really the next best thing.
Any conversation about Life Size 2 is a good conversation to be having, and, as a bonus, Banks is just the person to be having it with. In the original, she played the doll Eve, who's unwittingly pulled into a bunch of human drama by the spell that accidentally gives her life. But the 44-year-old supermodel will have a lot more control in the reboot. Banks will be an executive producer on the follow-up, in addition to its star.
She's stated, for example, that Life Size 2 will be a "fun, edgy, modern Christmas movie," and that it will build upon the feminism of its predecessor. But even more exciting is the fact that she's interested in having Lohan return to reprise her role as Casey Stuart, even revealing to Entertainment Weekly in August 2017:
"Lindsay and I have been slipping into each other's DM's a lot lately. I think she's very interested in returning. It's about figuring out what that role is. I'd like it to be kind of robust. I'm not looking for a Lindsay cameo, I'm looking for her to have something pretty meaty in Life-Size 2, so we shall see what our writer comes up with."
That phrasing suggests that the project didn't yet have a working script as of the end of last summer, which is also when ANTM Cycle 24 was filming, according to EW and Banks' social media. (Which explains why Banks didn't give Coleman a more specific answer.) And with no real updates since then, it's impossible to know where the reboot is in the production process.
One would hope that it's well underway, since the initial air date teased by Freeform was December 2018, this holiday season. It's been promised as a part of the channel's "25 Days of Christmas" programming, but no filming has yet been announced. Everyone will need to step on the gas if they're still hoping to meet that self-imposed deadline.
But in the meantime, let's give this model the ANTM crown now for asking those hard-hitting questions and looking great while she does it. Not to mention making an OG like Tyra Banks laugh.