This Hispanic Heritage Month, Celebrate With These 9 Bookish Ideas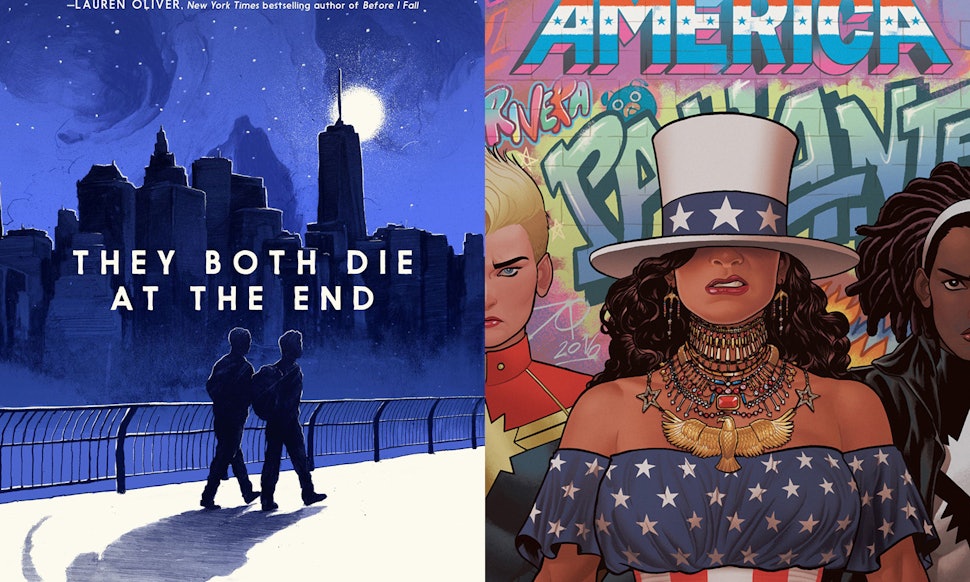 September 15 marks the beginning of Hispanic Heritage Month in the U.S., a time dedicated to recognizing the contributions of Latinx and Hispanic individuals, and celebrating our many diverse cultures and traditions. And while Latinx people use every single day to honor their traditions and continue to grow them for the next generation, having an entire month dedicated to Latinx and Hispanic people feels more important now than ever before.
If you pay even a peripheral attention to the news, you'll know that being Latinx and Hispanic in the U.S. these days often means enduring racist backlash and institutionalized discrimination, even from our highest office. From the ongoing Mexico border wall fiasco to DACA, we need to continue to insure that the many, many contributions of Latinx and Hispanic citizens is not only celebrated this month, but every month, and continue to fight for the rights of all of America's people. Of course, one of the ways we always love to celebrate heritage, culture and diversity is through books.
Whether you are a Latinx or Hispanic wanting to make sure you do everythin you can to honor your culture this month, or you are someone who has made it their mission to continue to read from diverse voices all year long, September is the perfect time to mark some Latinx books off your TBR. Keep reading below to find out a few of the easy ways you can use books to make this Hispanic Heritage Month your best one yet.
Read Only Books By And About Latinx People For A Month
There are so many great books by Latinx and Hispanic writers out there that you could spend the entire month exploring different reads exclusively from the community. Whether you're in the mood for some Latinx YA, nonfiction, whatever, there is definitely a nice stack of books out there waiting for you. Oh, and while you're at it there are lots of upcoming releases from Latinx authors to add to your TBR, too.
Add Some Latinx Memoirs To Your TBR
One of the best way to honor the lives of Latinx and Hispanic people is by listening to (or reading) them tell their own stories. Whether you choose books by your personal favorites or use these reads as a way to introduce you to more influential Latinx and Hispanic icons you might not know much about, you can't go wrong with a cultivating a few Latinx heroes of your own.
Add Books To Your Stack That Honor Immigrant Narratives
Immigration is one of the hugest issues the U.S. is facing right now, and so to ignore narratives about the immigrant experience and second-generation citizens is not only foolish, it is an aggressive act of ignorance. Whether you choose fiction, nonfiction or memoir you'll find stories that are moving, illuminating and incredibly human.
Make A List Of Must-Read Classics You Missed...Then Read Them
I have written at length about reading Latinx classics and if you weren't sure where to start with your Hispanic Heritage Month reading, this is a great place. Taking a look at books by and about Latinx and Hispanic people that have become part of our collective literary canon will show you the kind of stories you want to continue reading beyond this month.
Read...And Share...Some Pura Belpré Award Honorees
Named for Pura Belpré, the first Latina librarian in New York City this award is presented to a Latinx writer and illustrator whose work best portrays, affirms, and celebrates the Latinx cultural experience in an outstanding work of literature for children and youth. And if you're lucky enough to live in New York, why not pay a visit to one of the libraries Belpré worked in (including the Seward Park branch in the Lower East Side) this month and borrow a couple of Latinx reads in her honor?
Donate Latinx And Other Diverse Books To A School, Shelter Or Library In Need
There are countless schools, libraries, shelters, after-school programs and even non-profit bookstores in desperate need of books with Latinx and Hispanic representation. Call in to some of your local institutions to see if they are taking donations of books, especially for kids and teens. Some may even need monetary gifts to help diversify the books assigned to children in the classroom. You can share your love of reading and insure that the next generation is being exposed to stories of Latinx people.
Support Female Latinx Authors
It is the black and brown women in our country whose voices are most often ignored and silenced; so make sure that isn't the case in your own reading. There are so many incredible books by Latinx women authors to check out, and most of them will focus in on a female main character, too, for an experience that speaks to the diverse experiences of Latinx women in the U.S. today.
Check Out A Graphic Novel Or Comic By A Latinx Writer/Illustrator
There is a lot to celebrate when it comes to taking a look at the strides Latinx and Hispanic creatives are making in breaking into industries they have traditionally been excluded from...and superhero narratives are one huge part of that. In particular stories like Gabby Rivera's America (a queer Latinx teenage girl take on the Miss America story) are making waves in the once super-white, super-male world of comic books. And you're definitely going to want to be part of that.
Include Diverse Voices Within The Latinx Community
Reading diverse stories from within the Latinx community is just as important as picking them up in the first place. Whether you reach for Latinx books with LGBT+ rep, discussions of mental health, or just books by and about all genders, learn about as many Latinx stories as possible this month. And then keep going.