Um, 'This Is Us' Already Shot Scenes From Its Series Finale, So Get Those Tissues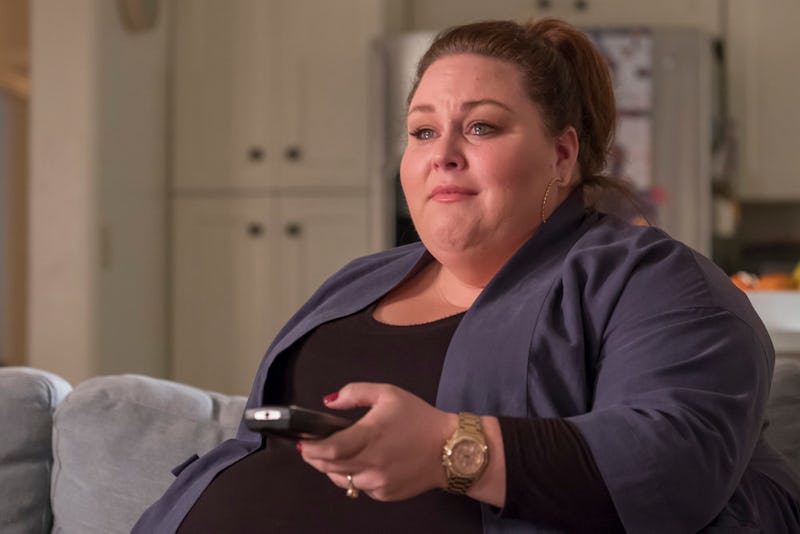 Ron Batzdorff/NBC
Although NBC has already given the greenlight for at least one more season, E! News recently reported that This Is Us already filmed scenes for its series finale. Just that news alone is enough to have you sobbing. Details surrounding This Is Us' future were announced during the series' For Your Consideration Emmy event by This Is Us creator and executive producer Dan Fogelman, according to Deadline. At the event, Fogelman revealed he knows exactly how the series is going to end and that some of the scenes have already been shot.
Among the many tidbits shared during the FYC panel — which also featured Mandy Moore, Milo Ventimiglia, Susan Kelechi Watson, Chrissy Metz, Justin Hartley, Chris Sullivan, and Sterling K. Brown (via Skype), according to Deadline — Fogelman announced that the show's writers' room was only about four to five episodes into creating the farewell season. He reportedly went on to say, "I've already shot pieces of the final scene of the series." Of the timeline for the show's ending, the producer and screenwriter explained,
"We're pretty far out. Our writers and I are kind of to the end. We know where it ends and we have a path for each season of the show. We've always had a plan. We didn't want to get stuck. We had the kids and the timelines, and had to have a plan."
While the show's ending is obviously going to be a bittersweet moment for all who have hopelessly fallen in love with the Pearson family's story, Fogelman was careful not to give away too much in terms of timing, other than saying, "I don't think this show, despite any success it may or may not have, will overstay its welcome."
It's unclear how long the series intends to remain in production. However, it's worth noting NBC quickly picked up two additional seasons of This Is Us during its inaugural season. Popsugar also reported that when Fogelman first pitched the pilot, he already had the first four seasons of the show planned out, which means he has a lot more story to tell before it's all said and done.
With two seasons already aired, and Jack's incredibly sad cause of death now revealed, This Is Us is gearing up for Season 3 which is set to premiere in September of this year. From the sound of the teases shared by Fogelman and the cast, there will be many more heartwarming and heart-wrenching in store from the Pearsons in upcoming seasons.
In the Season 2 finale, fans were given a cliffhanging sneak peek into what to expect from Season 3, including Kevin's relationship with his new girlfriend Zoe (Beth's cousin), and Kate trying to cope with Toby's issues with depression. There was also scene that showcased an emotional moment shared between Randall and a future version of Tess, where Tess tells her father, "I'm not ready to see her," which hinted that something may have happened to one of the female characters on the show.
Those moments undoubtedly left fans on the edge of their seats in anticipation for Season 3. Brown, who portrays Randall on the series, addressed the scene. According to Deadline, he explained,
"That big thing in regards to who the 'it's time to go see her, I'm not ready to go see her'; I'm not going to tell you who (it is), but it sort of leads to the end game of our show, not the end of the season per se, but the show as a whole. And who you think the 'her' is, is probably not who it is in typical Fogelman style."
Shaking up original fan theories which suggested that Beth could be the "her" in question, Brown continued: "It could be one of those people on stage."
Giving away other information about the show's more immediate future, Fogelman shared that the upcoming season will also "dive into Jack's experience in Vietnam," according to TVLine. He also revealed that things will get more in-depth for Beth's storyline, saying the the character, "will get a deep-dive where we learn about her backstory; she'll get a showcase." He also revealed that "Kate and Toby have a journey this season, and it's a journey about them trying to start a family."
While the ending of This Is Us is sadly imminent, it sounds as if there's much more of the Pearson family coming your way before they say their final goodbyes.