This Video Of Tom Sandoval On The Tom Tom Bike Is A MINDBLOWING Virtual Reality Experience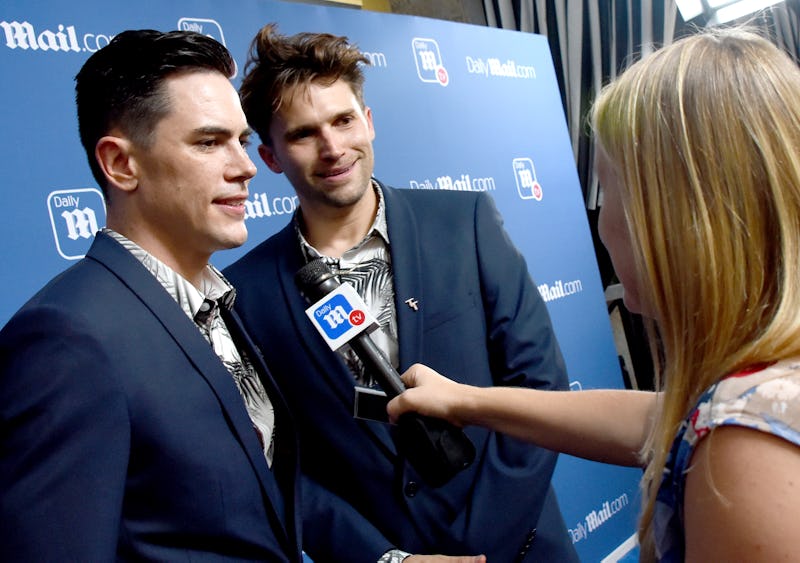 Araya Diaz/Getty Images Entertainment/Getty Images
Are you a Vanderpump Rules fan who dreams of taking the Tom Tom motorcycle for a spin? Well, now that dream can (sort of) come true. There is a video of Tom Sandoval driving the Tom Tom motorcycle that went up on Instagram this week, and to watch it is to partake in a Vander-tual reality experience. (Er, virtual real-SUR-ty experience? Hm, no. That is not quite right. Let's keep noodling it.) As Sandoval piloted the new Pump Rules bar's official vehicle around town, his buddy Leo DeMarsh documented the adventure from the sidecar. And thanks to the video's POV, you almost feel like you're really sitting next to Sandoval as he zips down the street on the custom hog.
The Tom Tom motorcycle made its debut at the Tom Tom ribbon cutting ceremony on Sunday, Aug. 5 when Sandoval and Schwartz drove up to the bar together in matching white suits, goggles, and custom Tom Tom helmets. It was a capital-m Moment. For Giggy's sake, the Toms' Vanderpump Rules colleague Stassi Schroeder deemed the custom motorbike iconic, so it must be a big deal.
Ready to soak up some virtu-Pump Rules-ality (wow, there it is. That one isn't the least bit forced or clunky!)? Dim the lights, point a floor fan in your direction, pull up Sandoval's IG post, and let the SUR-nsation of actually sitting in the Tom Tom motorcycle's sidecar wash over you.
Sandoval had a vision for the Tom Tom opening, and that vision involved a sidecar — and no, not the boozy kind. While chatting with Bustle at a Tom Tom tasting event on Monday, Aug. 6, Sandoval and Schwartz shared the story behind the bike. Sandoval tells Bustle, "I surprised Schwartz with a motorcycle sidecar because I thought to myself, 'What would be the best way for us to make an entrance?' … I had a vision, I made it happen. It was a lot of work, but it was so, so worth it. You know, it's like our version of the SUR pink car."
"It's iconic," adds Schwartz. "Instantly."
Last Friday was a big day in the Vander-universe: It marked the two-year anniversary of the Tom Tom Talk (and, ya know, the two-year anniversary of Schwartz and Katie Maloney's wedding). On Aug. 17, 2016, Real Housewives of Beverly Hills star and restaurant scene queen Lisa Vanderpump sat down with the Toms at Schwartz's wedding and asked if they would like to go into business with her. And that business would be a bar and restaurant that's extremely close to PUMP. And that bar and restaurant would be called Tom Tom.
And here we are. Earlier this month, Vanderpump, Ken Todd, Schwartz, and Sandoval's new bar/restaurant/steampunk garden party fantasy opened its doors. And the Tom Tom motorcycle was there with Sexy Unique Bells on.
You may never get the chance to climb in the Tom Tom motorcycle sidecar and ride down Santa Monica Blvd. with Sandoval, but you can live vicariously through Sandoval's Instagram video. Behold the power of SUR-tual Pump-ality.