Raven Hasn't Met Tia's New BF Yet, But These Comments Suggest The 'Bachelor' Alum Approves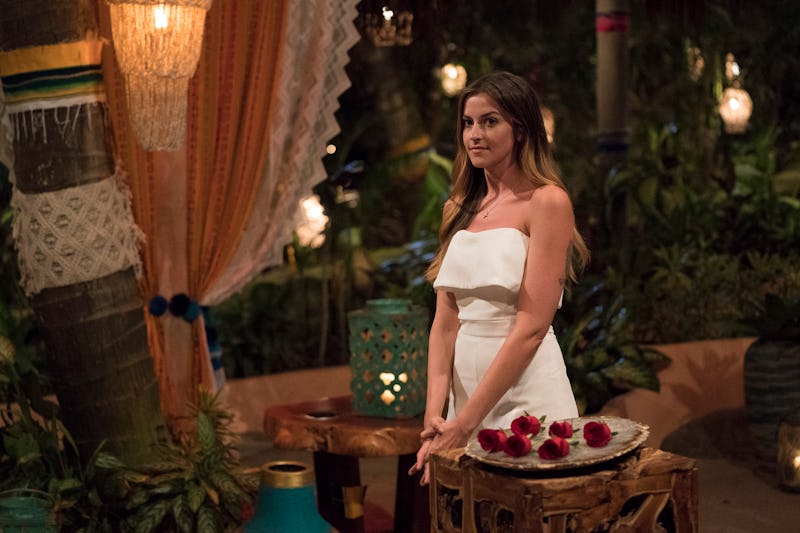 ABC/Paul Hebert
This Bachelor in Paradise alum found romance outside of the franchise. In a subtle tweet, Tia Booth confirmed her new relationship, even though her best friend Raven Gates hasn't met her new man — yet. In November, the reality star sparked romance rumors by posting a photo with a mystery man on a football field. Then, last week, Tia posted a photo set with the same guy, captioning the pictures with a black heart emoji. Those pictures didn't exactly confirm the relationship outright, but they did suggested there's a new man in Tia's life. Colton Underwood, who?
Then on Saturday, a fan reached out to Tia and Raven on Twitter to get the scoop. The person wrote, "Need to know if Raven Gates approves of Tia's man!!!!" Tia seemed amused by the comment and responded, "HA they haven't met yet!" The tweet basically made the relationship official, even if Tia's boyfriend doesn't yet have Raven's stamp of approval.
According to People, Tia is dating Cory Cooper, who isn't a reality star but instead co-owns his family's steel company, Cooper Steel. The reality star has yet to open up about the relationship beyond that tweet.
Even though Raven hasn't met Tia's love interest IRL, but she made her support clear on Instagram Raven commented on Tia's first Instagram with her new guy, writing, "Nashville and love look good on you" with heart emojis.
Many of the reality star's fellow Bachelor alumni chimed in as well, and like fans, they wanted more information. Astrid Loch wrote, "WHO'S BAE?" Blake Horstmann added, "Ooo posting to the gram," and Jasmine Goode simply said, "Okkkkk".
The only other commenter with inside info seemed to be Caroline Lunny, who wrote, "Woaaaaaaah IG offish finally!! happy for you two love birds." But if anyone else in Bachelor nation knows more details about the relationship, it's probably Tia's best friend. Raven's boyfriend Adam Gottschalk seemed to suggest as much, commenting, "She knows what she's doing" with the eyes emoji.
If Raven meets Tia's new boyfriend and approves, it will surely be meaningful. In the past, Tia has valued Raven's opinion when it comes to her love life. As fans recall, Raven wasn't the happiest to find out Tia was dating Colton once again on Bachelor in Paradise. Back in August, Raven told Tia she doubted Colton's motivations on the show and warned her to be careful. Even thogh Tia was clearly disappointed her BFF didn't approve, Raven's advice turned out to be accurate. Tia and Colton had an on-and-off again relationship during the season, and when neither star was on the same page, the romance ended with an emotional on-screen breakup.
It's no surprise that Tia listens to Raven's opinion, as these two friends go way back. Raven and Tia come from nearby small towns in Arkansas, and they knew each other long before Raven appeared on Nick Viall's season of The Bachelor. Raven encouraged Tia to audition for the show, and was one of her biggest cheerleaders on social media as she competed for Arie Luyendyk Jr.'s heart.
The two reality stars grew up in the same place, but they don't live in the same place anymore. Raven moved to Dallas, Texas to be closer to Adam, while Tia is residing in Nashville. This likely makes it more difficult to meet up, so it could be a while before Rave meets Tia's new partner. Even so, Bachelor fans will definitely be eager to find out the verdict from Raven when these two BFFs reunite.