2017 Ended With Tons Of Avocados Burning In A Fire, Because Of Course It Did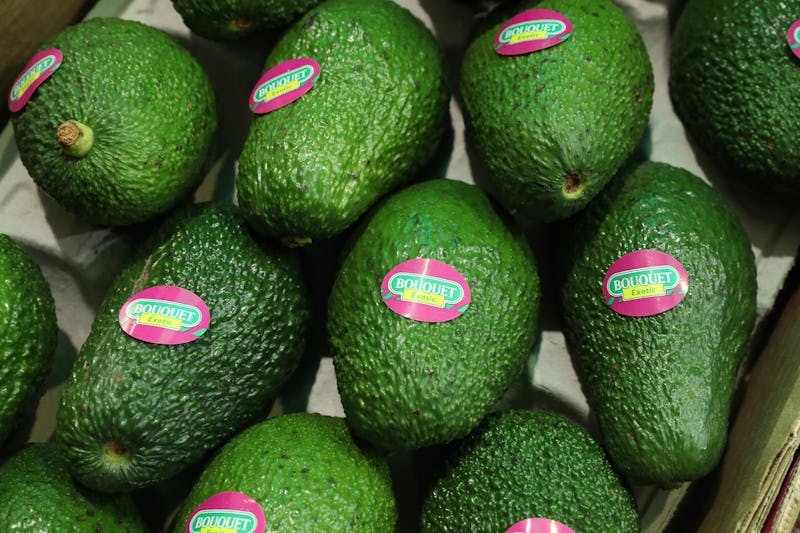 Sean Gallup/Getty Images News/Getty Images
If there was any indication that 2017's time is up, it's definitely this: Last Thursday, 40,000 pounds of avocados were destroyed in a big rig fire just south of Dallas, Texas. Obviously, this is a culinary tragedy — just think of all those avocado toasts that will never be eaten as a result — but if you're wondering why I saw this story and immediately thought, "Yes, that is 2017 in a proverbial nutshell"… well, let me offer forth this poetic interpretation of the incident for you: The avocados are us. The big rig fire is 2017. Make sense now?
According to WFAA, the avocado debacle occurred at around 11:15 a.m. on Dec. 28 near the town of Forreston. It's not known yet what exactly caused the malfunction — the Texas Department of Public Safety noted that it looked like it may have been a mechanical issue, although whether that's the case hasn't been confirmed — but whatever it was, it resulted in an 18-wheeler going up in flames on the northbound side of I-35E. Crates of avocados flooded the interstate as the truck blazed; indeed, that section of the interstate had to be shut down for a whopping three hours while cleanup crews worked both to clear the avocados and move the big rig off the road. Northbound traffic was diverted onto State Highways 34 and 77 in the meantime. I-35E's northbound lanes finally reopened sometime in the neighborhood of 2:30 and 3 p.m. (Reports vary — according to WFAA, it was 2:30, while NBC DFW said it was just after 3 p.m.)
Happily, no one was injured in the incident, which is why we can feel free to make jokes about the whole thing — joke with, perhaps, an element of truth in them. Given that 2017, like 2016 before it, has repeatedly been referred to as a fire of some sort — a dumpster fire, a garbage fire, a trash fire, and so on and so forth — the metaphor that we are all the avocados and the year itself is the fire that destroyed them is low-hanging fruit. The first year of the Trump presidency has seemed intent on destroying us in more ways than I can count; the tax bill, the repeated attempts to take away affordable and essential health care, the attack on immigrants, the attack on trans rights, the willful ignorance about climate change, and the emboldened actions of literal Nazis are just a few of them.
What's more, we can take the metaphor a step further, too: Whether or not the association is warranted, avocados have become synonymous with millennials, so we might also look at the avocados-destroyed-in-big-rig-fire story as a representation of what 2017 has done to millennials in particular. Millennials — and Gen Z, and all the generations that will follow us — are the ones who will largely suffer from the decisions being made today. If every measure that has been put into place to mitigate the impact of climate change is eliminated now, the younger generations will be the ones dealing with a dying planet later on. If the tax bill that was just passed increases income inequality in the United States, the younger generations will be the ones dealing with that growing schism later on. If the basic rights of huge numbers of people are curtailed now, the younger generations will be the ones who have to handle the fallout later on. The thoughts are sobering — which is why we laugh at the avocado-fire metaphor: It helps us cope.
Then again, there's also this: One news anchor for WFAA described the incident as resulting in "some weird, molten guacamole" — which I actually find strangely encouraging in this context. The fire may have tried to destroy those avocados,but they struck back in the form of fiery guac; so, maybe we can, too. We might not be able to rise like a phoenix from the fire that was 2017, but we can rise like weird, molten guacamole and do what we can to fight for our rights. Now's a great time to brush up on some big picture plans we can work to accomplish, to do what we can do to be good allies to those who need it, and to make sure we take care of ourselves while we do all this essential work in the upcoming year.
Get ready, 2018. We have arrived.