Fans Can't Get Over The Shock Of Astrid & Kevin's 'Bachelor In Paradise' Breakup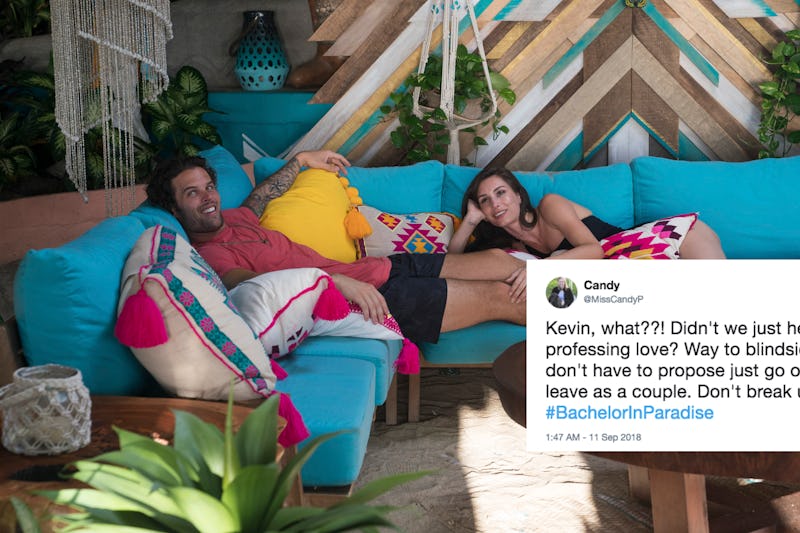 ABC/Paul Hebert; MissCandyP/Twitter
Astrid Loch and Kevin Wendt seemed like the most solid couple on Bachelor in Paradise, so one saw it coming when he broke up with her right before the Fantasy Suite dates — especially Astrid. Making matters worse, she had to relive the breakup when Monday night's episode aired. At least she had support from viewers who tweeted about Astrid and Kevin's sudden breakup on Bachelor in Paradise. Everyone was so thrown off by this. But still, just imagine being Astrid. Sure, it's great she has received a lot of love from the fans, but that's pretty much a consolation prize.
Why couldn't these two just continue dating outside of the show? Why does it have to be engagement or nothing? This isn't The Bachelor or The Bachelorette, that high level of pressure is not there for every single Bachelor in Paradise couple. Most likely because there are so many relationships and not just one left standing at the end.
The viewers just could not handle the unexpected split. This can't be the end of Astrid and Kevin, right? Hopefully they managed to get back together in real life, but only if Kevin genuinely made things right and put in 100 percent of himself, instead of the 80 percent he told Astrid he was giving her during the most recent episode.
Unfortunately, their current status is still unknown to the fandom, but those fans really did have a lot to say about the split.