Twitter Can't Stop Wondering About Hannah G.'s Absence On The Latest 'Bachelor' Episode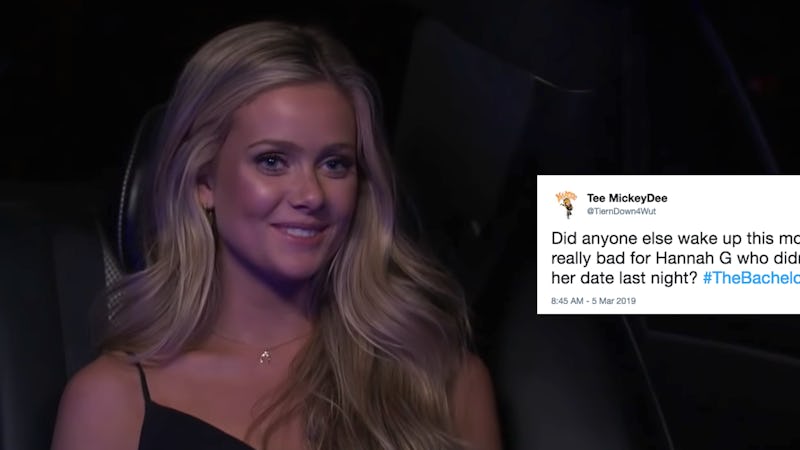 ABC; TiernDown4Wut/Twitter
The fantasy suites episode of Colton Underwood's Bachelor season might be the most dramatic one yet. Colton finally jumped the fence and it turned out to be this season's most important moment. Cassie left the show, because she wasn't "in love with" Colton and this propelled the jump. Meanwhile, Hannah G. was majorly absent on Monday night's Bachelor episode. And if you ask Twitter, she was the one truly affected by Colton's fence jump — and she doesn't even know it yet.
She was probably just chilling in Portugal doing her nails and trying on outfits for her date with no idea that the season is essentially over. Colton left without production's permission sans microphone, and no one knows where he went. Even Chris Harrison started cursing in response. During all that, Hannah G. was probably working on some bars, so she could rap for Colton again.
At least Tayshia had a fantasy suite date. And Cassie at least had the opportunity for some true one-on-one time with Colton. Hannah G. is completely left out. Plus, she didn't get a ton of screentime up to this point anyway. This fantasy suite date really could've been a major moment for her.
Instead, she barely appeared in the episode at all and fans are so confused about how they're going to get a two-night finale next week. Does Colton gain his composure and give a relationship with Hannah G. one last shot? Does he really call it quits and end the season as a single guy? Does he abandon Hannah G. to chase down Cassie (and presumably her dad) at the airport in Portugal?
There are so many questions and fans have to wait a whole week for answers. Nevertheless, most people agree on one thing: "poor Hannah G!"