Jon Snow's Fate On 'GoT' Brought Him Full Circle, Even If Not Every Fan Is Happy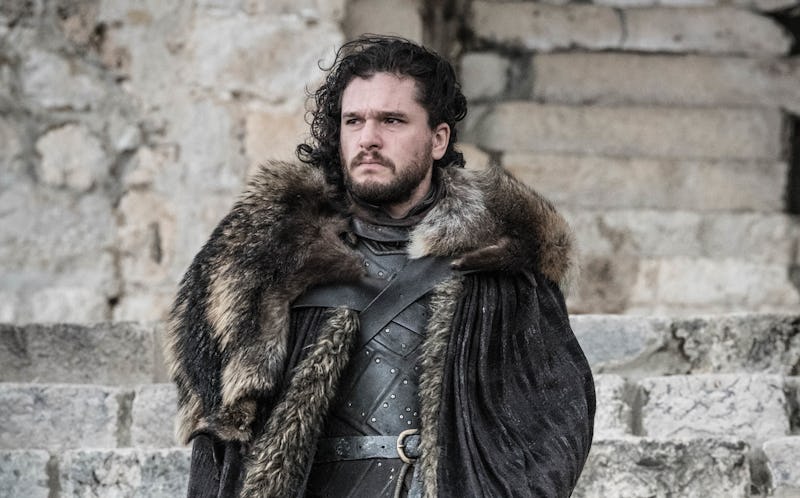 Helen Sloan/HBO
Spoilers ahead for the Game of Thrones series finale. The person with the greatest claim to the Iron Throne didn't end up as the ruler of Westeros at the end of Game of Thrones. Instead, Jon Snow returned North, to the Wall and the Wildlings. If these tweets about Jon Snow's fate on Game of Thrones are any indication, the fandom is split about his fate. While some viewers are outraged that Jon never got to be the leader of the Seven (now Six) Kingdoms, others are happy to see him living in the North with the Free Folk. But even though people will always be divided about Jon's fate, one thing that fans can (mostly) agree on is how good it was to see Jon Snow reunite and pet Ghost before the series came to an end.
Jon Snow has always been loyal to a fault. But in order to protect the people of Westeros and beyond from tyranny, Jon killed his queen, aunt, and former lover Daenerys Targaryen. Yet, rather than take the throne for himself (not like he would have or even could have, since Drogon destroyed it) or get assassinated by Grey Worm, Jon received a pardon. Bran ordered that Jon be sent to the Night's Watch again for life — except no Night's Watch really exists, so Jon is able to go be with the Free Folk beyond the Wall.
Whether you loved this fate for Jon Snow or were outraged that the brave and dutiful bastard didn't get a happier ending, here's what Twitter had to say about his Game of Thrones ending.