18 Shows To Watch After That Heartbreaking & Hilarious 'Veep' Finale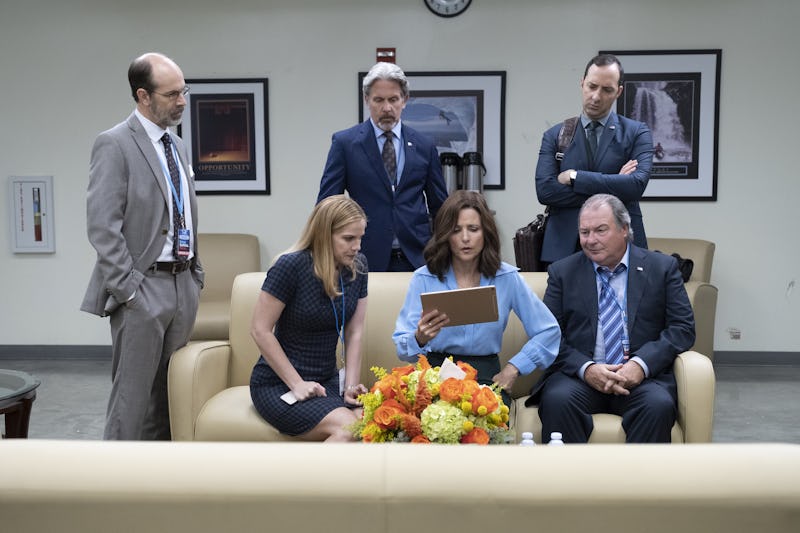 Colleen Hayes/HBO
Say it ain't so! Just like Selina Meyer's (Julia Louis-Dreyfus) presidency, the HBO comedy titan Veep will conclude after Season 7, which has followed the former president's ill-advised second campaign to win back the Oval Office. The Veep Season 7 finale will air Sunday, May 12 on HBO, and will hopefully reveal who won the presidential election.
However, it's probably a good thing that the series is ending — Veep's brand of shocking political humor has somehow become commonplace in a post-Trump world. That said, audiences will no doubt miss Selina's critical jokes about the American people, Jonah Ryan's foul-mouthed rants, and Amy and Dan's will-they, won't they? antagonistic dynamic. And who could ever forget Richard Splett's good-natured, bumbling persona, which could very well win himself the presidency before it's all said and done?
But while Veep was both depraved and hilarious, whip-smart and irreverent, all good things must come to an end. Or as beloved dumb-dumb Richard Splett would probably say, "Don't cry because it's over — smile because it happened!" After all, not only can fans now go back and rewatch the series in all its biting, depraved humor, but there are plenty of other Veeps in the sea. Here are 18 other shows fans can watch after Selina Meyer's story comes to an end on Sunday.