This BFF Moment From Victoria Beckham & Eva Longoria Will Make You Miss Your Bestie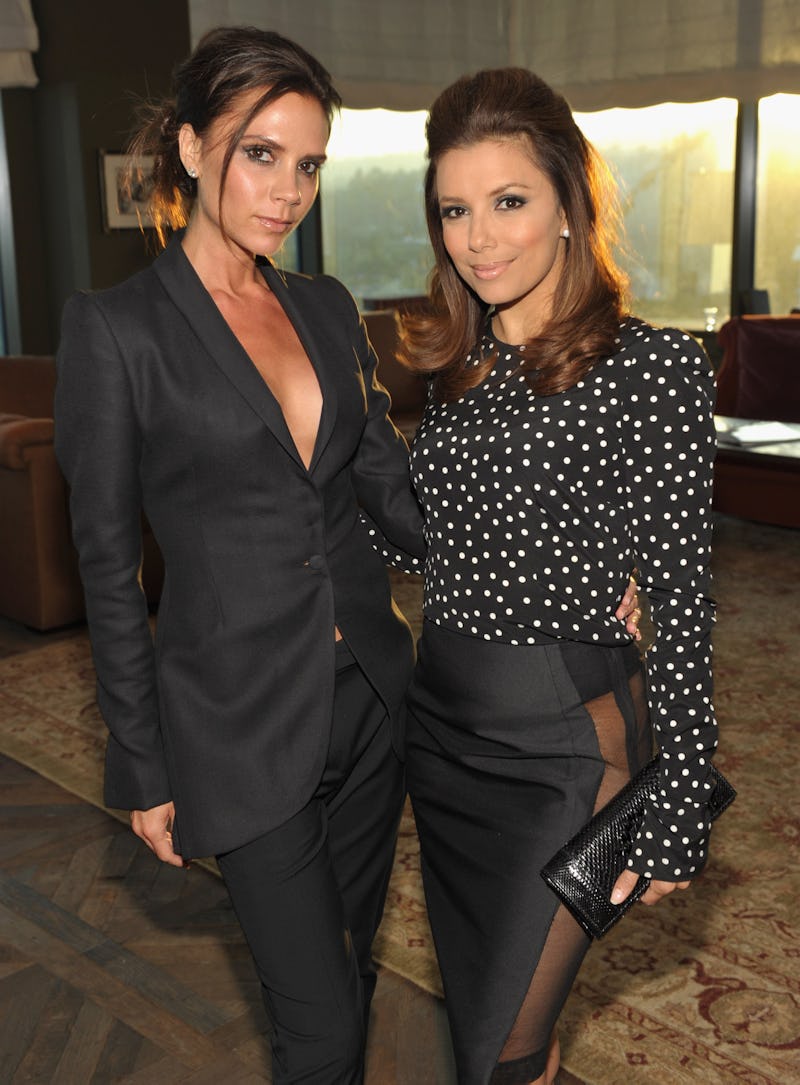 John Shearer/Getty Images Entertainment/Getty Images
It's hard to tell whether some celebrity friendships are the real deal or simply a publicity stunt. But two stars have just proven how close they are, despite not seeing each other for months. On Thursday night, Victoria Beckham met Eva Longoria's baby for the very first time, posting a rather cute photo of the trio on Instagram.
Longoria gave birth to her first child, Santiago, back in June and has been enjoying motherhood ever since. Beckham and the former Desperate Housewives star have been friends for literally years with the designer even choosing Longoria to be the godmother of daughter Harper, the Daily Mail reports. The actress returned the favour in 2016 when she asked Beckham to be her official witness and design her wedding dress for her marriage to José Bastón.
The pair can reportedly thank their husbands for their friendship, according to Hello! Well, ex-husband in Longoria's case. When David Beckham secured a contract with football team L.A. Galaxy in 2008, the entire Beckham clan upped sticks and moved to Los Angeles. Beckham is said to have struck up a friendship with Longoria's former partner, Tony Parker, soon after. Eventually, the foursome became inseparable.
Although the Beckhams moved back to London in 2013, Beckham and Longoria have remained close, meeting up whenever and wherever their schedules allow. This time, Paris Fashion Week called. Thursday night's photo was taken during a dinner held in honour of the fashion event and saw Longoria wearing Beckham's hilarious tenth anniversary T-shirt.
"Finally meeting Santi!! I'm in love," Victoria captioned the photo of her first meeting with the three-month-old. "So many kisses @evalongoria and Pepe!!! Love u so much and could not be happier for u both!!" Wondering who the hell Pepe is? So was I. Turns out it's Longoria's husband's nickname which makes total sense.
Being such good friends, it's obvious that Longoria would have experienced Beckham's humorous side countless times. The public, on the other hand, has only had the pleasure in recent weeks. (Check out Beckham's Vogue video and recent campaign if you have no idea what I'm talking about.)
"She's probably my funniest friend," the 43-year-old actress told Grazia in 2014. "She has so many jokes. It's so much fun when we get to spend time together because I have really missed her since she left L.A. We're both really bummed."
So what does the best celebrity friendship in the world entail? Sunning yourself on a super yacht? Travelling the world on a private jet? Hitting up the best restaurants that only a multimillion pound salary can buy? No, actually.
In fact, the pair are quite boring by A-list standards. "We have sleepovers in pyjamas and our hairdresser brushes our hair until we go to sleep!" Longoria admitted on a 2016 episode of Loose Women. I suppose the second part isn't that relatable but most women can definitely see the allure of spending a night at home in front of the TV.
Now the two both have their own families, they'll be able to share parenting tips. Longoria is the stepmother to her husband's three children from a previous relationship so she has some experience.
But it seems like those closest to her have helped her during her first pregnancy and birth. Speaking to Hello!, she praised her "great support system. Everything was pretty smooth for me. I've been really lucky. It's been a really great journey."
Bring on more adorable photos.