Victoria Beckham Caught Her Daughter Singing "All I Want For Christmas Is You" & It's Too Adorable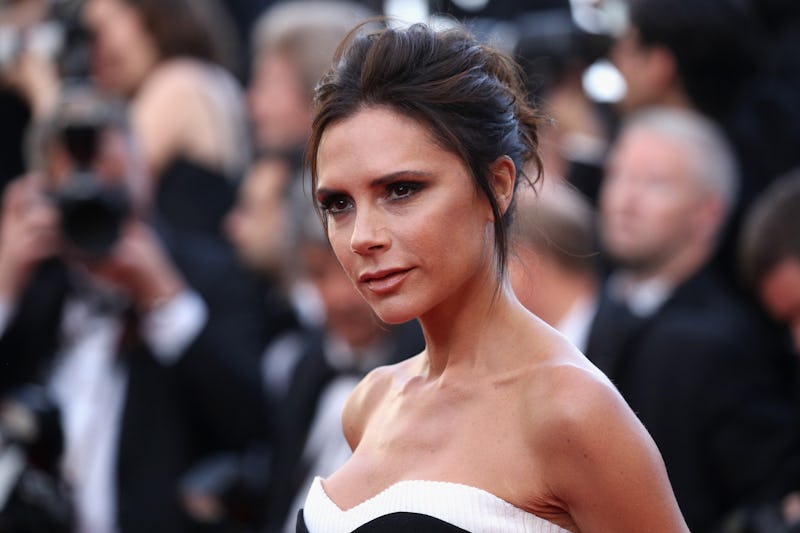 Andreas Rentz/Getty Images Entertainment/Getty Images
Though Christmas is on the distant horizon, the Beckham family is prepared and ready. Victoria "Posh Spice" Beckham has lived something of a charmed life, first as the sleekest member of an global pop sensation, later as a fashion mogul, and as currently matriarch of what could be the world's most beautiful family. The Beckham sons are athletes, models and photographers, but this video of daughter Harper Beckham singing "All I Want For Christmas Is You" is the first time in ages that fans will be reminded of Beckham's posh past.
Though Victoria Beckham rose to prominence as a member of the Spice Girls, and later enjoyed a brief career as a solo musician, she's the first to admit that singing isn't her forte. Daughter Harper, however, is showing a lot of promise. Posh Spice could pose and vamp with the best of them, but Harper's obviously ready to steal the show on the basis of her vocal runs alone. The six-year-old's a cappella rendition of Mariah Carey's 1994 hit has fans wondering: Could Harper Beckham be the next generation's Posh Spice? Maybe. Maybe. Considering the liberties she's taken with the iconic holiday tune, it might serve Harper better to work as a solo artist. And that's just her singing work. As seen on Posh's Instagram, the baby Becks is a budding visual artist as well.
It's reassuring that even someone as fabulous as Victoria Beckham spends a rainy weekend day the same as anyone else: Singing and doodling, while wearing pajamas. The proud mom shared a video of Harper on Instagram on Nov. 5, and that's exciting for a lot of reasons. While the older Beckham children, all boys, are more confident with media appearances, their little sister has mostly been kept anonymous. Photos of the family together are rarer, and a solo Harper sighting is rarer still. Celebrity children deserve all the privacy they can get, of course, but Harper is so obviously a star. Where is her solo album? "4th November and Harper is getting into the Christmas spirit!" wrote an excited Posh Spice on Instagram. "Kisses mummy and Harper!" said the caption, with added hashtags, "#WatchOutMariah" and "#RainyDayInLondon."
Is that an official challenge? Is Harper Beckham readying to dethrone Mariah Carey as the reigning queen of Christmas cheer? Unlikely. But it's fun to imagine. Plus, Mariah Carey would definitely fight a six-year-old, in the event she felt threatened enough. Interestingly enough, Carey has six-year-old twins of her own with ex-husband Nick Cannon. What if, ten or so years from now, Beckham and Carey united Harper, Moroccan, and Monroe for the ultimate pop star child group? Is anyone here a talent agent? There's a genius idea brewing.
Harper's full name is Harper Seven Beckham, which is so impossibly cool. She could likely do anything she wants. If she wanted to sell copies of her impressively rendered gingerbread men, they'd sell out like hotcakes. If she wanted to collaborate with her fabulous mother on a collection of holiday pajama sets, folks would line up for the launch like it was the first-ever iPhone. And hey, if Baby Beckham wants to become a soccer player, photographer, actor, model, or any other Cool Person hobby that brothers Brooklyn, Cruz, and Romeo have picked up, that's cool too.
Whatever the little one's destiny may be, it's just too fun to see a Spice Girl share a video of her own daughter singing. For those fortunate enough to catch their 2007 reunion tour, the video montage of individual Spice Girls posing with their mothers in their youth — soundtracked, of course, by the group's "Mama" — won't soon be forgotten. Maybe Harper will grow up to serenade Posh Spice with her own rendition of "Mama." Or Christmas 2018 could see the release of the wunderkind's first smash album. Keep up the good work, Harper.