Ariana Grande Covered Up A Pete Davidson Tattoo With A Tribute To Mac Miller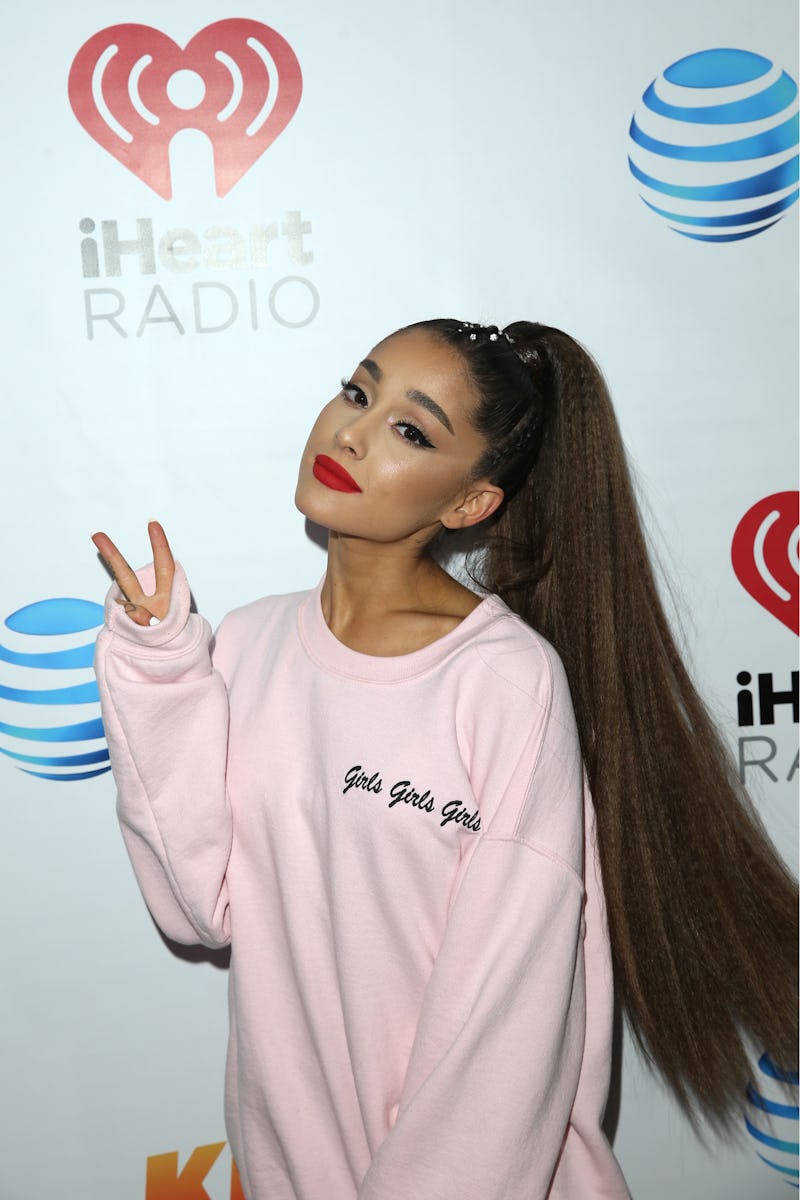 Jesse Grant/Getty Images Entertainment/Getty Images
In case you haven't heard, Ariana Grande and her ex Pete Davidson got a lot of matching tattoos. While the pair have separated, the ink has lasted, not for much longer, though. Ariana Grande's Myron tattoo is a tribute to her late boyfriend Mac Miller, and she just so happened to use the new ink to cover an old piece she got when she was with Davidson.
If you haven't been following the Grande and Davidson saga (and it is a saga), the pair began dating over the summer, got a lot of tattoos together, adopted a pig named Piggy Smallz, and got engaged (not necessarily in that order). Basically, a lot happened in a short period of time, but unfortunately, the relationship didn't last. Grande and Davidson broke off their engagement in October.
During she and Davidson's relationship, Grande's ex-boyfriend, rapper Mac Miller, tragically passed away. In posts to her Instagram account, Grande let the world know she was grieving his loss. Now that she and Davidson are no longer together, she's got some ink to conceal, and she's doing so by paying tribute to Miller by using the name Myron to cover an old Davidson tattoo.
Honestly, it's a really sweet gesture that shows just how much Miller meant to her. It also shows no ill will toward Davidson, either. The two have had an amicable break-up. But who is Myron, and what does the name have to do with Miller?
According to E! Online, a fan spotted Grande talking about her new tattoo in a behind the scenes video posted to YouTube. In the video, Grande is rehearsing her Bend and Snap homage from the "Thank U, Next" video when she stops to admire her tattoo. She specifically points out the Myron tattoo in the video. According to E!, the new ink is in the same location as a former tattoo Grande got to honor Pete Davidson's late father who died in the September 11 terror attacks.
No, Myron is not Mac Miller's real name (that's Malcolm McCormick). Myron is the name of Miller's dog. There's been speculation that Grande actually adopted Myron following Miller's passing. According to Teen Vogue, the singer has posted two images of she and the dog and cited reports that Grande's mother even sent out a tweet on National Dog Day naming Myron as one of her daughter's pets. That means that her new ink is a tribute to Miller and the new member of her puppy family.
While Grande may not cover all the tattoos she got when she was with Pete Davidson, she did cover this one, and the way she did it is so sweet. Not only is it a great way to leave behind a previous relationship, a la her lyrical advice in her hit smash "Thank U, Next," but it allows the singer to pay tribute to Miller whom she dated for roughly two years. Will Grande get more Miller-inspired ink? Fans will have to wait and see.