Mindy Kaling's New Baby's Name Will Make You Say, "Awww!"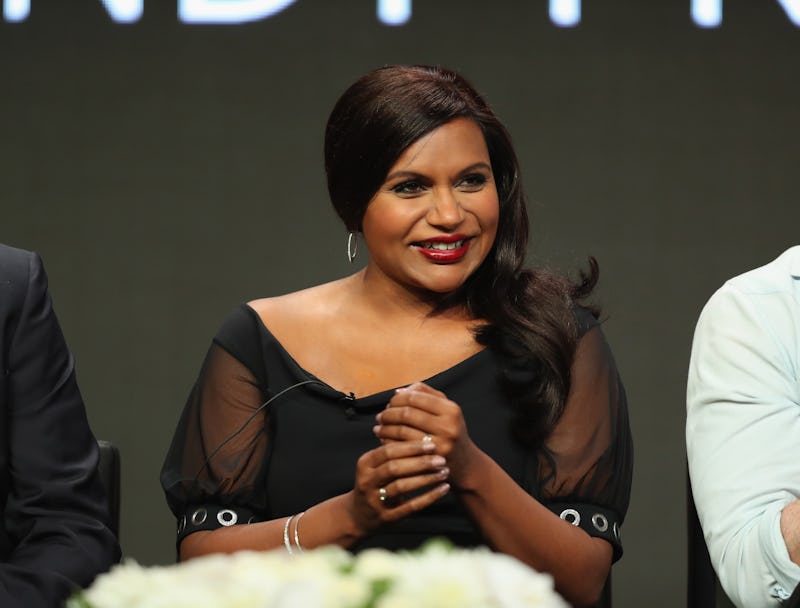 Joe Scarnici/Getty Images Entertainment/Getty Images
Calling all Mindy Project fans: There's something huge to celebrate. On Tuesday, Dec. 19, news broke that Mindy Kaling gave birth to a daughter on Dec. 15. E! News was the first to announce this, and naturally the first question in most people's minds: What did Mindy Kaling name her baby? Luckily, those details have been revealed, too. According to E!, the newborn's name is reportedly Katherine Kaling. And it's all the more exciting that the baby has Kaling's last name. (Bustle reached out to Kaling's rep for comment, but did not receive an immediate response.)
Back in the summer, news spread that Kaling was expecting her first child. She didn't confirm the rumors until an interview a month later, telling the TODAY Show that she was "really excited" about having a child and that she hopes to raise the baby like her own mother did. The A Wrinkle In Time star said at the time,
"My mom was incredibly fierce and so devoted to us, just loved us and really wanted us to be happy no matter what we did. My career choice was not something that she was familiar with and she was just so supportive of that. And if I could give that to my child, just that open-mindedness, I'd be so happy."
Kaling has yet to post on social media to confirm the baby news. However, she has been active on Twitter and Instagram in the past few days, sharing the new A Wrinkle In Time cover of TIME magazine, as well as the badass trailer for Ocean's 8. For the most part, she's been private about her pregnancy, but given how much she's been posting on social media lately, perhaps she'll be sharing an official announcement in no time — and hopefully with her signature sense of humor.
Speaking of that sense of humor, Kaling couldn't have had a better attitude when Oprah Winfrey spilled the beans before she did about the pregnancy. Yes, that Oprah. At Disney's D23 expo in July, Winfrey reportedly reflected on the moment when she found out about Kaling's baby-to-be, but she must've not realized Kaling had been keeping mum on the subject.
A few months later in October, Kaling addressed the situation in an interview with Ellen DeGeneres, saying, "I had told Oprah and Reese [Witherspoon] on a movie we're working on, A Wrinkle in Time, and she announced it at press — she was very excited." According to People, she continued,
"If anyone is going to announce big news about your private life, Oprah Winfrey is the person. You can't complain that much about it. And you also can't be like, 'Hey, Oprah, zip it' — because she's almost like a religious figure. So if there's one person I have to tell my daughter about that revealed her existence to the world, Oprah is pretty good."
It was in that same Ellen interview that she confirmed she was having a baby girl. She said at the time, "I am not waiting. I'm having a girl."
While Kaling was initially quiet about the subject of her pregnancy, and subsequently secretive when the baby reportedly arrived, it's surely only a matter of time before she shares more details about little Katherine. Or who knows, maybe she'll keep it private — after all, it is her personal business. But it might be mighty difficult to do so, given all the inevitable promotions for A Wrinkle In Time and Ocean's 8 on the horizon.
Either way, fans are already incredibly excited about a Mini Mindy now existing in the world. It just became a much more funny, brilliant place.