Sephora's Holiday Hooray Sale Is Here & It Saves You $25 Off $75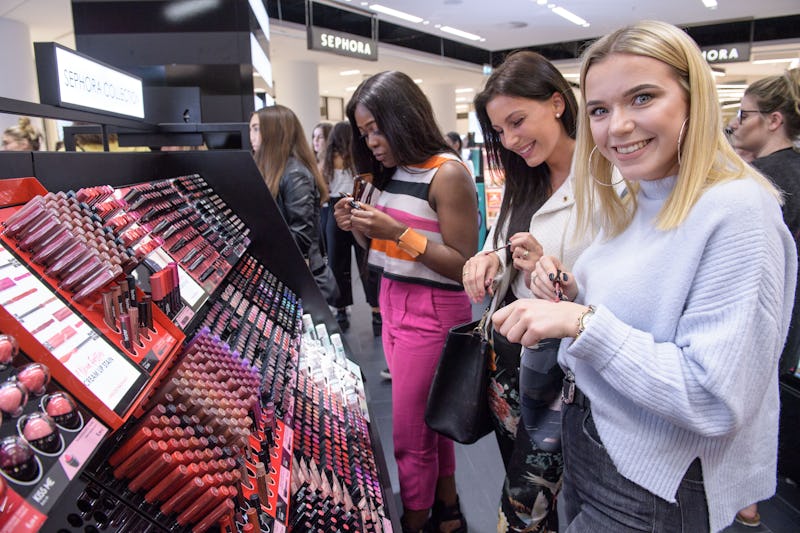 Thomas Lohnes/Getty Images Entertainment/Getty Images
It's late November which means there has been a whirlwind of sales crossing your path on the internet, but it's not over yet. Sephora's Holiday Hooray Sale is the latest discount opportunity of beauty lovers, and it's the perfect time to get some of that late hour holiday shopping done.
What exactly is the sale if it's not the retailer's famous VIB sale? Well, it functions a bit more rigidly than the VIB sale, but it's still really great. The Sephora Holiday Hooray Sale gives members of their rewards programs different, set discounts based on how much they spend either in store or online. Unlike the VIB sale, there's a cap on how much you'll save, but given that it's relative to how much you spend, it's still a great deal.
Like the VIB sale, though, the Holiday Hooray sale is split up into different weekends based on membership. The first day of the sale begins Nov. 29 and will give $25 of a $75 purchase to VIB Rogue members. The second day of the sale, Nov. 30, marks the time when ViB members can start shopping to save $20 off of $75. Both the Rouge and VIB sales last until Dec. 12. As for regular Insider members, they'll get $15 off their purchase of $75 beginning Nov. 30 and ending Dec. 11, a day less than the others.
As for what's included in the sale? Well, basically everything. There are, however, a few caveats to the deal. The first is that you can't purchase more than three products from Tatcha and Drunk Elephant, and the deal is not good on Dyson products (sorry to those looking to buy the new Dyson Airwrap). Other than that, basically every item in the store qualifies for $25 or $15 off $75 promotion. Now, you just need to go shopping.
The sale is notable because, well, it's a sale at Sephora which isn't exactly the norm. However, lately, the retailer seems to be giving Ulta a run for its money sale wise. Sephora VIB sale just had a special holiday edition during the middle of November that gave fans a major discount on their purchase. Then, they kept it going and extended that sale after its typical ending. Now, there's another chance to get deals thanks the Sephora Holiday Hooray. Basically, it's a great time to be a beauty junkie who's got a serious Sephora habit.
If you're wondering what to purchase, the sky is the limit. Since there's no real restrictions on what you can buy (other than the number of products you can buy from Drunk Elephant and Tatcha), you can try out new goodies, purchase gifts for friends, or just restock some of your favorites that you can only get at Sephora.
If you want to shop the Holiday Hooray sale at Sephora, good news, it's started now for all levels of Sephora members. Whether you're a Rogue, VIB, or Beauty Insider members, you $25 or $15 is officially here, so get thee to a Sephora.