Many Argue This "Silencer Bill" Could Make Mass Shootings More Deadly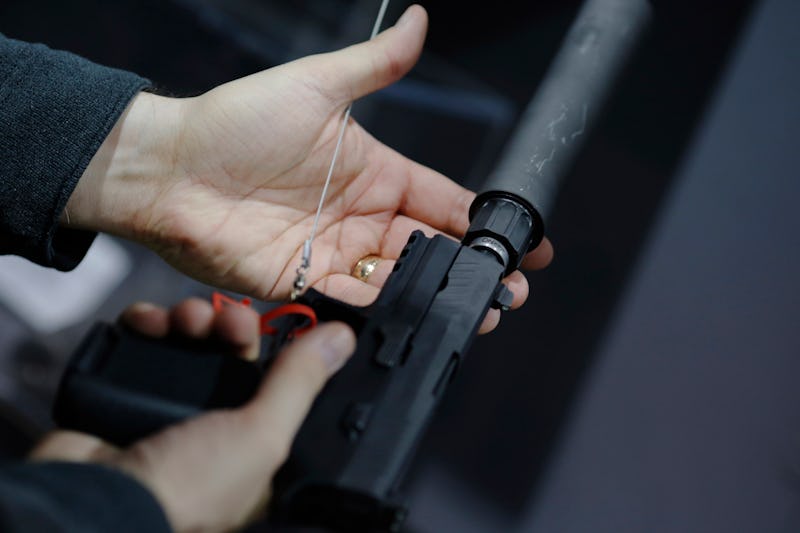 DOMINICK REUTER/AFP/Getty Images
On Sunday night, more than 50 people were killed by a shooter in Las Vegas while attending the Route 91 Harvest music festival. The shooting, which is the deadliest in recent U.S. history, has brought a bill — which is being referred to as the gun silencer bill — that would make it easier to buy gun silencers to the forefront of conversation, especially on Twitter. Eyewitness reports say that the gunfire in Las Vegas sounded like "popping," and many argue that the inability to hear those gunshots could make these already deadly shootings even deadlier.
The bill — which is officially called the "Sportsmen Heritage and Recreational Enhancement Act," or SHARE Act — advanced to the House floor in September, CNN Reported. The initial hearing, which was supposed to take place in June, was postponed after the shooting of Louisiana Rep. Steve Scalise. Republican Rep. Jeff Duncan of South Carolina added the provision of the bill — called The Hearing Protection Act — that would reduce the current restrictions on purchasing silencers, or suppressors.
According to Politico, the current waiting time to purchase silencers is similar to machine guns and explosives, at least nine months or more. "Buyers must submit fingerprints and a photograph in order to purchase a silencer, and federal law enforcement agencies keep a record of who buys the devices," Politico reported. "There is also a $200 transfer tax on silencers." Duncan's provision would eliminate those restrictions, and offer a $200 refund to those who've purchased a silencer since October 2015.
Proponents of the bill argue that the silencer portion is meant to protect recreational hunters from hearing loss that can occur from frequent gun use. Opponents argue that making suppressors easier to purchase could make it more difficult for law enforcement and civilians to identify where an active shooter with a silencer is located, potentially leading to more casualties.
The National Rifle Association supports the SHARE Act, saying "suppressors are 'harmless and very rarely used in crime,'" FOX News reported. The NRA also asserts that the "the joint bill would end the 'cumbersome and lengthy application process.'" As of noon on Monday, the NRA had not responded to the shooting in Las Vegas.
Critics of the bill specifically point to a mass shooting in February 2013, when former Los Angeles police officer Christopher Dorner killed four people using a silencer. Experts argue that law enforcement may have been alerted sooner, if neighbors of the victims had been able to hear the gunshots coming from Dorner.
Following the mass shooting in Las Vegas, Trump addressed the nation, saying it "was an act of pure evil." He offered prayers to the victims and their families, noting that "in moments of tragedy and horror, America comes together as one and it always has." Trump also stated that the flag at the White House would be lowered to half staff in memory of the victims.
His response, along with responses from other politicians, is being met with criticism from Twitter users who are calling for action instead of prayers, including blocking the SHARE Act from passing.
Although the exact type of guns used by the shooter at the Route 91 Harvest Musical Festival is still unknown, authorities found "a cache of weapons," including 10 rifles in the shooter's hotel room. Nevada has some of the most permissive gun laws in the nation: Gun owners do not need licenses, and automatic assault weapons and machine guns are legal as long as they're registered.
At the time of publication, there has been no announcement that voting on the SHARE Act will be delayed in light of the mass shooting in Las Vegas. Although there has been call from some Democrats to increase gun control, no new bills attempting to tighten gun control have been introduced.