Here's When You Can Watch The 2018 Emmy Nominations Get Announced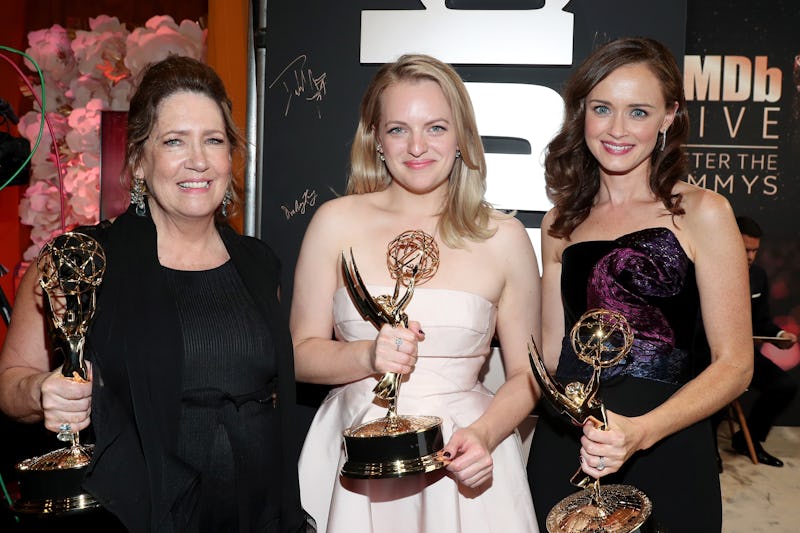 Rich Polk/Getty Images Entertainment/Getty Images
There are so many exciting potential Emmy nominees this year, thanks to an overload of amazing TV shows. Everyone's eagerly waiting to see which actors and series manage to earn honors, so knowing what time the 2018 Emmy nominations are is of vital importance. This year's official nominations will be announced on Thursday, July 12 on the official Emmys site, as well as on the Emmys' Facebook and Youtube pages.. If you want to catch them live and check if your favorite shows made the cut, you can watch at 8:30 a.m. PST and 11:30 a.m. EST.
It's been a very unpredictable year for TV, from the cancellation of the Roseanne reboot after Roseanne Barr's racist comments to Arrested Development's own share of problematic press. But there are tons of shows that have received attention for immensely positive reasons, particularly those that feature female protagonists. One of them is the thriller Killing Eve, which quickly became a hit after it premiered this year. It's also the perfect show to watch if you miss Sandra Oh in Grey's Anatomy, as Oh plays Eve, a MI5 officer who is dissatisfied with her job until she becomes obsessed with an assassin named Villanelle. In a twist, Villanelle becomes just as enthralled in Eve, beginning to stalk her. Although films and TV shows about women being obsessed with other women are hardly novel, Killing Eve portrays this in a fresh way by showing complexities in their dynamic and what they each gain from each other.
Another possible Emmys contender is The Handmaid's Tale. This season is just as terrifying as the first — if not more. It's difficult to ignore the parallels between the show and the current political climate as the women in Gilead are repeatedly abused, raped, and seen as only valuable for their wombs. The show also tackles the mistreatment of journalists and a mass murder that eerily is reminiscent of the recent The Capital Gazette shooting in Maryland.
Amanda Marcotte, a politics writer for Salon, noted the chilling similarities in a tweet that perfectly captures what makes The Handmaid's Tale so brilliant yet so hard to watch:
Then there's The Marvelous Mrs. Maisel, another hopeful Emmy nominee, which tackles some important discussions about women's rights but in a much more lighthearted way. In the show — set in the '50s — protagonist Midge finds her independence once she splits from her husband. After dedicating her adult life to being the "perfect" housewife and doting mother, she discovers a raunchy, outspoken side of herself through standup comedy, creating a place for herself within a male-dominated industry. Even though the show is a period drama, it rings true to female comedians' struggles of being taken seriously, whether it's by not being given as many opportunities as male comedians or experiencing rampant harassment at the hands of powerful men.
Then there's The Americans, which ended this year after six seasons. The show has been nominated for Emmys since 2013, but didn't get nominated for Outstanding Drama Series until 2016. Now that the show is over, there's a high chance it'll be one of the contenders for the Outstanding Drama Series award this year.
But, if nominated, the show's chance of winning the award might be halted by another huge drama series: Game of Thrones, which wasn't eligible for the Emmys last year. Game of Thrones has won various Emmys throughout the years, including Outstanding Drama Series in 2015 and 2016, beating The Americans. Given how the show's ending is approaching, it would make perfect sense for it to take home the Outstanding Drama Series award for a third time.
There are so many possibilities this year, and the amount of female-led series in contention opens up the possibility for 2018 being one of the best years for women at the Emmys ever. Tune in on July 12 to see who made the cut.