Here's When To Watch The 2018 MTV VMAs Red Carpet To Catch All The Looks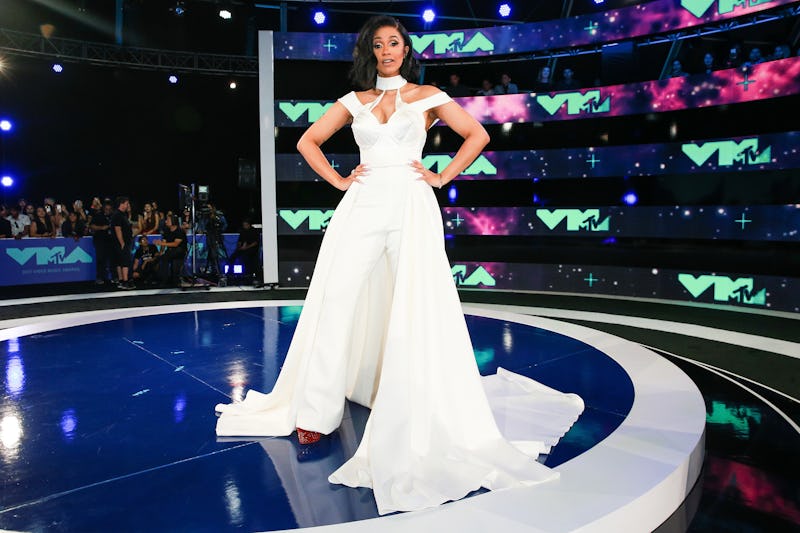 Rich Fury/Getty Images Entertainment/Getty Images
It's the most wonderful time of the year. No, it's not the holiday season, but it may just be one of the best days for funky fashions. The 2018 MTV VMA red carpet is tonight, Aug. 20, and it's time to see all the best, boldest fashions of the year. Is this the Academy Awards? No. Is it the Golden Globes? No. It's so much better than that. While gorgeous gowns and classic looks may be the style choices at those shows, it's the free-for-all fashions of the MTV Video Music Awards that are can't miss.
What time can you expect to start seeing some of your favorite artists gracing the carpet? The 2018 MTV VMAs show starts at 9pm ET on MTV, but the pre-show begins on the cable network at 8pm ET. That's when you'll start seeing your faves.
If you don't have cable, don't worry too much. MTV will be showing footage from the event on their YouTube channel. If you head to their profile now, you'll see that their Fashion Cam is set to go live at 7:30pm ET. Plus, with so many stars set to appear at the award show, Twitter and Instagram will be your best friend when it comes to seeing your favorite artists' ensemble.
Why should you be so invested in the red carpet, though? Honestly, it's because of the star-studded nominees and performers who could be gracing the pre-show.
Have you been missing Cardi B gracing your television screen? Yeah, thought so. Good news! She's slated to open the entire show. While according to People it won't be a performance, she's still kicking the night off which means you'll probably be seeing Bardi on the red carpet. Her time at the 2018 VMAs will mark her first appearances since giving birth to her baby girl Kulture earlier this year.
Another talented woman you may see on the carpet? None other than Jennifer Lopez. The actor, singer, and dancer is set to the receive the Michael Jackson Video Vanguard Award on Monday night, and she'll be performing during the show. In fact, she's been hyping her performance by posting snippets of her previous music videos on her Instagram. Basically, it's sure to be epic. If she chooses to appear on the red carpet, it's J.Lo, and let's be honest, that'll be epic as well.
Another famous face set to appear at the show? Ariana Grande. Only a few days after her new album Sweetner released, she'll be performing at the 2018 Video Music Awards. While a performance doesn't guarantee a red carpet appearance, it's hard to image that she won't at least showcase a bomb look with her signature pony. To be honest, the real question may not even be about her ensemble. It might just be what style pony she chooses to rock for the evening.
If you want to catch all the amazing looks from the star-studded nominees and performers, be sure to tune into MTV for their VMA pre-show coverage at 8pm ET. With incredible performers, a who's who of presenters, and some bomb nominees, this is one show you don't want to miss.