What To Do If Your Partner Doesn't Get Along With Your Friends, According To Experts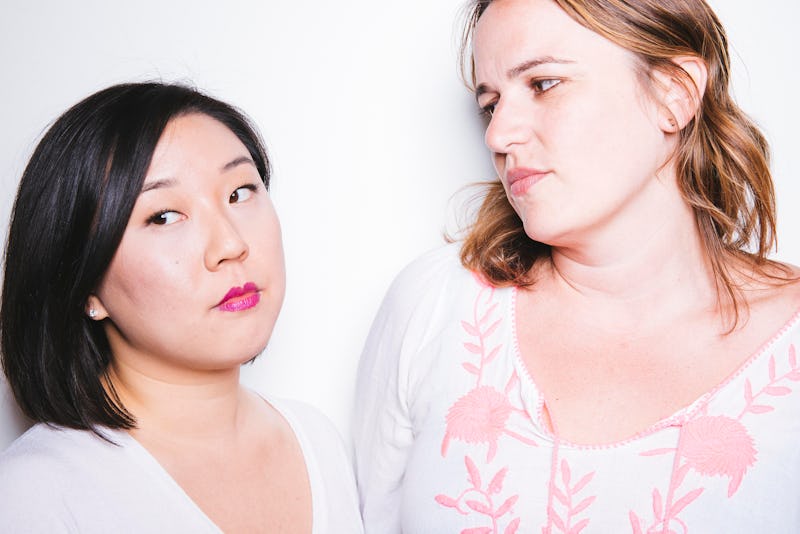 BDG Media, Inc.
It's probably happened to you at some point: You've met someone great, they seem to have it all, you make perfect sense together, you share the same values but, for whatever reason, they clash with your friends. It can feel crushing when your partner doesn't get along with your friends, because you're forced into a balancing act of dividing your time. No one wants to live separate lives, but when your partner can't be civil with your friends, you have no choice. Then you're put into the tough spot of having to deal with something with which you probably don't want to deal.
"Before you do anything, get curious about the situation," sex and intimacy coach Irene Fehr tells Bustle. "If your partner doesn't get along with your friends, explore why. Friendships, as much as romantic partnerships, are based on shared values, interests, as well as personalities."
Fehr suggests asking yourself where the disconnect between your partner and friends happens. "Does your partner not get along with your friends because of values?" Fehr asks, "Or shared interests? Or something else?"
Once you can pinpoint where the issue is, then you can, ideally, remedy the problem. Not everyone can get along all the time with each other, but if your partner cares about you, they should at least try to make the effort. Here are seven ways to deal when your partner and your friends don't get along.