How Coronavirus Will Impact Funeral Arrangements Across The UK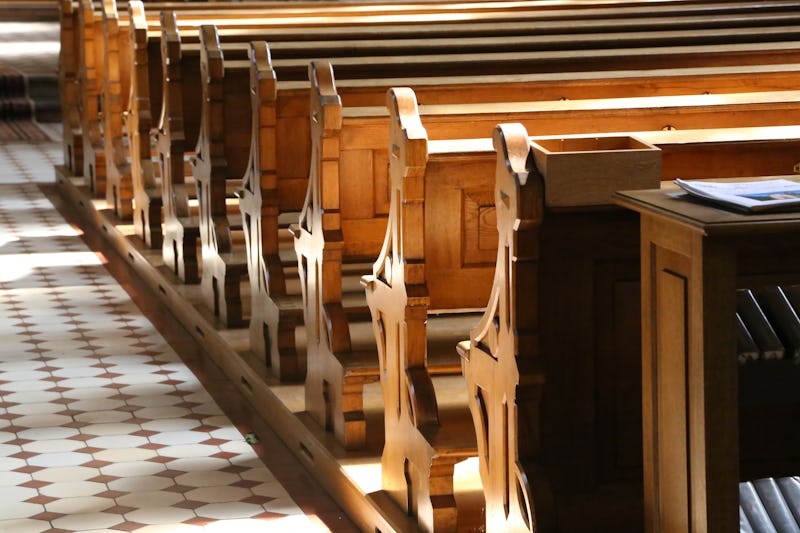 Shutterstock
This post is updated regularly to reflect the latest news and science around the new coronavirus, COVID-19, in the UK.
As of April 3, the total number of cases in the UK has reached over 33,700, with 2,921 deaths, and still rising. Sadly, the coronavirus pandemic is also affecting funeral arrangements.
Last week, London's mayor Sadiq Khan warned that there will be "a large number" of deaths from coronavirus, as he spoke of temporary mortuaries being set up across the capital.
Following the UK government's announcement of a nationwide lockdown on March 23, there has been a "ban on public gatherings of more than two people," alongside instruction to avoid all but necessary travel. With these measures in mind, what does that mean for funeral services?
Has The UK Government Banned Funeral Services?
Not outright. Although weddings, baptisms and other religious ceremonies have been banned, funerals have not. However, the government have asked that you only attend the funerals of members of your household, close family members, or friends who will not have any family at the service.
However, if you are self-isolating or in any of the high-risk categories, then you are being told to stay at home.
The National Association of Funeral Directors (NAFD) has stated: "Ensuring that funerals remain within the social distancing guidelines is a responsibility we all share. We need the public to support funeral directors in their important work by limiting numbers to the smallest group possible, being honest with funeral directors about their level of exposure to COVID-19 and making sure additional mourners are not invited to come on the day. We know this is incredibly hard, but it is absolutely critical that key workers aren't put at risk while trying to carry out the government's instructions."
Will You Have To Postpone Arrangements & How Will That Work?
As it's currently unknown how long these restrictions will remain in place – BBC News suggest it will be six months, at least – the advice is that funerals should take place rather than be delayed until the pandemic passes.
Many funeral directors and celebrants are now offering video calls to allow those who cannot attend in person to dial in to funerals via platforms such as Zoom or Skype. Others are recording services to be watched online at a later date, helping mourners continue to show their support for grieving families.
What Should You Expect If You Are Attending A Funeral?
Social distancing rules will still apply, and the funeral director will be responsible for making sure there is enough space for people to gather safely. Hand-washing and hygiene measures will be paramount, too.
It's likely that you will only be allowed to remain close to those in your household, despite other family members possibly being in attendance.
The CDC has stated that "there is currently no known risk associated with being in the same room at a funeral or visitation service with the body of someone who died of COVID-19." However, it also notes that "people should consider not touching the body of someone who has died of COVID-19."
Read more here:
All The Coronavirus Jargon Explained, From Self-Isolation To Social Distancing
Why It's Best Not To Visit Your Grandparents During The Coronavirus Outbreak
How You Can Help Those Most At Risk From The Coronavirus Outbreak
If you or someone you've been in close contact with appears to have shown or be showing symptoms of coronavirus, which include fever, shortness of breath, and coughing, visit the NHS website in the UK to find out the next steps you should take or visit the CDC website in the U.S. for up-to-date information and resources. You can find all Bustle's coverage of coronavirus here, and UK-specific updates on coronavirus here.
This article was originally published on