Two HUGE Beauty Brands Are Releasing A Millennial Pink Set To Help You Glow, Baby, Glow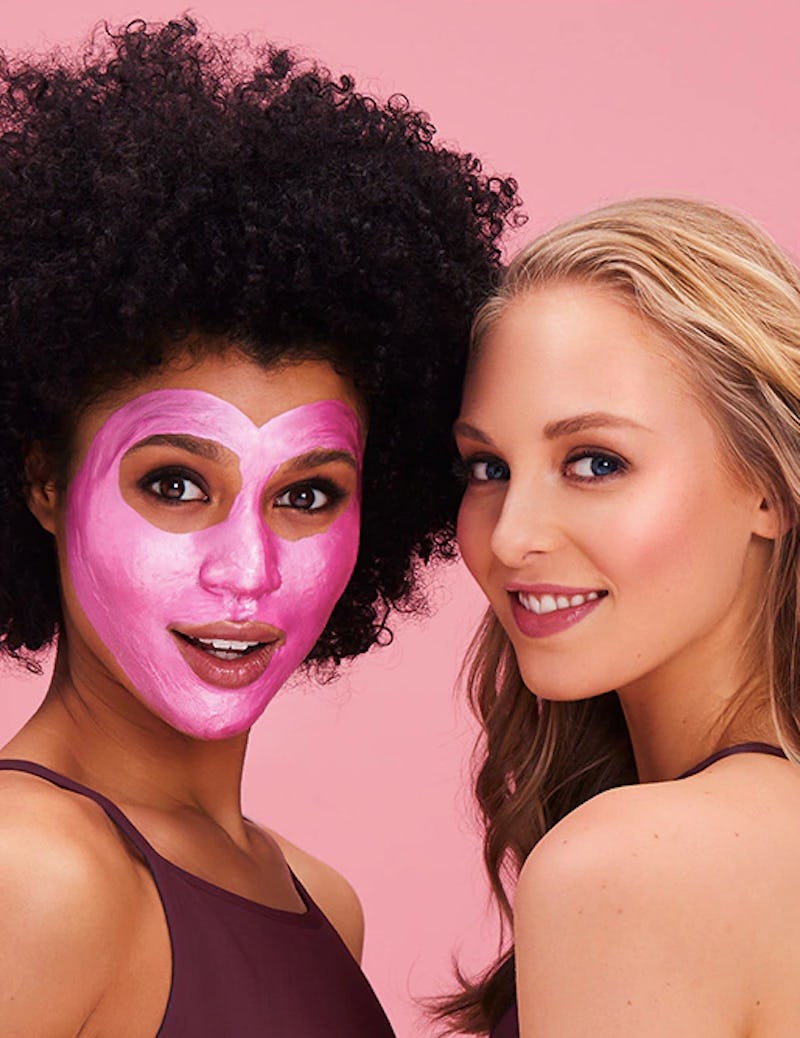 What do you get when you combine two of beauty's most popular trends? You get the new GlamGlow x BECCA collaboration aka the most glow-getting, most millennial pink thing to happen since millennial pink became a thing. After all, these two brands are known for their products that give their customers a glow, so why not team up on a perfect collab that'll have their users glowing for the summer?
If you just so happen to be a beauty junkie but not into skin care or the other way around, these brands working together may not make much sense to you. However, their partnership is actually a match made in pink-hued heaven.
For those who adore skin care, BECCA is arguably one of the most well-known brands for their highlighting products. From the smash hit Jaclyn Hill Champagne Pop highlighter to their work with Chrissy Teigen, they create gorgeous beauty products that perfect every glowy look. For cosmetics junkies, you may be familiar with GlamGlow's GravityMud mask, just not by name. Those viral peel-off face mask posts that are a brilliant chrome shade? Yes, that's GlamGlow. Now, these skin care and cosmetics giants have teamed up to give you an affordable way to try both. When can you snag it, though?
Good news, glow fans! The GlamGlow x BECCA We Know Glow set is available right now! You can find the collaboration on the GlamGlow website, and there's actually even more good news: This set of skin care meets highlighter is actually incredible affordable. You'll get both products for only $32. While mini versions of their big sister products, this set is actually valued at $42, so the brands are saving you some cash while they're helping you get your millennial pink glow on.
What exactly is in the kit? They're brand new exclusives that you can only snag by shopping the collaboration.
First up is GlamGlow's GravityMud Firming Treatment, and while this isn't a brand new product, it is a brand new color. The GravityMud mask has seen their classic chrome, a Power Rangers-inspired green, and a Sonic the Hedgehog blue. Never, though, has pink been part of the equation — until now.
As for BECCA, the set includes their classic Shimmer Skin Perfector Pressed Powder Highlight in a brand new hue called Rosé Glow. While shades like Rose Gold and Rose Quartz already exist, the new hue is special for this collection and comes in an adorable mini size, perfect for getting your glow on the go.
If you're obsessed with a millennial pink color moment or the ever-popular glowing skin trend (or both, probably both), the GlamGlow x BECCA: We Know Glow collaboration is probably your summer beauty dream come true. If you want to scoop up this affordable set, though, get a move on. It's a limited-edition release, and you certainly don't want to miss the perfect melding of two of the beauty world's biggest trends. Head over to GlamGlow now and get your summer glow on.