Florida Was Just The Beginning For La'Darius Marshall After 'Cheer' Ended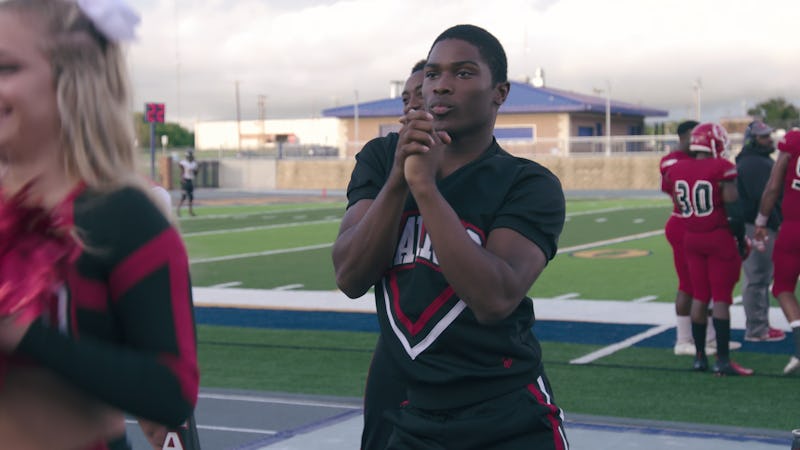 Courtesy of Netflix
Now that he's "stumbled" his way into fans' hearts, many are clamoring for an update on what La'Darius Marshall from Cheer is doing in 2020. When the six-episode Netflix docuseries, which follows the competitive cheerleaders of Navarro College in Corsicana, Texas, concluded, senior squad member Marshall was coaching at Florida's Zero Gravity Athletics. He admitted at the time that he didn't know what was next for him. However, on Jan. 18, Marshall posted a photo to Instagram that suggests he might be back on the team.
The photo with team members Jerry Harris, Lexi Brumback, and T.T. Barker is captioned, "Guess who is back and better than ever 🖤 see you @theellenshow next week.... God is so good," complete with the crystal ball and prayer hands emojis. While his Instagram bio reads "Navarro 18-20," his name isn't officially listed on Navarro College's 2019-2020 Cheer Team roster, meaning this could be a very recent development.
As explained in the series, opportunities for cheerleading post college are scarce. So, for Marshall, possible future career paths he mentioned in the Cheer Season 1 epilogue included personal training, choreographing, or, "if all else fails," enlisting in the Unites States Army or Air Force for the stability he says it could provide him. (The Navy and Marines are a no-go for him, however, because he doesn't "do water.") He further explained: "It's about what I can do for my future and what I can do for my country because I love America so much, and it would teach me to be more disciplined."
Prior to posting photos that suggest he's back on the team, Marshall's Instagram account seemed to indicate that he lived in Jackson, Mississippi. And in his previous IG bio, the talented "stumbler" (or performer of stunts and tumbling) described himself as a "Cheerleader turned Public Figure." In a turn of events, though, it's become clear he isn't stepping out of the spotlight just yet. After all, pre Cheer fame, Marshall was already a viral sensation for a spirited 2018 game time routine. Now, his profile reads, "Let's Live Life Like There's No Tomorrow," along with "Navarro 18-20" and "Wildcats 18-20."
In a Jan. 26 post, Marshall posted an inspirational message alongside a photo of him with team member Morgan Simianer and coach Monica Aldama. "Life doesn't stop here, life doesn't stop when things get tough, life doesn't stop for any trials, and life won't stop for you," he wrote. "Just like the earth you must keep going and pushing through. You don't have to be strong every day just remember that life does and will get better as long as you truly believe it." He continued:
All of my survivors I truly stand with you and I want you to know that I love you all and we are #WARRIORS We will have a voice and will be seen. You will/can regain your strength and identity again. Love truly does trumps hate. Keep your head up because only there will you find God looking down at you telling you to persevere
Marshall has said he remains thankful for both Netflix and coach Monica Aldama, and who could blame him? It seems that Cheer is only the beginning of a bright future ahead.
This article was originally published on