The Anonymous Man In The 'Jane The Virgin' Season 4 Premiere Could Be The Clue To A Bigger Mystery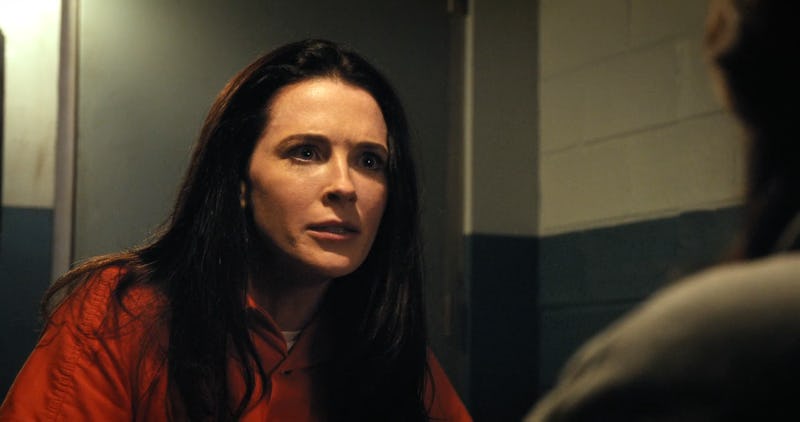 The CW
Spoilers for the Season 4 premiere of Jane The Virgin ahead. Many things have changed over the course of Jane The Virgin's three seasons, but the Season 4 premiere proves that one thing remains constant — that Rose will always be up to nefarious deeds. "Chapter 65" of Jane The Virgin ends with Rose killing a man. Viewers have seen Rose as Sin Rostro showing her murderous side time and time again, but you would think that would be over, since she's now in prison. However, she doesn't let a little jail time (or, a whole lot of jail time) get in her way. And while fans don't know yet who the man is, his identity may turn out to be very important.
Most of the Season 4 premiere deals with Jane figuring out her feelings for Rafael and her first love Adam, as well as Rogelio working things out with Darci as she goes into labor. But the last scene is a trademark Jane The Virgin killer twist with the reappearance of Rose. Luisa is busy attempting to con Rafael and Petra out of owning the Marbella with the help of Anezka, but Rose is in jail serving a life sentence for all her crimes, including murdering Luisa's father and Rafael's mother. After Petra's plan to deceive Luisa backfires, Rose sits across from a man that the audience has presumably never seen before. After a brief discussion that has no meaning to viewers at this point, she kills him and nonchalantly tells the prison guards to add years to her life sentence, as you do when you're as polished a criminal as Sin Rostro is.
The only clue the narrator gives about this murdered man's identity is to call him an "ugly mister" as a follow-up to Anezka calling Petra "beautiful sister." Since that doesn't offer any real information, you must turn to the conversation he has with Rose before his death. She asks, "Does anyone besides you know him?" His response is, "No. Just me. And I'll take the secret to my grave," which prompts Rose to ensure that is the case by killing him right then and there.
It's her dialogue that makes me wonder more about the identity of the man they are discussing than the man she kills. Who does (errr, did) the "ugly mister" know? And why is it so important to Rose that no one else know of his existence?
While there's a chance that Jane The Virgin hasn't introduced the person in question yet, one theory is that they are talking about Rafael's brother, Derek. In Season 3, Rose apparently killed Rafael's mother and brother. Elena's death in prison was shown onscreen, but Derek's death was never shown. That should make any seasoned TV viewer suspicious — especially viewers of Jane The Virgin. Perhaps Rose didn't really kill Derek and gave him a new identity. The "ugly mister" (how I wish the narrator gave him a nicer descriptor) could have known of Derek's true identity, and it's possible that Rose summoned him in order to continue to keep it a secret.
Even if the man is Derek — which, admittedly, might be a long shot — there are still plenty of other questions this theory brings up. And a Derek reveal wouldn't really answer how the "ugly mister" was involved in Rose's dealings. Yet, something tells me that it's far less crucial to worry about the identity of the dead man than the identity of the man they discuss.
And while there are so many other stories to worry about in Jane The Virgin, Rose's return means that Luisa is bound to get tangled up in her lover's masterful web once again in Season 4.