The Reading & Leeds Line-Up Announcement Shows A Festival Seriously Lacking In Women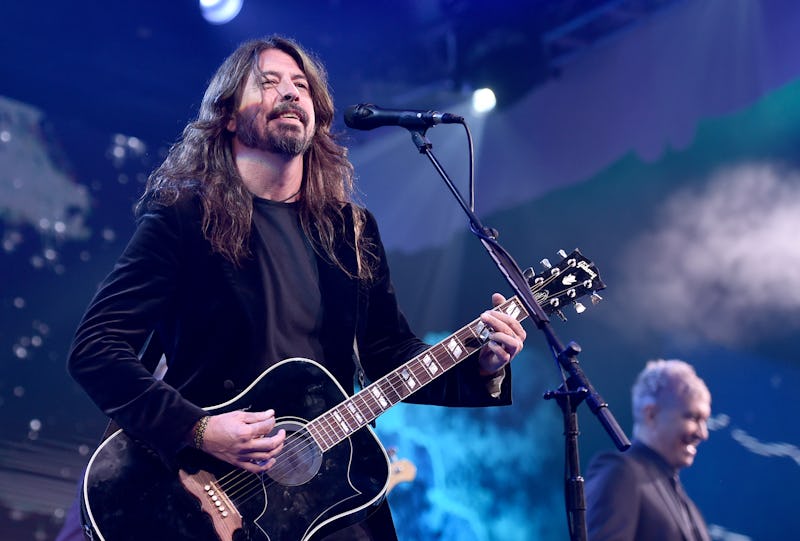 Alberto E. Rodriguez/Getty Images Entertainment/Getty Images
Whether it's because some punters have found recent lineups too poppy, not pop enough, or just extremely male artist heavy — the Reading & Leeds lineup causes controversy year in, year out. This year's isn't any different, and opinions are already greatly divided. To me, it seems like a pretty typical Reading & Leeds lineup, with some more relevant acts sprinkled in — but to some, that's exactly the problem. So, who is on this year's Reading & Leeds festival lineup?
It's no surprise that one of the festival's favourite acts, the Foo Fighters, will headline Reading & Leeds again for the third time, only seven years after their previous headlining performance. According to NME, the band called the night their "last show for a long time," when they played previously, so who knows what will be added to their set now that they'll be making a return.
Another bourgeoning favourite of the festival is moody rapper, Post Malone, who will be returning right off the back of his 2018 performance. For 2019, he's been promoted to one of the four headliners, the BBC reports.
Twenty One Pilots, the twosome responsible for 2015's ubiquitous hit "Stressed Out", will be taking up one of the other headlining slots. Expect an outrageous performance, as this band have seemingly endless energy reserves, as well as a flaming car, backflips, and yellow confetti, according to this live review from the NME back in September.
While these all seem like pretty safe choices for the festival, they've taken a risk with their fourth headliner — one of the world's most divisive bands — The 1975. Matt Healy and his boys have played the festival before, as they headlined the NME/Radio1 stage back in 2016, and they've been climbing the ranks ever since. Love them or hate them, they're definitely headliner material.
Of course, Twitter's divided over the news. While one user felt pretty chuffed with the lineup, tweeting: "Foo Fighters and The 1975 are headlining Reading Festival! this is what I needed!!" others were far less keen. Another user tweeted: "Just when you thought Leeds and Reading festival line up couldn't get any worse ... they announce 1975 and Post Malone as headliners what a joke."
For others, it was an opportunity to call out the Reading & Leeds big wigs on their continued gender disparity. Of the 22 artists on the current lineup, there are only seven acts with female members, and no female headliners at all. I reached out to a representative for the festival for comment, and will update you as soon as I hear back.
Following the lineup announcement, The Independent argued that "Reading and Leeds are keeping themselves on the wrong side of history by refusing to book female headliners." And it's true that a plethora of talent exists beyond the Foo Fighters. A lack of women at the festival could paint Reading & Leeds as a regressive festival. The best way to solve that? Make Janelle Monàe one of your headliners, just like Bustle did.