Princess Beatrice Might Not Bring A Date To Princess Eugenie's Wedding, But That's Totally OK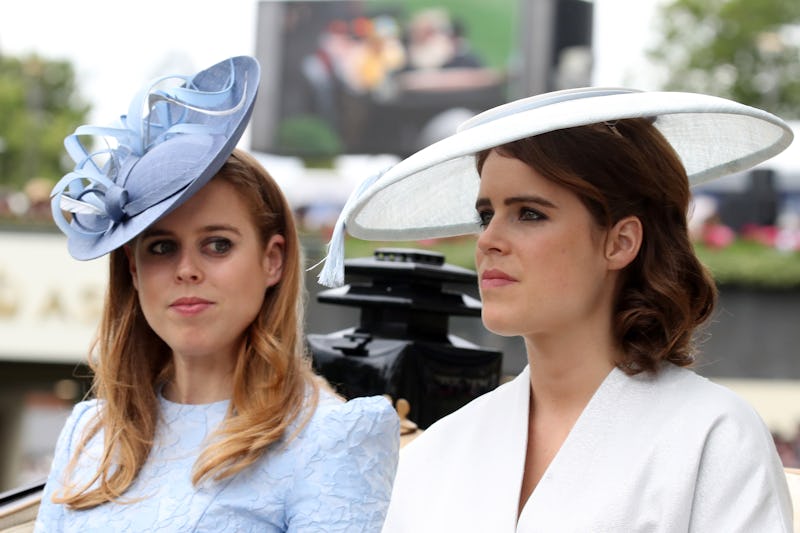 Chris Jackson/Getty Images Entertainment/Getty Images
With Princess Eugenie's wedding on the horizon, the romantic couplings of the whole royal family are in the spotlight and you might be wondering — who is Princess Beatrice dating? The elder sister to the bride-to-be had a longterm boyfriend for almost a decade, and has been casually linked to a few names in the past few years, but for the moment, she appears to be single. It's still possible that Princess Beatrice could show up to her sister's Oct. 12 nuptials with a surprise plus-one, but it would be a big reveal, so it's unlikely to happen on a day that's supposed to be all about the happy couple. But just in case, here's a quick dive into the royal's recent dating history, just so you're up-to-date.
First of all, this is Princess Beatrice Elizabeth Mary of York we're talking about, daughter of the now-divorced Prince Andrew, Duke of York, and Sarah Ferguson, Duchess of York. She's the granddaughter of Queen Elizabeth II, cousin to Princes William and Harry, and eighth in line for the throne, slotted in between her father and before her sister Eugenie, who is set to marry Jack Brooksbank on Oct. 12. Beatrice will be serving as the maid-of-honor on that happy day, so it's likely that any guest of hers would already have been announced and pored over by the media.
But of course, that doesn't definitively mean the 29-year-old isn't in a relationship — in its early stages or otherwise — that she's keeping out of the tabloids. Beatrice's social media is private, so it's not like fans can scroll through looking for glimpses of new faces popping up. And as the Queen only needs to grant her approval to marriages for the first six in the line of succession, the young Princess has a lot more freedom in whom she decides to spend her time with.
In the past, that has included men like Paolo Liuzzo, whom Beatrice dated briefly in 2006 despite an assault and battery charge stemming from his involvement in the 2002 death of a man. She was just 17 at the time, and quickly broke up with Liuzzo after a widely-publicized probation violation. Her next public romance was much more serious. Beatrice dated Uber executive Dave Clark for 10 years, from 2006 to 2016, before the pair broke things off. That had to have been a jarring breakup for Brits, after a high-profile decade together, but don't hold your breath for a reunion. Clark began dating former NBC executive Lynn Anderson in November 2016, proposed to her in May 2017, and were married this past summer.
But for as swiftly as her former beau tied the knot, Beatrice seems to be taking her time making a new connection. The British tabloid The Sun connected the royal to James Williams after she went out to dinner with him in February. But Williams' actual girlfriend — who happens to be former Bachelor contestant Lucy Aragon, ironically enough — quickly spoke up, squashing those rumors.
In the same month, Beatrice was also spotted out with Wilfred Frost, the son of TV presenter and actor Sir David Frost. The two attended the British Heart Foundation's Beating Hearts Ball, where they posed together on the red carpet, but so far, nothing has been confirmed or denied, and nothing further has been written about the two as a couple.
So maybe the spark fizzled between these two back in February; maybe they're still getting to know each other out of the spotlight, or maybe Frost and Princess Beatrice are going to make their public debut at Princess Eugenie's wedding, and throw the whole world for a loop.