Is This A Clue About Whose Ex-Boyfriend Shows Up On 'The Bachelor'?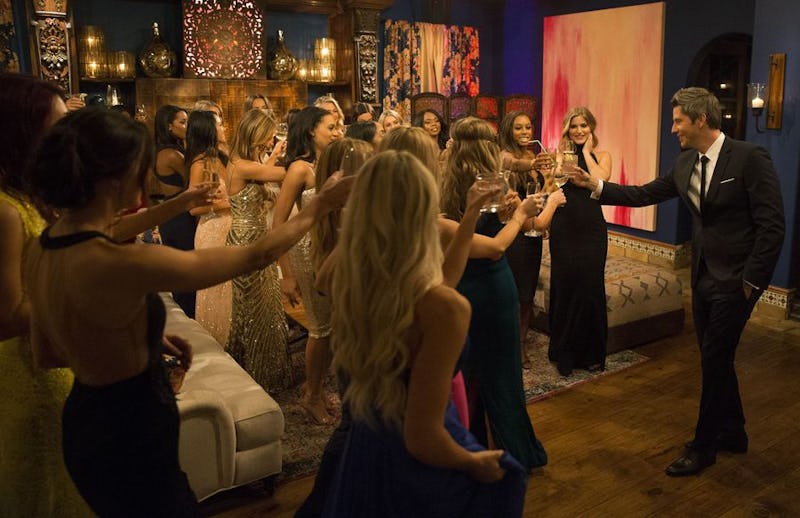 Paul Hebert/ABC
When every season of The Bachelor or The Bachelorette is billed as "the most dramatic ever," it's easy to feel like your favorite show (or mine, anyway) is jumping the shark. How could it really be the most dramatic? The most tear-filled? The only thing that every season of The Bachelor could truly be is the season with the most hyperbole. In the preview for Arie's season of The Bachelor, drama ensues, namely with a man seemingly coming back to get his girlfriend. Whose boyfriend shows up on The Bachelor? This preview bit could just be a red herring.
In The Bachelor full-season preview, we never see the man in question's face — just everything from the chest down. He says that he doesn't want to be on the show — he just wants his "girl back." He has a Southern accent and really, that's all we know, and that's all we see. Perhaps the Southern accent is a clue that it's Tia's ex? She's from Arkansas and has a thick accent of her own. That's all speculation though. In the preview, this guy comes back, Arie talks in circles about how he doesn't want to get his heart broken and how this person should leave, and that's all. Of course, ABC is not going to give away one of the biggest twists of the season in a two-minute preview during the season premiere, and the mystery continues. They're giving us just enough to wet our whistles. But before you get all excited about the pending drama, let's take a step back and recognize the very real potential that this "my boyfriend's back" storyline could just be one big ruse.
The Bachelor and its spinoffs have a history of using sound bites and b-roll footage to make it seem like seasons are more dramatic than they actually are. In her season of Bachelor In Paradise, it sounds like Ashley Iaconetti supposedly said something about being pregnant, and that wasn't true in the slightest. Ashley told Glamour, "It sounds like me, but I think my sister said that! I don't know what I can say about that, but there's definitely some editing there." Interesting, eh? And during Chris Soules' season of The Bachelor, a preview teased that one of the women in the mansion took a pregnancy test during filming, and that never turned into anything, either. And those are just the first two examples that popped into my head — The Bachelor loves to add storylines to previews in order to make viewers tune in.
It does make sense, because how else can you constantly up the perceived drama? To be fair, The Bachelor also has a history of people crashing filming. Nick Viall slid into Kaitlyn Bristowe's DMs on Twitter before deciding that he wanted to join as a contestant in the fourth week of her season (the other guys, of course, were really not happy). Though he wasn't actually cast during Andi Dorfman's season of The Bachelor, Chris Bukowski wanted a chance and showed up during filming, anyway. It is entirely possible that production let one of the current contestant's ex-boyfriends into the mansion to stir up a little drama. That doesn't necessarily mean his ex-girlfriend will leave the show for him, though.
As for the rest of the preview, it all looks like normal Bachelor stuff. There is drama between Krystal and Bekah and Chelsea and... everyone else. The group gets to travel to amazing locales. Arie has a crisis of faith and talks about how he had his heart smashed on national television and then has to choose one woman to propose to. It seems like he proposes, so there will be no Brad Womack drama here. Arie is ready for love, and the contestants are ready, too. Now let's just hope that one random boyfriend doesn't come in and derail everyone else's plans.