Why This Week's Super-Messy 'BIP' Drama Was Hard To Watch — In A Good Way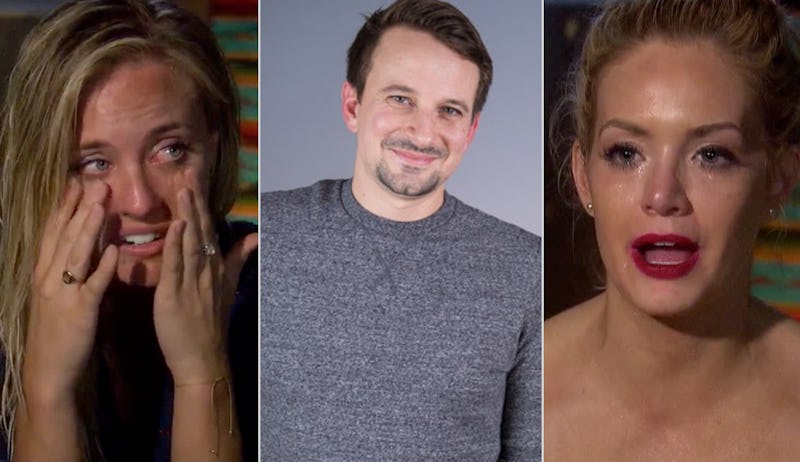 ABC/Bustle
Bachelor in Paradise Season 3 star Evan Bass knows Bachelor franchise love: He married Carly Waddell after meeting her in Paradise, and they now have a daughter, Bella. Read what Evan has to say about why he thinks Bachelor in Paradise Season 5 has been so compelling but so tough to watch.
Holy sweet mercy! The four hours this week of Bachelor in Paradise were as stuffed with premium content as I've ever seen on this show. There was literally no fluff (especially now that we have Jordan's salt spray). The name "Bachelor in Paradise" reeks with irony. The drinks may be free, but the stress of the experience comes with a price, and this week, there was hardly time to deal with anything but relationship drama.
Last night we had to endure the tragic downward emotional spiral of sweet Grocery Store Joseph, Patron Saint of Paradise. Kendall left him hanging like the taxidermied deer heads in her cellar, then piled on the pain by avoiding a goodbye kiss, and then proceeded to dive lips-first into a full-blown makeout session with Leo. The kissing was supposedly all in the name of delivering former Paradise bartender Jorge a steamy cover for his apparent romance novel, but all it did for me was produce heartburn and fury. Jorge gleefully snapped the photos of Leo and Kendall while Ben, Lauren, Arie, and Amanda proved to the world that reality stars are terrible actors.
Kendall returns somewhat ambivalent about who she'll pick and we are left with nothing but a preview of Leo throwing a drink next week. But for now, Leo's in Tinder Plus mode, kissing Chelsea, flirting with Krystal, and doing lord knows what else. This. Guy. Is. Driving. Me. Insane. Also, I care too much. Should probably get help.
The French-Canadian Benoit, from Bachelor Winter Games, arrives. Jordan verbally attacks his style, and so of course Benoit steals Jenna away for a date, giving us all a life lesson about karma. Jenna is amazing, and since her arrival she's really carried the positive emotions of the group. Without her — and especially with relationship counselor Bibiana now gone — we'd be left with sarcastic jokes and a tragicomedy. So thank you, Jenna, for being here.
Jenna is smart: She recognizes that Jordan did her and the group wrong, and so she takes advantage of the date as a way to get her mind off that negativity. She's the kind of person who just doesn't let mud stick to her, and it's awesome. Also awesome: Jenna's lipstick smeared all over Benoit's face. Even more awesome: Jordan's face when Benoit walks in looking like the Joker.
On Monday, Chris decides to break up with Tia… AT THE SAME TIME Tia is breaking up with him. There's some bizarre double talk from Chris that left me dumbfounded. I was so confused by what he said that I literally couldn't even tweet. It was that bad.
On Tuesday, Colton and Tia receive a date card, increasing our collective pain of watching them together on television. Raven and Adam, the former king and queen of Paradise, show up (to help?) and they dance. Jorge fittingly decides they should play musical chairs, and I don't think they got the joke. Whatever. Raven pulls Tia aside and starts spewing fire not seen since the dragon in Lord of the Rings. She trash talks Colton, claims a "wrong reasons" offense, and then THREATENS TO CUT OFF HIS MANHOOD. I'm oddly OK with that.
Kidding.
But seriously, if he hurts Tia I will come for him (on Twitter.) So, the Raven talk ends up amounting to nothing, because Colton asks Tia to be his girlfriend, she says yes, and we all sprinted to refill our wine glass with tequila.
This season, so far, has been gut-laugh funny, clever, and doubled down on drama. It's been an incestuous debacle packed with flip flops (literally and figuratively). So why does it feel a little tough to watch?
It's because it's hitting so close to home. Reality TV is supposed to be (usually aspirational) an escape, but if it feels too familiar, it can be a burden. Most of us have dated a Chris type — you know, the ones who go behind your back and then try to smooth it over by talking out of both sides of their mouths. Many of us have dealt with the Uncommitted Colton types, who want to keep their options open, but then when there's interest from another person, they swoop back in. And we've probably dated the "Good One" like Grocery Store Joe and left that person for someone with better hair.
Usually BIP feels larger than life, completely extra, and completely unattainable, but this season is tapping into our common pain about relationships. The messiness is filling us with angst about current situations or painful memories. Most of these contestants are young, and with no one to help guide them, many of them have gone off the rails. We're hungrily watching them display the darkest parts of themselves.
That's the beautiful thing about Paradise. As contestants, we can watch back and look at the mistakes we made, feel the social media pain, and then decide whether to change or double down on our actions. As viewers, we can learn to recognize the signs that we are being used or cheated on or just in an unhealthy relationship. Of course, you don't have to do any of that, either. You can just disconnect, yell at Chris, and throw popcorn at the screen. Either way, it's fun!