Rachel Bilson & Hayden Christensen Reportedly Split, So Cue All The Tears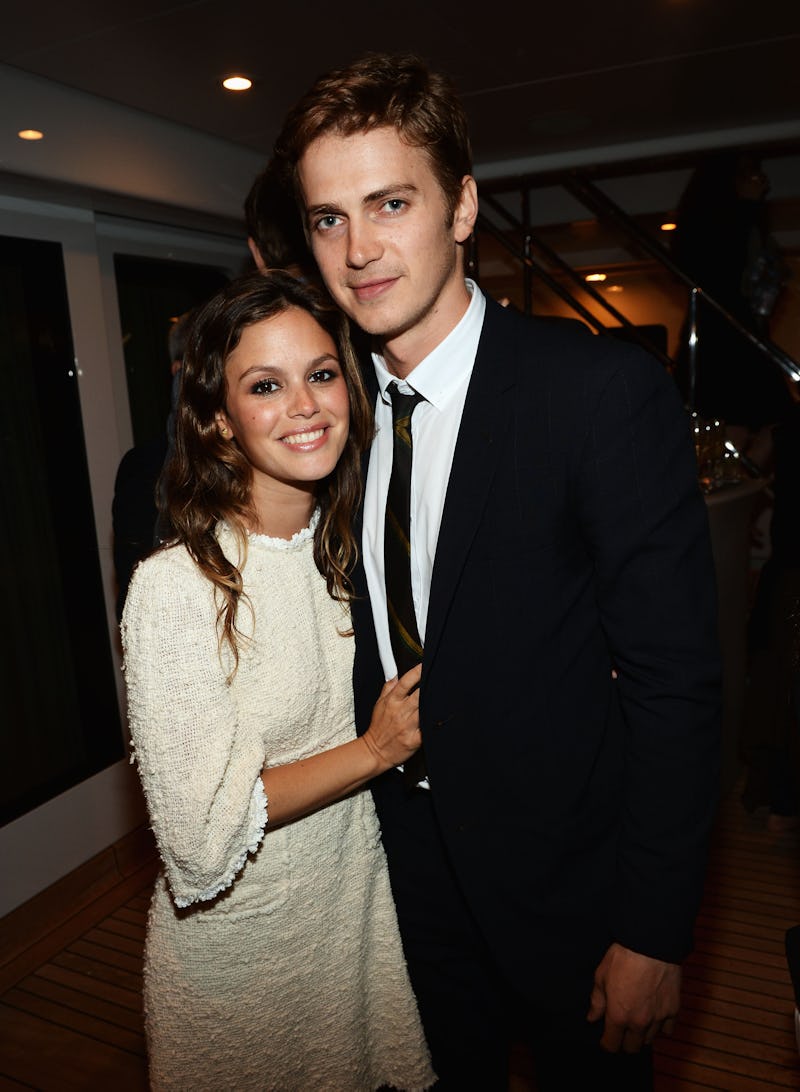 Michael Buckner/Getty Images Entertainment/Getty Images
Grab those tissues, because there's more heartbreak in Hollywood. Us Weekly is reporting that Rachel Bilson and Hayden Christensen split up. So, after nearly a decade together, why did Bilson and Christensen break up? If you believe Us Weekly's source, it may have been a long time coming. Bustle reached out to reps for the couple, but did not receive an immediate response.
An insider claimed to Us Weekly, "She's full-time back in L.A. He's in Toronto. They've been on the outs for a couple of months. They are completely, officially done." If the pair really has been living apart, it may have been the whole long distance thing that put a strain on their relationship. Still, it's heartbreaking news for fans of the two who met in 2007 on the set of Jumper.
As you may recall, Bilson and Christensen got engaged in 2008, but briefly called off their engagement in 2010. As People reported at the time, distance may have been the cause. However, they got back together a few months later. It appears they never officially tied the knot, but still experienced major life events together. For instance, in November 2014, Bilson gave birth to a baby girl named Briar Rose. Christensen later told People the name was a nod to Disney, explaining, "There's a Disney reference there, I suppose. The original Sleeping Beauty is called Briar Rose."
Making the breakup news all the more heartbreaking, Bilson's birthday wish to Christensen this past April highlighted just how long they've been together. She wrote, "Happy Birthday Handsome ❤️ we love you so much #10yearsandcounting #superdaddy #birthdayboy." That "and counting" part of the hashtag makes the split sting a little more.
She also occasionally featured photos of Christensen on her Instagram page, even referring to him as her "ride or die." And in 2015, she posted the below photo, showing her support for Christensen's Today Show interview. How sweet is that?
Though the couple flew under the radar, for the most part, their relationship still seemed to be going strong. They never really spurred rumors or sparked headlines, unless it came from them directly, like when Christensen gushed over being a dad in a 2015 E! News interview. He said at the time, "I have this little angel in my life now and Rachel and I are so thrilled. We don't sleep as much as we used to, but it's all so worth it."
However, if you were paying attention, there may have very well been clues that a split was on the horizon. Christensen hasn't appeared in Bilson's Instagram posts (or at least been mentioned) since June, when their daughter wrote a Father's Day note that the O.C. star shared to Instagram. She didn't post a ton about him to begin with, but he made the occasional appearance.
The biggest sign may actually be Variety's report in April that 'Christensen and Bilson sold their home in Sherman Oaks. Variety referred to it as a "covert, off-market deal," which highlights how under-wraps the news seems to have been kept. Selling your house could just signify moving to a different home, or it could mean moving on in a bigger way. Regardless, it seems to all add up in retrospect.
Honestly, even if you did see their breakup coming, that doesn't make the news any less upsetting. And fans took to Twitter to voice their heartbreak after word spread about the split.
In the past month alone, Anna Faris and Chris Pratt broke up after eight years together, and Fergie and Josh Duhamel split also after eight years. Now, Bilson and Christensen join the list of longterm couples calling it quits. It's definitely not an ideal trend. Fingers crossed that no other bombshell breakups pop up in the near future; fans' hearts can't take any more.