6 Things That You Should Check For If Your Cat Is Throwing Up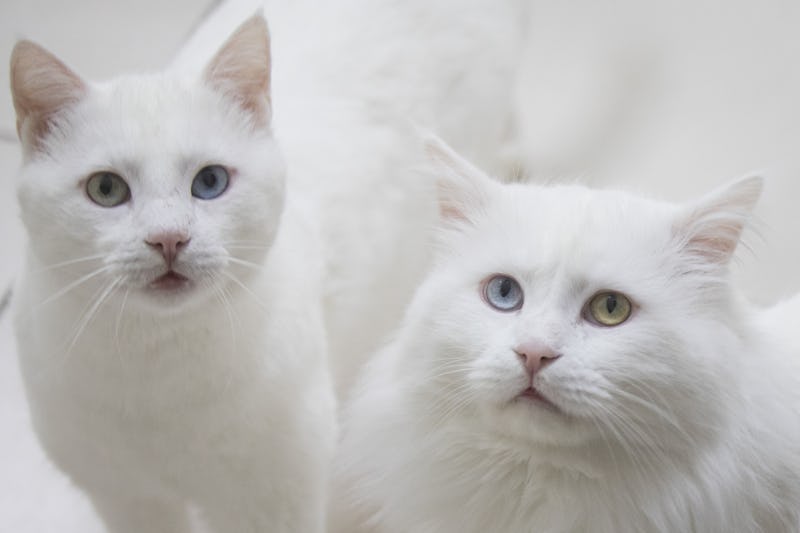 Chris McGrath/Getty Images News/Getty Images
If you're a cat person, you're undoubtedly well acquainted with one of the messier aspects of cat ownership: Vomiting. Cats have such famously delicate stomachs that sometimes, it can be hard to figure out exactly how one tiny creature could expel so much grossness from its insides. But hey, if you've ever found yourself wondering, "Why oh why does my cat throw up all the time?"… well, you're in good company: Pretty much everyone who's ever owned a cat has thought that very thought at least once in their pet-caring career. When it comes to cats, it turns out there are a few different reasons they might be messing up your carpets all the time — so, here: Let's demystify the subject, shall we?
The good thing is that cat vomiting is a fairly common occurrence. Indeed, according to WebMD, normal cat vomiting behavior (because yes, that's a thing) involves your cat throwing up just once or so, with feeding and pooping behavior continuing as usual. If your cat vomits repeatedly or with blood present, has a diminished appetite, develops issues with constipation or diarrhea, or becomes lethargic, though? That's a big clue that something else is going on. If you observe any of that in your furry pal, take them to the vet, stat.
Assuming they're otherwise behaving normally, though, the next time your cat deposits its dinner on your floor, work your way through this list of possible explanations. Happily, there are actually some easily-implement solutions to many of them. And again, when in doubt, go ahead and visit the vet — your cat will thank you for it.
(After they're done sulking in their carrier for a few hours, of course. Cats eventually forgive, but they never, ever forget.)