Why I Might Quit The 'Game Of Thrones' Books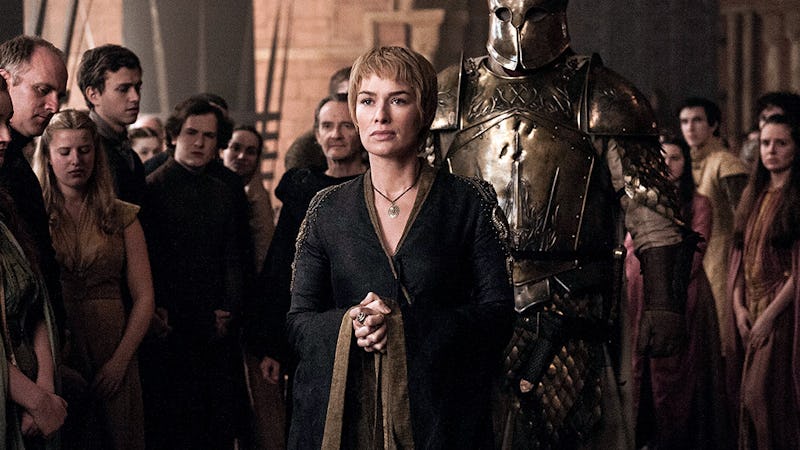 HBO
Before Game of Thrones premiered on HBO back in 2011, I hadn't read a word of the A Song of Ice and Fire series of novels, written by George R.R. Martin. A bunch of my friends were already rabid fans, though, so they convinced me to give the show a try, and I was pretty much immediately hooked. Soon, I decided to dive into the five published novels with full abandon. I breezed through the first book, A Game of Thrones, and then the second, A Clash of Kings, plus the third, the fan favorite A Storm of Swords, in a matter of weeks. But somewhere around books four and five, my interest began to wane. And now that it's looking more and more likely that the HBO series will conclude the epic tale way before the novel series does, I'm considering giving up on the Game of Thrones books entirely.
There are a number of factors that are making the novels a bit less appealing to me than the series these days. Sure, we have to wait a long time for both, but while Season 7 of the show won't hit HBO until the summer, that's not even close to the years book fans have been waiting through to get a new installment. Then there's the ever-increasing length of the novels, which is causing parts of each book to start to feel like filler. Most importantly, though, is that my enjoyment of the show no longer relies on knowledge of the books. Like many GoT book readers and show fans, I got a lot of joy out of anticipating plot points, knowing who was coming, or what to expect while watching. But with the showrunners now deviating heavily from the books, knowing what the books have in store just isn't important anymore.
And even if I wanted to keep reading the books, the new one isn't coming anytime soon, meaning that the show has no choice but to deviate further. In a recent update on his Live Journal, Martin made it clear, however unintentionally, that readers shouldn't hold their breath waiting for The Winds of Winter, which was supposed to be released before the sixth season of Thrones last spring, lest the show have to wade into unknown waters and reveal plot points that Martin hadn't yet revealed in his books. Responding to many inquiring fans, the author wrote, "Not done yet, but I've made progress. But not as much as I hoped a year ago, when I thought to be done by now. I think it will be out this year. (But hey, I thought the same thing last year)."
Martin has seven books planned for the A Song of Ice and Fire series, but we're in a long, five-plus year gap since the last book, A Dance With Dragons, came out, and fans are getting restless. The Winds of Winter's delay has led to some pretty significant plot points, like Jon Snow living, for example, being revealed first on the show instead of in the novel. This isn't a big deal for those who only watch the show, but the series is now taking its own course with the story, digging an even greater divide between the two platforms.
Furthermore, it's simply easier to care about the show these days. Books four and five introduced new sets of characters that were suddenly thrust into the main, already-crowded storyline, and while reading A Dance with Dragons, for instance, I found myself skipping ahead during some of these other characters' chapters in favor of reading up on the ones I was more invested in, like Daenerys, Tyrion, and Jon. Thrones' showrunners, though, know that TV works much differently than novels, and introducing new characters for an audience to care about can be super tricky. Viewers are more invested in the characters that have been around longer, which is probably why so many of Martin's additional characters have been totally omitted from the series, like Quentyn Martell and Lady Stoneheart.
The books and the series have grown into different beasts at this point. Some characters alive on the written page have been killed off on the show, so many of the spoilers fans encounter by watching the TV series may not end up being spoilers at all. But that divergence, combined with my apathy towards the newer characters, and Martin's own admitted slowness in writing, have made me uninterested in where the books are headed.
Besides, with two seasons left in the series, the show is going to wrap up the story before the books are. And though some plot points may differ, it's doubtful that anything major, like who finally rules Westeros or "wins the game," will be drastically altered. So I'm going to quit Game of Thrones... the books. At least for now. It's not because Martin owes any one of us more speed or needs to change his writing style; he has no obligation to cater to fans' demands. But I also have no obligation to wait around six years to read something that may end up being 1,800+ pages. Maybe after the final two books are both finished, some time long after the HBO series has become a "classic," I'll go back and give them a read, investing in those side characters, forgotten plot points, and tiny Easter eggs. But until then, the Thrones show has my full attention.