Harry Styles Was MIA At The VMAS, But He Had His Reasons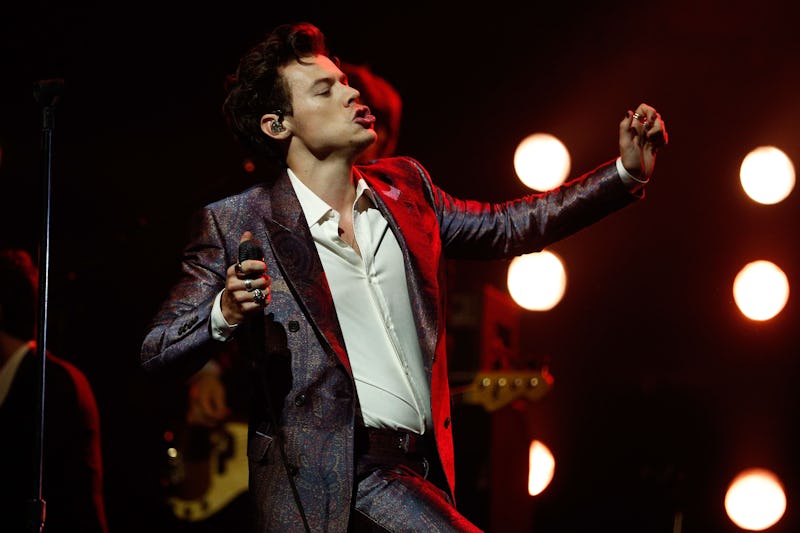 Zak Kaczmarek/Getty Images Entertainment/Getty Images
There's no question that the MTV Video Music Awards is one of the biggest nights in music. Annually, it's a performance-packed, no-chill celebration of the best in the field, which regularly brings out some huge names. Unfortunately for his fans, Harry Styles wasn't at the 2018 VMAs, despite his own huge year. And though it's always a bummer to miss out on his presence — and another of his glamorous suits — the pop star has some pretty good reasons for skipping out on the Aug. 20 ceremony at New York City's Radio City Music Hall.
First of all, and prepare to boo: Styles wasn't nominated for a single VMA this year. Not one! The food-fight themed clip for his single "Kiwi" was released in November 2017, which is within the eligibility period. And yet, there were no nods for it, despite the no-fail combination of children, puppies, baked goods, and Styles himself in another floral print. So there was no call for the star to show up to the event and possibly pick up a Moon Person trophy.
Then again, maybe the lack of nominations isn't even a factor. Styles didn't show at last year's VMAs either, even when he was nominated twice over for his "Sign Of The Times" video. He didn't take any of those awards in absentia, though he does share four prior wins with his band One Direction: Best New Artist, Best Pop Video, and Most Share-Worthy Video for "What Makes You Beautiful," plus a Best Song Of The Summer trophy for "Best Song Ever."
What probably made more of a difference is that Styles just came off a lengthy world tour in support of his first solo album. While his bold fashion choices (rightfully) got a lot of attention, fans and critics alike also acknowledged the inclusivity of the tour, including the star's habit of waving Black Lives Matter and Pride flags of every color, being vocally supportive of LGBTQ+ attendees, and mobilizing concertgoers to give back and do a little good while they're there. He closed out the journey with two nights at The Forum in Los Angeles in July, and tweeted a few messages of thanks on his usually sparse Twitter account.
It stands to reason that Styles will eventually be getting back into the studio to record a follow-up to his 2017 album, but there's no proof that the process has started again just yet. However, he has been spotted a few times since the tour came down. In late July, designer Diane Von Furstenberg posted a photo to her Instagram of her having lunch in Sicily with the singer and model Karlie Kloss. Per Billboard, the celebs were reportedly all in Italy for Google Camp, an ultra-exclusive conference, the details of which are extremely hard to come by. And just this past weekend, Styles showed up in Cabo to celebrate friend James Corden's 40th birthday, according to The Daily Mail.
So it seems like the artist is taking some well-earned time for himself that happened to conflict with the VMAs. His 1D bandmate Liam Payne was in the building for the event however, presenting an award and promoting his upcoming EP, First Time.
It's a busy life when you're Harry Styles. But fans are hoping the artist will make his VMAs return very soon — with some new music to promote.