If You're Looking For Harry Styles At The 2018 VMAs, You Might Be Disappointed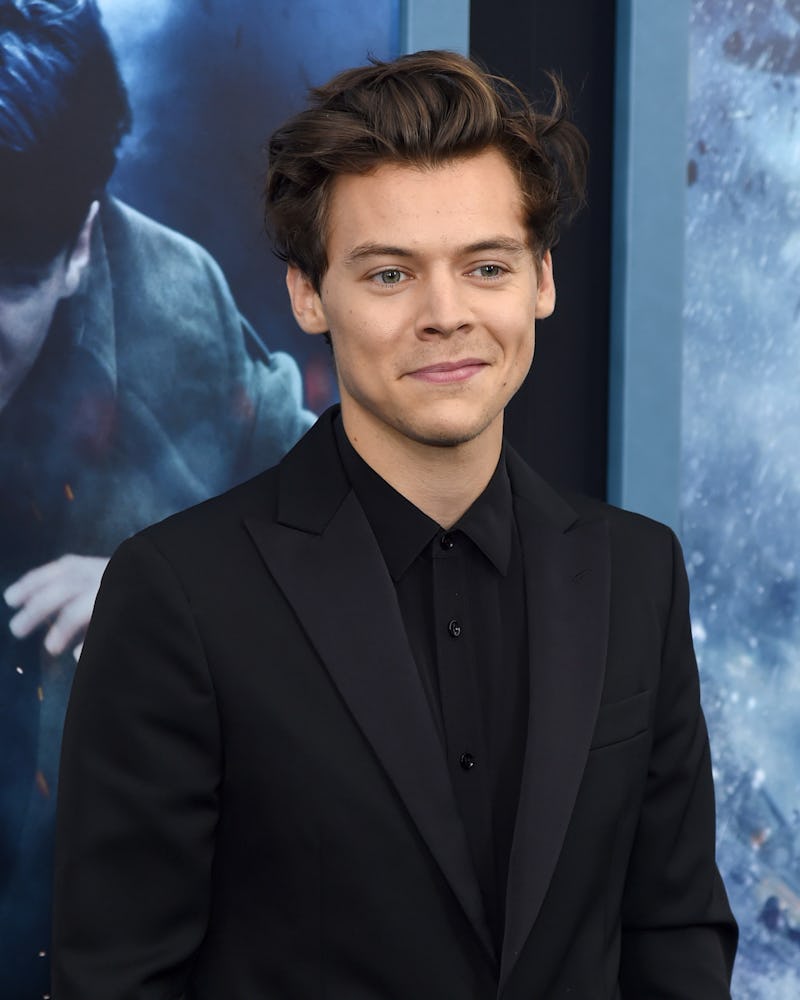 Jamie McCarthy/Getty Images Entertainment/Getty Images
With the MTV Video Music Awards quickly approaching, the story of Stylers' lives has been wondering, of course, if Harry Styles will be at the 2018 MTV VMAs? Unfortunately, neither MTV or Styles himself has given any concrete answer one way or the other, but there are some clues that fans might be disappointed if they're expecting to see him in the audience at New York City's Radio City Music Hall on Monday, Aug. 20.
Styles' massive international tour did wrap in July, so his schedule of public appearances seems to technically be clear. In his thank you note to fans following the tour, the singer also gave some indication about his future plans. "I'm off to write some more music and I hope I'll be seeing you again very soon," he captioned a July 16 Instagram post. While it remains to be seen if that "soon" ends up being the 2018 VMAs, it feels a tad bit soon for the former One Direction band member to re-emerge, considering he ended the post with the phrase "goodbye for now."
Plus, he's probably ready for a break anyway. Styles' tour — which consisted of almost 90 shows on five different continents — occupied a large part of the past year. By all accounts, it seems he left his heart on the stage each night, too. While out on the road, Styles made headlines for everything from his powerful statement on gun control, spontaneously catching an audience member's gummy bear in his mouth, showing his support for the LGBTQ+ community, and even helping helping a fan come out to her mom.
With such a huge undertaking on his plate, Styles has already skipped out on some pretty major awards shows this year — despite being nominated. After starring in the 2017 World War II drama Dunkirk, he did not appear at either the Golden Globe awards or the Academy Awards, where Dunkirk had a high-profile Best Picture nomination. He also was not present when his "Sign of the Times" clip won Best Music Video at February's BRIT Awards. He did, however, send his fans a message of thanks on social media.
Last week, he beat out Meghan Markle for a Teen Choice Award (Choice Style Icon) and also earned a surfboard for Choice Summer Tour — but, again, was not at the show to accept either award.
Styles VMA attendance history in general is a bit spotty as well. One Direction's first VMA appearance came in 2012, and the group since won four Moon Person statues. Although Styles was nominated for two VMAs (Best Pop Video and Best Visual Effects for his "Sign Of The Times" video) last year, he did not attend the 2017 VMAs and is yet to win the award for any of his solo work.
He's also got plenty of non-music related work in the pipeline. Styles is executive producer on Happy Together, a new CBS comedy debuting this Fall, which was loosely based on his real-life experience of living with friend and collaborator Ben Winston. Yeah, if you haven't heard, he actually secretly lived in Winston's attic for 18 months. Sounds like some must-see TV.
While it seems unlikely that Styles will walk the red carpet at the VMAs this year, fans shouldn't worry too much because — as the singer promised himself — he'll be back in the spotlight "very soon."