David & Victoria Beckham Were Nowhere To Be Seen At Princess Eugenie's Wedding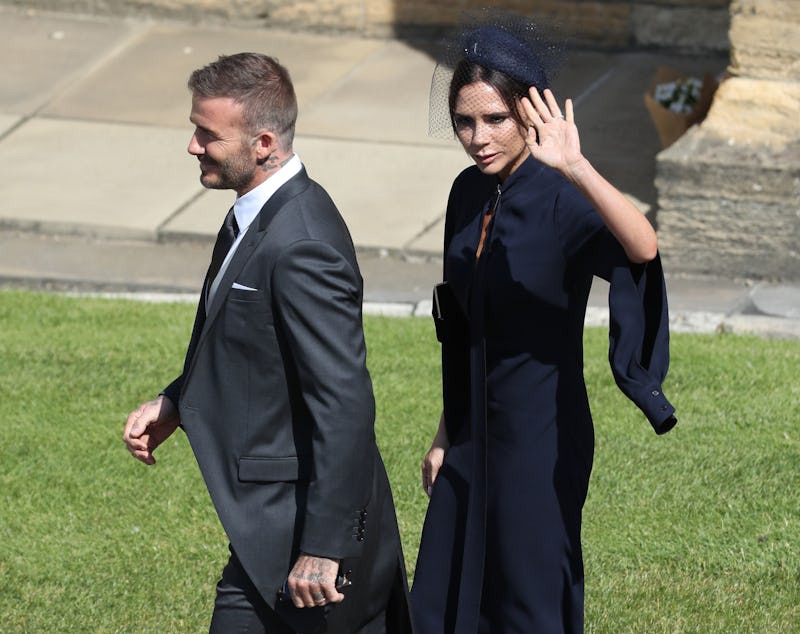 WPA Pool/Getty Images Entertainment/Getty Images
The Beckhams are pretty much royal wedding regulars at this stage. As well as the page boys, the hats, the trumpets, and a rendition of "God Save The Queen" you can almost certainly expect the couple to make an appearance. But the couple were notable at Princess Eugenie and Jack Brooksbank's big day for their absence. So what's the deal? Why weren't David and Victoria Beckham at the royal wedding?
The retired footballer and the fashion designer have attended the wedding ceremonies of both Princes William and Harry but weren't among the guests at St George's Chapel on Oct. 12, despite predictions that they would be there, or had at least been invited. David has become friends with both of the Princes through his charity work. He campaigned for London to host the 2018 World Cup alongside Prince William in 2012. And described his relationship with the royal as "normal" in an interview with Esquire magazine, adding that he teases William in particular about his favourite football team.
"It's a very normal relationship, with Harry as well," he said. "They're very easy to get along with. They love their sport. William loves Aston Villa, unfortunately, which obviously I give him a bit of stick about."
But it would appear, despite his close bond with the Princes, that David Beckham doesn't know Princess Eugenie quite as well, or perhaps he just had something on today. I mean when you're as big as David Beckham you can't all drop everything to go to Windsor just for a royal wedding, can you? Neither David nor Victoria's social media pages hold any clues as to what they might be up to, if it was indeed a prior engagement that prevented them from attending. Beckham hasn't posted anything on his since Oct. 11, and Victoria is busy promoting her AW18 collection. So who knows?!
They weren't the only notable absence either. George and Amal Clooney, who are also royal wedding staple guests, were no-shows too. The couple were expected to attend not only due to their general connection to the royal family but because Eugenie's now-husband Jack Brooksbank worked as a brand ambassador for George's tequila brand Casamigos. I can certainly think of worse jobs. Amal memorably had one of the most show stopping looks of the day at Harry and Meghan's wedding — a bright yellow Stella McCartney dress and matching hat, and I for one was more than a little bit gutted to have missed out on another lesson in perfect wedding guest attire from the human rights lawyer.
Still there was plenty of fashion to enjoy, with supermodels Naomi Campbell, Kate Moss and Cara Delevingne among guests. Campbell sported a dramatic white, grey, and black ensemble with a fascinator that unlike many other guests she managed to keep secured to her head, and plenty of feathers. Meanwhile Moss went for polka dot, and Delevingne showed her dedication to subverting gender norms extends to even royal occasions by wearing a morning suit with top hat and heels. Between that lot and Sarah Ferguson's meme-worthy hat, I barely even missed the Beckhams. Well, maybe just a little bit.