Here's Why Hurricane Harvey Evacuees In Texas Are Fleeing To Dallas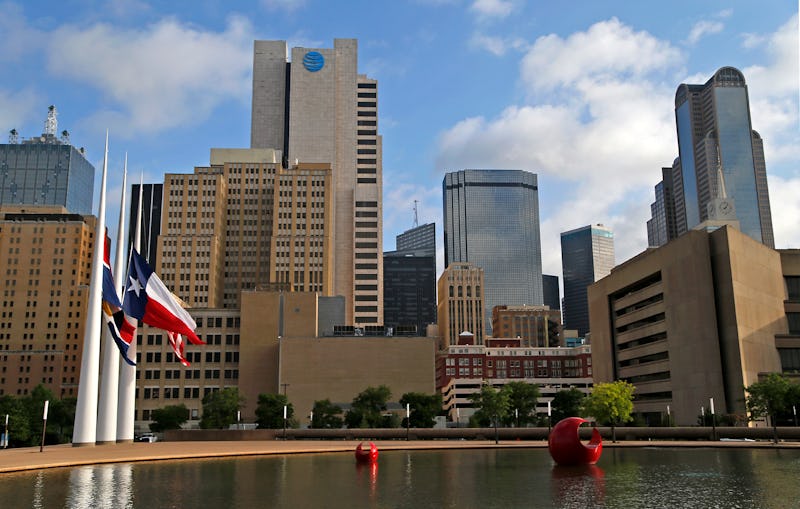 Stewart F. House/Getty Images News/Getty Images
The headlines predicting imminent destruction from Hurricane Harvey have lots of people worried for themselves and their loves ones in Texas. Yet one of the good things about living in an such a vast state is that weather going on at one end of Texas can have absolutely no effect on the other end. Hurricane Harvey isn't expected to hit Dallas, so there's a less urgent need to prepare for the storm if you'll be in the area.
Harvey isn't nearly on a direct path for Dallas, so north Texas shouldn't see any inclement weather this weekend. The storm is supposed to hit nearer to Corpus Christi, located about 350 miles southwest of Dallas, and then curve west as it continues on land. The chance of rain in Dallas isn't even particularly high over the next few days, according to the Weather Channel, so residents will be watching the hurricane news from afar.
Dallas is far enough away from the Gulf of Mexico that it usually doesn't have to worry about hurricanes. Plus, there haven't been that many strong storms in the past 20 years that would have the slightest chance of surviving on land for 300 to 400 miles. However, that doesn't mean it's all peachy keen in Dallas — according to Sperling's Best Places, a demographic data collection website, the Dallas-Plano-Irving area is the single most dangerous metropolitan area in the country for natural disasters, thanks to its tendency for extreme heat, tornados, and drought.
Since Dallas is out of the way of the storm, it could get boatloads of evacuees from Hurricane Harvey. San Antonio, which is about 150 miles inland from where the storm will hit, was initially expected to be safe from the brunt of the hurricane. However, new reports from Friday afternoon indicate that even San Antonio could be at risk for floods, with up to 20 inches of rainfall expected.
If you're a hurricane evacuee who's still looking for somewhere safe to stay, Airbnb is connecting people in Dallas and Austin (which is also far enough inland to be safe from the hurricane) who want to house evacuees for free. Just be sure to look at the latest guidance from local law enforcement on evacuating to double check that it's still safe to travel.
Dallas may not be in the path of the hurricane, but that doesn't mean it got off completely scot-free. While everyone was focused on Harvey Friday morning, a 3.1 magnitude earthquake hit Dallas and jolted the city out of bed.
Read more on Hurricane Harvey:
Airbnb Is Helping Hurricane Harvey Evacuees Seek Shelter From The Storm
Experts Are Predicting Hurricane Harvey To Cause "Life-Threatening Flooding"
Here's How Much Rain You Can Expect From Hurricane Harvey
Undocumented Immigrants Can't Even Escape Hurricane Harvey Without The Threat Of Deportation
These Photos Of Hurricane Harvey Show How It Wreaked Havoc On Texas Homes
How To Make Sure Your Cell Phone Doesn't Die During Hurricane Harvey
Here's How You Can Help Victims In This City Hurricane Harvey Absolutely Devastated