What To Know If You've Planned A Disney World Trip During Hurricane Irma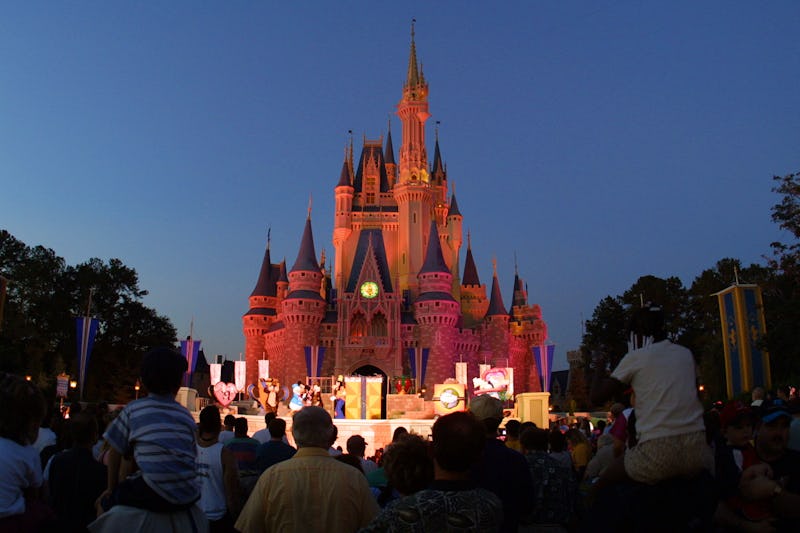 Joe Raedle/Getty Images News/Getty Images
Later this week, Hurricane Irma is expected to make its way close to the Bahamas and Cuba, and therefore, relatively close to the Florida coast. And though it's still early, and storm forecasts aren't totally reliable, that's causing a lot of concern for residents of the Sunshine State. And it could have implications for the tourism and leisure crowd, too ― while it's too early to say for a certainty, it's no surprise that people are wondering if Hurricane Irma will affect Disney World in Orlando.
It's still somewhat too early to conclusively know whether Irma will make landfall in Florida and, if it does, what parts of the state will be affected. It's true, however, that Gov. Rick Scott has declared a state of emergency for all 67 of the state's counties, which gives a sense of the seriousness with which officials are monitoring the storm.
As of Monday, Disney Cruise Line had made some minor tweaks to its itinerary, in view of Irma's projected path through the Caribbean. Disney World itself, based in Orlando, has not at time of writing made any announcement regarding changed opening and closing times, or whether the resort might be shut down by the hurricane.
In the event that a hurricane does indeed hit Disney World, the company has taken some steps in the past to mitigate the situation. When Hurricane Matthew hit back in 2016, refunds were offered for visitors who hadn't yet departed for their trips, thanks to a warning in effect from the National Hurricane Center. To see if you qualify for a refund, you can check the Disney resorts hurricane policies here.
The park could also close down altogether if conditions became too severe, or adopt adjusted or constricted hours of operation to ensure the safety of its guests. But the extent to which this might be necessary is still difficult to predict, given that Irma itself is still moving through the Atlantic, and the five-day hurricane forecast window used by many meteorological outfits doesn't quite extend far enough yet to get a totally clear, reliable view.
Still, it's definitely true that people in Orlando and throughout central Florida are concerned with the possibility of Irma dumping rain and heavy winds on their communities. So if you're planning to be in or around Disney World toward the end of the week, you should stay informed about the storm's location and predicted path. As it gets closer and closer, authorities like the National Hurricane Center will be able to provide more specific and precise forecasts.
Read more on Hurricane Irma:
These 2017 Hurricane Predictions Reveal The Storm Season Isn't Even Close To Over
Will Hurricane Irma Be As Bad As Harvey?
The Latest Irma Forecast Shows The Monstrous Hurricane Barreling Toward The Caribbean Islands
Will Hurricane Irma Hit Orlando? Florida Is Concerned About The Storm's Effects
Hurricane Irma Is Getting Closer To The Caribbean's Leeward Islands
Will Hurricane Irma Affect Flights?
How To Track Hurricane Irma, The Next Major Storm Heading This Way