Hurricane Irma Could Mean Trouble For Orlando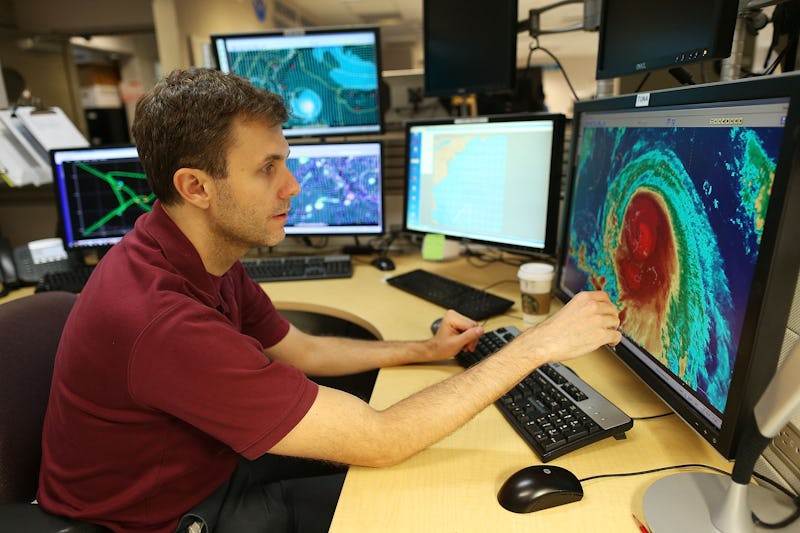 Joe Raedle/Getty Images News/Getty Images
Over the past couple of weeks, Hurricane Harvey wrought a destructive course through the upper and middle Texas coast and the greater Houston area. In the aftermath, natural disaster preparedness has been front and center in the news media, and the national consciousness — which is probably why the latest storm to threaten the eastern seaboard is drawing so much attention, and setting off alarms for people living in the southeast. As such, you might be wondering: will Hurricane Irma hit Orlando, Florida?
It's important to note that major hurricane forecasts normally operate on a five-day window, and circumstances can change rapidly in major climate events like these. In short, it's still slightly too early to say with reliable certainty what's going to happen, although over the next couple of days the picture will get much, much clearer.
That said, based on the most recent projections of Hurricane Irma's path, the cause for concern in the state of Florida looks very real. Between Friday and Saturday, the National Hurricane Center projects that Irma will pass close by the Bahamas, following a northwesterly path up towards the southeast Florida coast. And while Orlando is not a truly coastal city in the mold of, say, Miami, it could nonetheless end up well within Irma's potential sphere of influence, if the storm continues to gather in strength over the next several days.
Unless Irma were to curl to the northeast in a pretty major way, defying the NHC's most recent prediction on Monday morning, it seems likely ― certainly likely enough to merit taking some precautionary action and making a preparedness plan ― that the Florida coast could feel the impact of the storm.
As The Orlando Sentinel detailed this week, many Central Florida residents are increasingly concerned with what could happen if a storm bringing Harvey levels of rainfall ― record-breaking amounts, in other words ― descended on the state. The record for rainfall over a 24-hour period in central Florida is reportedly less than 11 inches, a figure that was dwarfed by more than four times when Harvey hit Houston.
At present, Irma is classified as a Category 4 hurricane, having been upgraded from Category 3 on Monday afternoon. That means its wind speeds have increased; to be classified as a Category 4 hurricane, a storm must possess wind speeds between 130 miles per hour and 156 miles per hour. It's the second-highest level on the Saffir-Simpson hurricane scale, trailing only Category 5, which requires wind speeds in excess of 156 miles per hour.
In short, based on what reputable meteorological groups are predicting right now, if you live in the state of Florida ― particularly on the peninsula, closer to the eastern shore ― you need to pay a lot of attention to Irma's trajectory in the coming days. And although Orlando might not be as immediately and obviously at risk as the coastal regions, if Irma makes landfall and starts working its way up the eastern seaboard, it could easily be hit with the dire effects, too.
Read more on Hurricane Irma:
These 2017 Hurricane Predictions Reveal The Storm Season Isn't Even Close To Over
Will Hurricane Irma Be As Bad As Harvey?
The Latest Irma Forecast Shows The Monstrous Hurricane Barreling Toward The Caribbean Islands
Hurricane Irma Is Getting Closer To The Caribbean's Leeward Islands
Will Hurricane Irma Affect Flights?
How To Track Hurricane Irma, The Next Major Storm Heading This Way