Why Justin Bieber Being At The VMAs Doesn't Seem Super Likely At This Point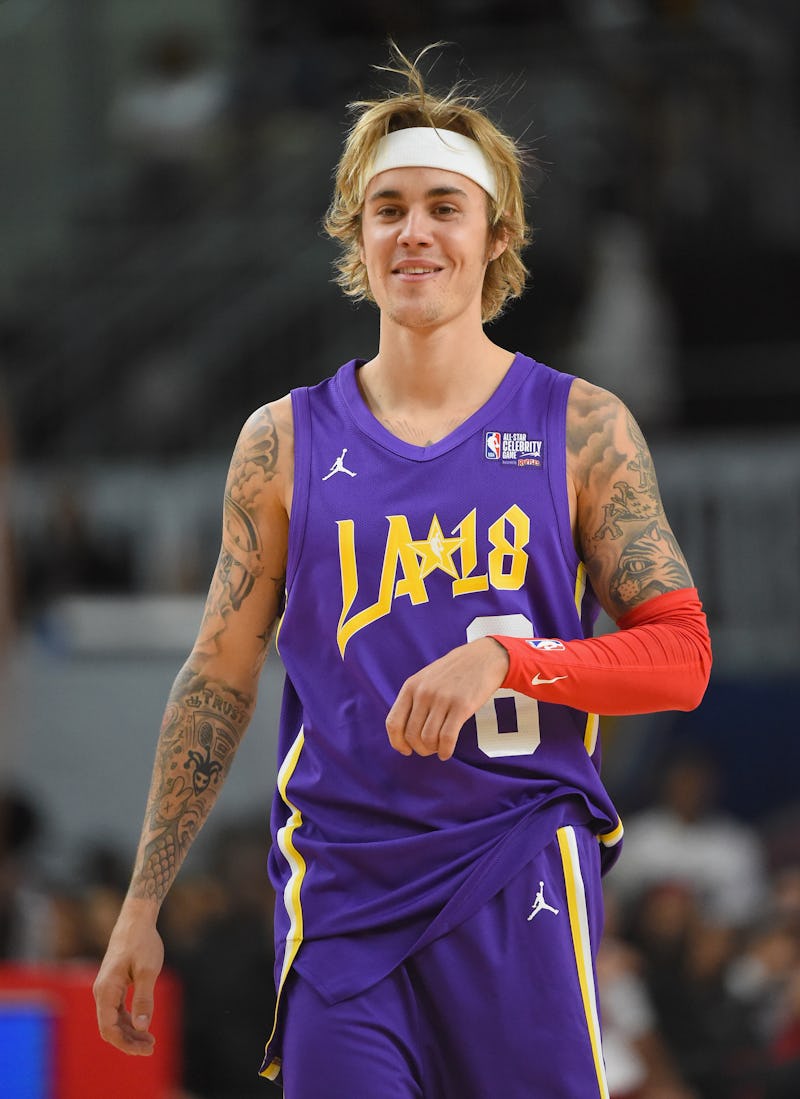 Jayne Kamin-Oncea/Getty Images Sport/Getty Images
This year's MTV Video Music Awards air on Monday night. That's a short time away, but there are still so many unanswered questions. One thing that fans have been wondering is, will Justin Bieber be at the 2018 VMAs? Well, you probably won't want to hold your breath. You never know what the Biebs will get into next, but it doesn't seem to be a likely scenario.
When the initial VMA nominees were announced, the singer didn't get any nominations. However, the "Song of the Summer" category nominations were announced on Aug. 13, and Bieber got recognized for his work on DJ Khaled's song "No Brainer," which also features Chance the Rapper and Quavo. At first glance, you might think this nomination makes it more likely he'll be at the awards ceremony, but this category works a little bit different than the others.
According to an article from Variety, the fans will narrow down the list of nominees by voting in three rounds of brackets on MTV's Instagram Story. This means that "No Brainer" might be knocked out of the category before the award show even airs, which also means he may not feel as compelled to attend if he's not up for a trophy.
He has one possible nomination, and he's not scheduled to perform or present an award. Unfortunately for the Beliebers, an appearance does not seem likely. Especially since Bieber did not attend the 2017 VMAs, even though he was nominated for two different songs and had just dropped his single "Friends."
Not only that, but his focus seems to be his personal life these days. He's been spending a lot of quality time with new fiancée Hailey Baldwin. "Never Say Never," though. It is possible that the couple could make a real splash and show up for the big event together. According to JustJared, Baldwin attended the award show last year and the year before in two memorable sheer outfits. Will the third time be the charm? Hypothetically, Baldwin could rock another show-stopping look and flaunt her engagement ring with her man by her side.
After all, this year's show takes place at Radio City Music Hall in New York City, a city where they've been spotted pretty often these days. Even if there isn't an appearance already on the books, it doesn't seem too out of the way for Bieber (and Baldwin) to make a surprise appearance if they want to. It's not as if they wouldn't be welcomed with open arms by MTV and their fans.
Plus, he does have close relationships with some people who are definitely attending. Bieber and performer/nominee Ariana Grande are friendly and they are both managed by Scooter Braun. Maybe he would show up to support her as a friend and pseudo-coworker?
He also seems to be hanging with Post Malone quite a bit these days. The rapper is performing and he's nominated. Biebs is also featured on Post Malone's 2016 song "Deja Vu." What if he performs a medley of hits and Bieber pops up for a surprise cameo?
The bad news is that Bieber hasn't confirmed his attendance at the 2018 VMAs. The good news is that he hasn't confirmed a declined invite, so there is a chance he will turn up. After all, pretty much anything is possible at the Video Music Awards, especially if you "Belieb."