'Moana's Oscar Nomination Chances Are Looking Good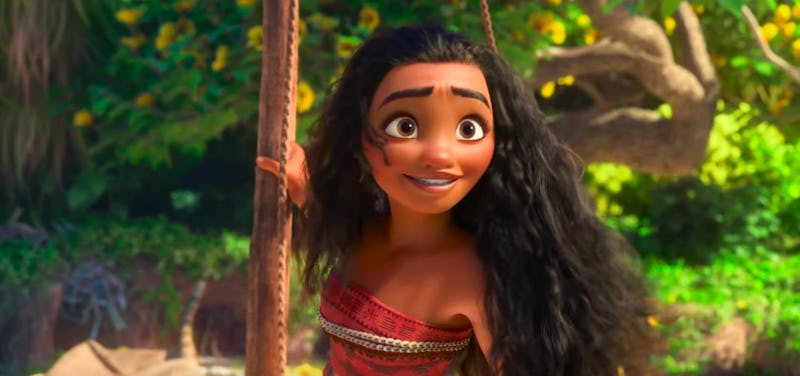 Walt Disney Studios
Disney's Moana was the best animated film of 2016. (Yes, I said it, and, yes, I did see Zootopia, thank you very much.) The studio's newest addition to their animated movie library earned rave reviews, killed at the box office, and provided young audiences with a brand new, non-princess heroine, the likes of which Disney has, frankly, never seen. And, while normally Moana would be a safe bet when it comes to the Academy Awards, competition from Disney's other big animated feature, Zootopia, is putting Moana's award season in jeopardy. Will Moana be nominated for an Oscar at all? It's definitely possible, but keep your fingers crossed.
If you were discouraged following the Moana shut out at the Golden Globes — the film lost Best Animated Picture to Zootopia and lost Best Original Song to La La Land — don't worry just yet. The Golden Globes snubs might spell trouble for Moana's chances of actually winning an Oscar, but the film will be nominated. There's no question that Moana will earn a nomination for Best Animated Film, as well as one for Best Original Song for "How Far I'll Go." The question is, will the movie earn any more Oscar love?
Being nominated for two Oscars is no small feat, but Moana could be looking at more Oscar nominations, depending on the mood of Academy voters. The Moana soundtrack, for example, is full of Oscar-ready songs, including the completely entertaining "You're Welcome" and the bilingual "We Know The Way," not to mention an excellent and vibrant original score that would certainly deserve a nomination. It's also not unheard of for a film to be nominated in both the Best Animated Film and Best Picture categories. That said, Moana has lost some momentum in recent weeks, and any nominations other than one for Best Animated Film and one for Best Original Song seem unlikely. If Moana gets any other nomination, my money's on Best Original Score.
It's safe to say that Moana will become an Oscar-nominated film before the month is over, and I'd be willing to bet Lin-Manuel Miranda, who co-wrote the original songs on the soundtrack, will be attending this year's Academy Awards. So, even if Moana doesn't take home any golden statues, at least we'll all get to experience Miranda at the Oscars, which makes us all winners, really.
Good luck with the Academy, Moana.